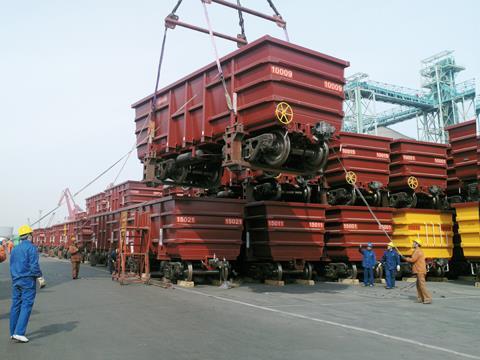 Azerbaijan: ŽOS Zvolen has completed work on the first two of five ČKD-built CME3 Co-Co diesel-electric locos which are being refurbished for ADY with the complete renewal of all equipment except bodyshells to extend their service life by 15 years.
Canada: Montréal metro operator STM has ordered a further 17 nine-car trainsets from a consortium of Bombardier Transportation (€188m) and Alstom (€112m).
Europe: Leasing company Akiem has placed two firm orders for Bombardier to supply a total of 33 Traxx MS2, AC3 and DC3 locomotives in 2019-21.
EP Cargo has ordered a further three Siemens Vectron MS locomotives equipped for use in the Czech Republic, Germany, Austria, Poland, Hungary, Romania and Slovakia, with an option for seven more. They are to be delivered in spring 2019 and initially used in Poland.
France: On behalf of the Hauts-de-France region, SNCF has awarded Bombardier a €256m firm order to supply 19 Omneo Premium double-deck inter-city EMUs for use on the Paris – Amiens and Paris – Saint Quentin – Maubeuge/Cambrai routes from 2022.
Germany: On October 19 Hamburger Hochbahn gave notice that it intends to directly award the Alstom-led DT5 Hamburg consortium a contract to supply a further 13 DT5 metro trainsets compatible with the existing DT5 fleet, in a contract which would also have two options each for the supply of a further 16 sets.
Indonesia: CAF subsidiaries are to supply traction and control systems and wheelsets and gears for 31 LRVs that PT Inka is to supply to Jakarta.
International: RM Rail has won orders to supply Russia's Gazprombank Leasing and VEB-Leasing and Kazakhstan's largest cement manufacturer with more than 1 000 Type 19-1217 cement hopper wagons by September 2019. The teardrop-shaped body offers a capacity of 73 tonnes and volume of 60 m3, taking into account the density of bulk cement.
Kazakhstan: Hyundai Rotem has signed an 80·8bn won contract to supply 32 metro cars to Almaty in time for the opening of an extension in 2020.
Representatives of Kamkor Locomotive, GE Transportation and Škoda Transportation met last month to discuss co-operation to maintain KTZ TEP33A passenger locomotive wheelsets at the Shar depot.
Moldova: CFM has named GE Transportation as the winner of an EBRD-financed €45m contract to supply 12 mixed traffic locomotives from early 2020 and modernise Chișinău depot.
Poland: PKP Cargo signed a 45·3m złoty contract for the purchase of three Dragon 2 E6ACTa six-axle electric locomotives from Newag on October 25. They have already been produced and are awaiting regulatory approval for operation, which is expected by the end of this year.
Russia: RZD has awarded TMH's Demikhovsky Engineering Plant a contract to supply one six-car and two four-car EP3D AC EMUs to its Far Eastern Railway by the end of the year.
Fertiliser producer MCC EuroChem has awarded United Wagon Co a contract to supply 700 Type 19-9835-01 hopper cars by mid-2019. The wagons have a 25 tonne axleload and a lightweight design to offer a capacity of 101 m3 and 76·7 tonnes, 6 tonnes more than older designs. The body is designed with a low centre of gravity to lower the risk of overturning, while a two-part internal coating based on a vinyl copolymer will provide protection against explosion.
Under a 3·7bn rouble contract TMH's Tver plant is supplying 83 Type 61-4505 and 24 Type 61-4504 postal vans to Russian Post, which will lease them from VTB Leasing before taking ownership after seven years. Some of the vehicles will be suitable for 1 435 mm gauge bogies and equipped with a device for lowering the height of the couplers to permit their operation in China.
Yekaterinburg municipality has selected Fobos-TS as preferred bidder for a 77m rouble contract to supply four partly low-floor single-section trams. Fobos-TS acts as a trading company for Uraltransmash, and it is expected that the trams supplied will be UTM's 36% low-floor Type 71-412.
Senegal: Indonesian company PT Inka has won a contract to supply locomotives to Senegal.
Switzerland: On November 8 SBB ordered seven Stadler Flirt EMUs for the Bern – Neuchâtel – La Chaux des Fonds route where it is to replace BLS as the operator, with an option for seven more.
Investment group Reichmuth Infrastruktur Schweiz's leasing business LokRoll 2 has awarded Alstom a €40m contract to supply 12 Prima H3 diesel-battery hybrid shunting locomotives, which it will lease to SBB Cargo for 10 years from October 2020. Alstom will be responsible for maintenance, to be undertaken in partnership with SBB Cargo.
Matterhorn Gotthard Bahn has awarded SBB's Bellinzona works a SFr35·4m contract to modernise nine HGe4/4II electric locomotives and three BDt driving trailers by the end of 2022. The work will include installing more energy efficient IGBT converters and asynchronous motors and replacing electronic equipment. The cabs will be modernised and fitted with new displays and diagnostic systems, and new train protection and a fire alarm systems.
Turkey: Istanbul Metropolitan Municipality has signed a US$500m contract with CRRC Zhuzhou for the supply of four-car light metro vehicles.
UK: Arriva and Eversholt Rail have ordered a further three Class 195 DMUs from CAF to increase capacity on the Northern network, taking the total order to 58 DMUs and 43 Class 331 EMUs.
On November 20 Transport for London confirmed it had signed the £1·5bn contract for Siemens Mobility to supply 94 trainsets for the Piaccadilly Line and support then for 40 years (RG 7.18 p13).
USA: On November 12 GATX announced an agreement to acquire a fleet of up to 3 100 wagons from ECN Capital Corp for $229m.