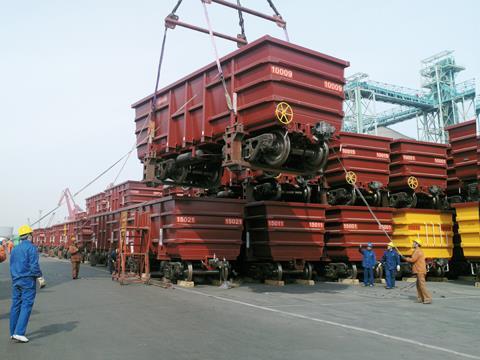 Africa: CRRC Zhuzhou delivered 19 freight and three passenger locos to the port of Djibouti on December 13, the first of 33 electric locos ordered in 2014 for the new Djibouti - Ethiopia line.
Austria: Traktionssysteme Austria is to supply Bombardier with 952 traction motors for Flexity trams ordered by Wiener Linien for delivery in 2017-25.
Brazil: Development bank Bndes has approved funding of R$5878m for the acquisition of 16 locally-produced diesel locos and 1916 wagons by VLI Multimodal, which wants to increase capacity on the Centro-Atlântica and Norte-Sul railways. Bndes is to provide R$3929m directly, and Banco Safra R$195m.
Bulgaria: Pesa is to supply five additional 1 009 mm gauge Swing trams to Sofia for €8·3m.
Canada: CN has awarded Amsted Rail a contract to supply 1 million wheels over the next 10 years.
China: Bombardier Sifang (Qingdao) Transportation JV announced a €152m second contract to supply China Railway Corp with a further five 16-car 250 km/h CRH1E-250 sleeper trainsets on December 18. An initial 20 were delivered in 2010. Mitrac traction equipment will be supplied by Bombardier CPC Propulsion System Co.
Guiyang Urban Rail Transit has awarded Nanjing SR Puzhen Rail Transport Co a 1·28bn yuan contract to supply cars for metro Line 1 in 2016-17.
CRRC Qingdao Sifang has awarded Faiveley Transport a €50m contract to supply couplers and doors for the 93 eight-car metro trainsets it is building for Hong Kong (RG 9.15 p15).
Czech Republic: D has sold 23 Škoda Class 163 3 kV DC electric locos displaced by EMUs to D Cargo. This enables the freight operator to replace older designs including the Class 122 and to operate through trains into Poland.
EP Cargo has bought a Siemens Vectron multi-voltage loco approved for Germany, Austria, the Czech Republic, Slovakia, Poland, Hungary and Romania.
Egypt: Transmashholding has signed a memorandum with Egyptian Railways for the possible supply of up to 700 coaches; half would be built locally.
Europe: Touax has acquired 2000 wagons from GE Rail Services, GE Capital Rail Services and GE Capital Rail. Financing was provided by ING Bank and DVB Bank as mandated arrangers.
France: Bordeaux has ordered a further 10 Alstom Citadis trams for €28m. To enter service in 2018, the 44 m long trams with APS will take the fleet to 115.
On behalf of Paris regional transport authority STIF, SNCF has ordered a further 15 Alstom Citadis Dualis tram-trains for €75m as the second option on a 2007 framework contract. They are to be delivered from October 2017 with entry into service in 2019 on the T4 branch from Gargan to Montfermeil.
Germany: Hamburger Hochbahn has ordered a further 27 Alstom/Bombardier DT5 metro trainsets for €100m.
BVG has exercised an option for a further 47 seven-section Bombardier Flexity Berlin trams for €176m; 20 trams ordered earlier will now have seven rather than five sections.
India: Coal India Ltd and the ministries of Railways and Coal signed a MOU on December 23 for the procurement of 2 000 wagons of up to 10 tonnes greater capacity than existing vehicles.
Under contracts worth €20m, Faiveley Transport's Hosur plant is to supply Bombardier with pantograph, braking and HVAC systems for 162 Movia metro cars being built for Delhi. Its Shanghai plant is to supply the doors.
CRRC Yongji has won a contract to supply 408 Type YJ157A traction motors for DLW WDG4D diesel locos.
Italy: Pesa is to supply a further five ATR220 DMUs to Trenitalia.
Trenord is to spend €170m on 10 Hitachi Rail Italy/Titagarh Firema Adler TSR double-deck EMUs, four Vivalto push-pull trainsets and four Stadler GTW DMUs to enter service in 2017, funded by the Lombardia region and 50% owner FNM. On January 18 it put into service three GTW 4/12 DMUs on its routes from Pavia to Vercelli, Codogno and Alessendria.
The first of four 950 mm gauge two-car Vulcano DMUs for Ferrovia Circumetnea has been delivered under Newag's first order from outside Poland.
Moldova: CFM has bought 10 sleeping cars from Belarus Railways.
Netherlands: On January 19 NS announced that Alstom, Bombardier, Siemens and Stadler had been invited to submit best offers for the Inter-city New Generation EMU contract. NS expects to award the contract this summer, for entry into service from 2021.
Pakistan: On January 14 PR signed a Rs3·92bn agreement for CRRC Jinan to supply 800 coal hopper wagons within 10 months; 205 are to be supplied from China and 595 produced at PR's Mughalpura workshop.
Panama: Metro de Panamá has awarded Alstom, Thales, Sofratesa, CIM and TSO a €145m contract for the supply of 70 Metropolis cars and associated works to lengthen trainsets on Line 1.
Poland: Lotos Kolej has placed the first series-build order for Newag Griffin electric locos, placing a contract on December 23 for five E4DCU-DP locos to be delivered in 2017. The 3 kV DC locos rated at 5·6 MW will be equipped with a 350 kW last mile engine. The 56·2m złoty order is being financed by ING Lease under a seven-year agreement.
DB Schenker is to use 11 Dutch MaK DE6400 shunting locos to replace Soviet-built SM48 (TEM2) locos.
Russia: To support its refinancing plan (p22), in December Brunswick Rail and Alfa-Leasing signed term sheets for two sale and lease back deals which would raise up to 4bn roubles to repay syndicated facilities maturing in July.
Central Suburban Passenger Co has ordered a Metrowagonmash/Stadler DP-M DMU for use on the Golutvin - Ozyory line south of Moscow.
Slovakia: In December Prvá Slovenská Železniná took delivery of a Siemens Vectron MS loco for use in Slovakia, the Czech Republic and Hungary.
Sweden: Hector Rail has bought 15 Class 151 electric locos from DB Schenker, of which five are to be used for spare parts. HR said they were an attractive option for heavy short-distance freight trains, and more cost effective than leasing new locos as is typical for 'non-incumbent' operators.
Switzerland: Saft is to supply 24 V MSX onboard batteries for 61 Flexity trams that Bombardier is supplying to Basel's BVB. These will provide emergency back-up traction power enabling the trams to travel short distances.
UK: Govia Thameslink Railway announced on December 22 that it had selected Siemens as preferred bidder to supply 25 six-car 25 kV 50 Hz/750 V DC third rail high-capacity Desiro City EMUs for use on Great Northern suburban services into London's Moorgate station from 2018. GTR is to run a separate competition to provide financing for the £200m order.
Merseytravel has shortlisted Bombardier, CAF, Siemens, Stadler and a consortium of Mitsui, Alstom and East Japan Railways' J-Trec for a contract to supply around 50 EMUs for the Merseyrail suburban network centred on Liverpool. A preferred bidder is to be chosen in late 2016, with deliveries by the early 2020s.
On January 18 Transport for London issued Alstom, Bombardier, CAF, Hitachi and Siemens with invitations to tender for 250 trainsets under the New Tube for London programme (RG 11.14 p16). The contract is to be awarded in 2017 and the trains would enter service from 'the early 2020s'.