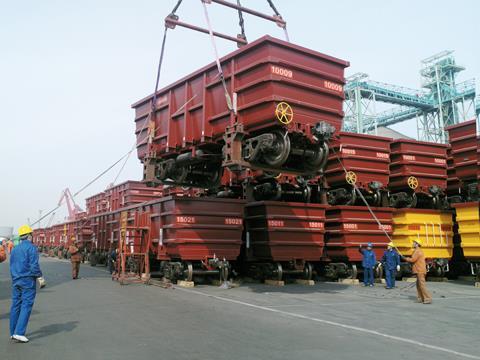 Argentina: Transport Minister Guillermo Dietrich has approved a directly awarded order for CRRC Qingdao Sifang to supply 200 EMU cars for the Roca commuter network in Buenos Aires, with an estimated cost of US$316∙5m. These will replace life-expired Toshiba EMUs dating from 1983.
Australia: TasRail has taken delivery of a Hegenscheidt ES 600 remote controlled battery-powered shunting machine, which will be used at its Burnie underfloor wheel lathe facility.
Bombardier is to supply a further nine three-car VLocity DMUs to Victoria in 2019 for A$146m.
Austria: Stern & Hafferl has purchased a Siemens Vectron DE loco to haul freight trains between Austria and Germany, and has ordered a Bombardier Traxx F140 AC Last Mile for delivery in August which will mainly be used to haul limestone from Salzkammergut.
Canada: In the largest order placed by a Class I since 2014, CN announced on December 22 that it had ordered 200 GE Transportation locos for delivery from Fort Worth over three years. This includes a mix of Tier 4 compliant Evolution Series locos and earlier Tier 3 types using accumulated Tier 4 certification credits. All will be equipped with the GoLinc digital control platform, supporting the Trip Optimizer driver advisory system and Locotrol eXpanded Architecture for distributed power operation.
China: CRRC Nanjing Puzhen Rail Transport has been awarded contracts to supply rolling stock for Phase 3 of Shenzhen metro Line 4 (1·15bn yuan), Phase 1 of Hangzhou metro Line 6 (1·09bn yuan) and the Hangzhou – Fuyang Inter-city Line (440m yuan).
Chengdu Railway Corp has awarded a contract for the supply of traction equipment for 200 metro cars for the first phase of Chengdu metro Line 9. Optonix traction equipment will be supplied by Shanghai Alstom Transport Electrical Equipment Co and Chengdu Alstom Transport Electrical Equipment Co, with support from Xi'an Alstom Yongji Electric Equipment Co and Alstom's Charleroi and Tarbes sites.
Croatia: Open access freight company Transagent Špedicija is to deploy a former British Rail Class 92 multi-system locomotive previously used by DB Cargo Romania on intermodal services from the port of Rijeka to Hungary and Serbia.
Europe: Samskip has taken delivery of 100 Tatravagónka Type T-3000 wagons which it is leasing from Nacco under a five-year deal. They are designed to transport Mega Huckepack trailers as well as all types of containers.
On December 14 TX Logistik signed a firm order for 40 Bombardier Traxx MS3 locos for use on Italy – Germany services from mid-2019, with 15 years of maintenance. On December 21 Bombardier announced that Mercitalia Rail had signed a firm order for 40 Traxx DC3 locos to be delivered from Q4 2018 and maintained for 16 years. The orders were placed within a framework agreement for 125 locos which Mercitalia and its TX Logistik subsidiary announced on November 14.
France: Bordeaux has placed a €30m order for a further 10 Alstom Citadis trams as an option on a 2011 framework.
Germany: Bielefeld's moBiel has ordered a further 24 Vamos LRVs from Heiterblick and Kiepe Electric for €90m.
Iran: A memorandum of co-operation for the joint production of rolling stock was signed by RAI and the Russian Export Centre on December 18. This provides for Russian companies to invest €3bn in rolling stock financing and the formation of joint ventures.
Israel: On December 31 ISR signed a €104m firm order for Bombardier to supply 43 Twindexx Vario double-deck intermediate coaches and 11 push-pull driving cars by August 2020. Intended to work with Traxx electric locos, these will not require diesel generators to feed the auxiliary systems and the driver's desks will be identical to the locos.
Jamaica: Aluminium company Alpart has awarded CRRC Qishuyan Co a contract to supply DF8B diesel locomotives in the first half of 2018.
Philippines: On January 22 PNR signed a 485m pesos contract for PT Inka to supply two three-car DMUs for Manila – Alabang commuter services.
Poland: Pesa was the lowest bidder at 382m złoty for a contract to supply eight five-car and five four-car EMUs to SKM Warszawa and maintain them for 15 years, with options for a further seven five-car units and one four-car.
Koleje Mazowieckie signed a framework agreement for Stadler to supply up to 61 five-car and 10 two-car Flirt EMUs on January 17. The deal is worth up to 2·2bn złoty, with firm orders dependent on the receipt of EU funding.
SKPL Cargo has bought an ex-NS DH2 DMU and two ex-DB Class 614 DMUs from GPW. The DMUs had been modernised for use by Koleje Śląskie, but then stored.
PKP Cargo has awarded Knorr-Bremse subsidiary Icer Rail a contract to supply LL-type IB116* composite brake blocks in 2017-20 to enable 10 000 wagons to be adapted to meet future TSI requirements and reduce noise.
PKP Intercity has selected Newag as preferred bidder to supply and maintain 20 electric 160 km/h locomotives, with options for up to 10 more.
Tramwaje Śląskie has selected Modertrans to supply up to 15 low-floor trams. The base order covers eight unidirectional and two bidirectional single-section 13·5 m long trams.
A framework for the supply of up to 50 trams was signed by MPK Kraków and a consortium of Solaris and Stadler on January 16. The base order for 35 trams is worth 314m złoty, with EU co-financing covering 125m złoty. Deliveries are scheduled for 2020.
Russia: RZD has awarded LokoTech a 244bn rouble contract running to 2022 which covers the overhaul of 14 800 loco sections. This includes a 46·5bn rouble deal to replace the engines.
TikhvinChemMash is to supply 112 Type 15-6913 molten sulphur tank wagons to GazpromTrans for 952m roubles.
TikhvinSpetsMash is to supply high capacity timber wagons to Lokotrans (330), DV Real Trans Group (50); Sibirsky Krai (50); Arkhbum (55), Mondi Group (43) and VIK (20). The end walls are made from a single piece of steel sheet, with apertures for rapid inspection at customs points.
Sole bidder Fobos-TS is to supply two Uraltransmash Type 71-407 trams to Novocherkassk for 32·6m roubles.
Spain: FGC has awarded Stadler a €99∙5m contract to supply 15 four-car Class 115 EMUs to be deployed from 2019 on FGC's 1 435 mm gauge Vallès network serving Sabadell and Terrassa north of Barcelona.
Euskotren has awarded CAF a €14∙5m contract to supply three seven-section LRVs for Vitoria, and to extend from five to seven sections three of the 11 existing Series 500 LRVs.
UK: Network Rail has awarded Siemens Rail Automation a contract worth up to £150m to design, test and obtain approval for installing Trainguard 200 ETCS Level 2 Baseline 3 equipment on freight locomotives as the initial phase of 'one of the world's biggest ETCS retrofit programmes', which would see the 750 vehicles operated by the UK's six major freight operators equipped from 2022.