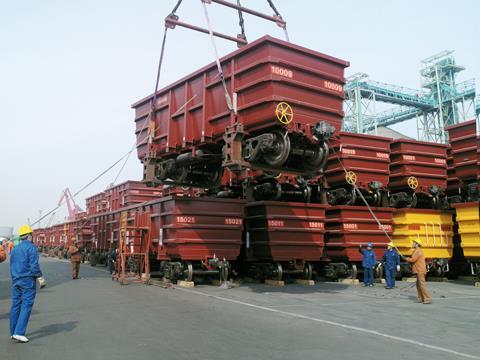 Bangladesh: BR signed a contract for Progress Rail to supply 40 diesel locos on January 14. The US$135m order is being financed by an ADB loan, and the 1 676 mm gauge locos are to be supplied from Muncie in the USA within 36 months.
Belarus: Stadler announced on January 17 that BC had ordered 10 five-car Flirt EMUs to be delivered in 2020 for use on 160 km/h inter-regional services.
Canada: Rocky Mountaineer has awarded Alstom a contract to rebuild a further two of its SilverLeaf cars.
China: In December CRRC signed contracts to supply CRC with EMUs (31·8bn yuan), locomotives (3·1bn yuan) and 'power-concentrated EMUs' (3bn yuan). CRRC Sifang is to supply EMUs to Chengdu Jiaotou Railway Investment Group and Hunan Intercity Co.
In December Nanjing CRRC Puzhen Urban Rail Vehicle Co signed metro car contracts worth 820m yuan in Xuzhou and Zhejiang.
Czech Republic: ČD has purchased 12 Stadler GTW2/6 two-car Class 646 DMUs from DB Regio for an undisclosed price.. They were previously deployed on Prignitz-Express regional services, and will now be used on regional routes around Olomouc from December.
Denmark: DSB announced on January 21 that CAF had pulled out of bidding for a contract to supply coaches, leaving Siemens and Talgo.
Egypt: National Authority for Tunnels has awarded Hyundai Rotem a 150·8bn won contract to supply 48 cars for Cairo metro Line 2.
Europe: On December 21 Bombardier announced that it had signed a €437m rolling stock contract with 'an undisclosed customer in Europe'.
Railpool has ordered a further 20 Bombardier Traxx electric locos for delivery from mid-2019, with options for 20 more. Based on the list price, the orders would have a combined value of €74m.
Beacon Rail has acquired 67 diesel locos from Colas, which will continue to operate them in the UK and France.
France: On behalf of funding authority Île-de-France Mobilités, SNCF has awarded Bombardier a €330m firm order to supply a further 42 seven-car and five eight-car Francilien EMUs for Transilien lines L, J and P.
Île-de-France Mobilités and RATP have signed a €121·3m contract for CAF to refurbish the 43 MI2N EMUs operating on RER Line A.
Alstom's La Rochelle factory has delivered the first of 14 Citadis X05 Compact trams that it is supplying to Avignon.
Germany: DB Cargo and Siemens Mobility announced the signing of a framework agreement covering up to 100 Vectron MS electric locomotives on January 18, with a firm order for 40 to be delivered between February 2019 and June 2020 for use on cross-border freight services. This is separate to the August 2017 agreement covering up to 100 with a firm order for 60.
Karlsruhe tram-train operator AVG has placed a €87m order for a further 20 Bombardier dual-system Flexity LRVs, to be delivered in 2020-21.
Hungary: MÁV-Start has signed a firm contract for Stadler to supply a further eight six-car Kiss double-deck EMUs for use on Budapest commuter services from 2021.
Italy: Ferrovie Appulo Lucane has awarded Stadler a €22·8m contract to supply four three-car 950 mm gauge DMUs, with an option for four more.
Luxembourg: CFL has placed a €360m order for 34 Alstom Coradia regional high-capacity double-deck EMUs for use in Luxembourg, France and Belgium from December 2021.
Netherlands: In December NS placed a €400m firm order for a further 50 three-car and 38 four-car CAF Civity EMUs to be delivered from 2020, taking the total order to 206 units.
Romania: Mari-Vila Com has won a 16·3m lei contract to supply HVAC units for 46 V3A-CH-PPC trams.
Astra Vagoane Călători was sole bidder for a contract to supply eight low-floor trams to Galaţi, with options for 10.
Russia: TMH Tver has been awarded a 285m rouble contract to supply 138 bogies for the regauging of coaches in Sakhalin from 1 067 mm to 1 520 mm.
Central PPK has awarded TMH Metrowagonmash a contract to supply 17 two-car and six three-car RA-3 DMUs, financed by Sberbank Leasing. The new RA-3 design offers a maximum speed of 120 km/h, compared to 100 km/h for older units, with improved crashworthiness, wheelchair lifts and retention toilets.
Metafrax has awarded UWC Tikhvin­ChemMash a contract to supply a further 100 Type 15-6880 methanol tank wagons by May.
Slovenia: SŽ-Tovorni has placed a €9·1m order for sole bidder CZ Loko to supply four EffiShunter 1000 diesel locomotives with CAT C32 895 kW engines for use at the port of Koper.
Spain: Renfe has renewed three contracts totalling €125m for the Irvia joint venture with Alstom (51%) to undertake the full maintenance of 15 S-104 Pendolino high speed trainsets and to provide preventive, predictive and corrective maintenance of 106 suburban multiple-units.
Beacon Rail has acquired nine Bitrac electro-diesel locomotives from CAF for lease to SNCF Captrain España.
Switzerland: Metre-gauge interurban operator Forchbahn has awarded Stadler a contract to modernise its 13 type Be 4/6 EMUs, with Voith to supply new traction inverters.
In December SBB directly awarded Stadler a SFr65m contract to supply seven four-car Flirt 'Mouette' EMUs for use on the Bern – La Chaux-de-Fonds route which is to be transferred from BLS in December 2020. There is an option for a further seven vehicles.
Taiwan: A NT$44·3bn contract for Hitachi to supply 50 12-car inter-city trainsets from 2021 was signed by TRA and its procurement agent Bank of Taiwan on January 15. The contract covers half of the new trains to be ordered under TRA's development plan for 2015-24. The 1 067 mm gauge 25 kV 60 Hz trainsets will have a design speed of 150 km/h and service speed of 140 km/h.
Toshiba Infrastructure Systems & Solutions is to supply electrical equipment for 52 10-car 130 km/h commuter EMUs which TRA ordered from Hyundai Rotem in mid-2018.