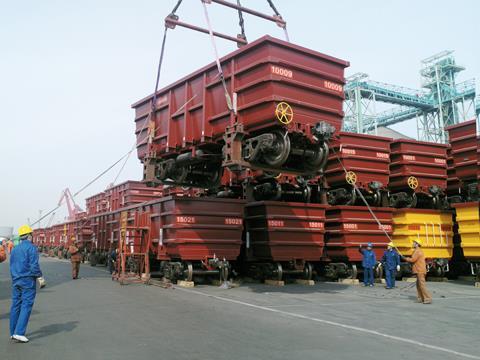 Argentina: SABB SA is completing a contract to repair 59 wagons for Belgrano Cargas y Logística. Wagon production may also resume at its plant at María Juana in Santa Fe province.
Bangladesh: Backed by ADB, on November 27 BR awarded Indonesia's PT Inka a 5·62bn taka contract to supply 100 stainless steel metre gauge and 50 broad gauge coaches within 24 months.
Canada: Tractive Power Corp has sold its initial TP56 three-axle industrial shunting locomotive to Parish & Heimbecker and is 'moving ahead with a build programme for additional units'. Based on an EMD SD40 frame with a Caterpillar C9 engine, the TP56 is designed to use industrial and rail components (RG 6.14 p43).
China: Zhejiang Liebherr Zhongche Transportation Systems is to supply CSR Sifang with 540 HVAC units for Tianjin Metro Line 6 cars.
Bombardier has selected Liebherr to supply 20 cooling systems for Primove batteries used on Nanjing's trams.
Croatia: On December 12 Croatian Bank for Reconstruction & Development approved a €106m loan to HŽ PP to finance 23 of the 44 Konar multiple-unis ordered in January 2014.
Europe: On December 3 Germany's EBA approved multiple-working of DB Regio Stadler Flirt single-deck EMUs with CFL Kiss double-deck EMUs on the Koblenz – Trier route.
France: Ile-de-France transport authority STIF has agreed to finance a €589m order for 42 double-deck
Régio2N EMUs which SNCF is due to place with Bombardier in January for use from September 2017 on Line R.
Saint-Etienne has selected CAF to supply 16 Urbos trams for €42m. The first of the five-section bidirectional vehicles are to be delivered in early 2016.
Italy: Trenitalia has awarded Bombardier and AnsaldoBreda a 10-year contract to maintain the 50 Frecciarossa 1000 high speed trainsets.
Japan: JR East has called international tenders for the supply of 18 DMU cars for the Hachinohe Line. It is 'looking forward to receiving many applications from all over the world and having dialogues with best in class manufacturers', and has a 'strong will to purchase high-quality and reasonably priced products with sufficient after-sales service' from domestic or overseas suppliers.
Kazakhstan: EBRD is to provide freight company Eastcomtrans with a US$30m financing package for the purchase of up to 500 wagons and balance sheet restructuring, and is discussing a second package worth US$25m. EBRD said it aimed to 'support a private company operating in a sector where the state still dominates', in a 'difficult economic setting with limited access to international funding'.
KTZ has awarded EKZ a €1·3bn contract to maintain the KZ8A and KZ4AT locomotive fleets for 25 years.
Lithuania: Škoda Vagonka has won a KC750m contract to supply three three-car Class 575 double-deck EMUs to LG for use on Vilnius – Minsk services. Modifications for international use will include a crew compartment, different seats, bilingual information systems and additional luggage racks. Journey times are to be reduced by 30 min to 2 h once 25 kV 50 Hz electrification is completed by 2016.
Malaysia: CSR Zhuzhou has delivered the first of a second batch of Class 92 suburban EMUs for KTMB, and last month signed a 40m yuan contract to maintain them.
Mexico: Alstom is to refurbish 85 Mexico City metro trainsets by 2024 under a 5·8bn peso contract.
Netherlands: Following the standstill period, on December 5 NS confirmed it had signed a contract worth more than €500m for CAF to supply 118 Civity EMUs for entry into service from 2018, with options for more (RG 12.14 p10). NS also intends to order around 60 Stadler Flirt EMUs to provide more passenger capacity by 2016; these would be similar to EMUs already operating in other countries, with wide gangways and a wheelchair accessible toilet.
NS has shortlisted four potential suppliers to supply the Intercity New Generation EMU fleet for use from 2021.
Poland: Koleje lskie has leased 28 EN57 EMUs from Przewozy Regionalne for three years from January 1 for 136m złoty. PR will be responsible for maintenance and providing replacements if the leased vehicles are out of service. In the longer term K plans to purchase 20 new EMUs while the voivodship would buy 10, reducing the need to lease vehicles from 2017.
PKP IC has awarded Corail a 10m złoty contract to supply five road-rail shunting vehicles.
MPK Wrocław has signed a 50m złoty contract for Pesa to supply six 100% low-floor Twist trams with an option for 19 (RG 9.14 p27). The trams would include supercapacitor energy storage. Deliveries are due to begin next year.
USA: Following requests from Amtrak and the California High Speed Rail Authority, the Federal Railroad Administration has approved a waiver on Buy America procurement rules which covers up to four pre-series high speed trainsets for testing on the Northeast Corridor and California's nascent high speed line. FRA said 'domestically-produced high speed trainsets cannot be bought or produced in the USA within a reasonable time'.