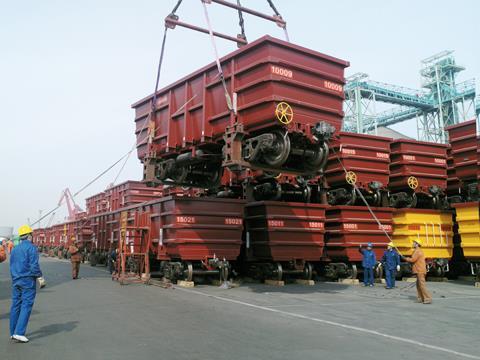 Bulgaria: Interpipe's KLW has produced the first of 240 wheels from its new finishing line in Dnipro for use on BDZ Siemens Desiro EMUs.
China: CRRC Qingdao Sifang is to supply a fleet of CRH6 EMUs to the Guangdong Guangzhu Intercity Railway with a total value of 2·4bn yuan. The company will also supply CRH6F trainsets worth 570m yuan to the Hunan Intercity Railway.
Between July and November China Railway Corp awarded CRRC contracts for the supply of wagons worth 7·14bn yuan, locos worth 4·56bn yuan and multiple-units worth 3·13bn yuan.
Alstom has won a €31m contract to supply traction equipment and monitoring systems for 156 metro cars that CRRC Nanjing Puzhen Rail Transport Co is supplying for the second phase of Shanghai metro Line 10. Traction motors will be produced by the Xi'an Alstom Yongji Electric Equipment Co joint venture, with other equipment being made by the Shanghai Alstom Transport Electrical Equipment Co joint venture. Alstom's sites in Tarbes and Villeurbanne will provide components, with Sesto, Charleroi and Valenciennes supplying software.
CRRC Nanjing Puzhen has announced contracts totalling 2·59bn yuan to supply metro trainsets to Shanghai Rail Transit Line 10 Development Co, Shanghai Metro First Operation Co, Nanjing Subway Construction Co and Nanjing Metro Operation Co.
CRRC Nanjing Puzhen Rail Transport Co is to supply trainsets for Nanjing metro Line 2 under a 650m yuan contract, as well as for the Nanjing – Gaochun Intercity Rail Project.
CRRC Changchun has awarded Jilin Midas Aluminium Industries Co a 41·6m yuan contract to supply components for trainsets for Wuhan metro Line 7 and the Chongqing Loop Line.
Maxwell Technologies is supplying lithium-ion capacitors for onboard use in Changsha.
Estonia: Ekova Electric has won a €12m contract to modernise 14 trams for TLT Tallinn in 2017-18.
Finland: Helsinki operator HKL has approved the purchase of 20 more low-floor Artic trams from Škoda Transportation subsidiary Transtech.
France: SNCF has called off a further 52 Francilien EMUs from Bombardier for €348m under a framework contract awarded in 2006. Due for delivery in 2018 to operate services from Paris St-Lazare, the trains are being funded by STIF.
In January RATP is to exercise a €163m option for a further 20 six-car Alstom MP14 metro trainsets for Paris Line 4, under a framework contract awarded on behalf of Île-de-France transport authority STIF and Société du Grand Paris in early 2015 which covers up to 217 MP14 trains over 15 years.
Germany: Leipzig's LVB is to exercise a second option for a further nine Solaris trams.
International: China's Jilin Midas Aluminium Industries has won contracts to supply components for a project in the Middle East and two projects in Europe.
Italy: Trenord has awarded Hitachi Rail Italy and Sitav a 24-month contract worth €79m to provide corrective maintenance and functional testing for 80 TSR double-deck EMU cars.
Trenitalia has awarded Hitachi Rail Italy a €79m contract to maintain the Frecciarossa 1000 high speed train fleet over nine years, and a joint venture of HRI and Sitav a 12-month contract worth €21m to continue to maintain the Frecciarossa 500 fleet.
Poland: PKP IC is to lease five main line diesel locos from D for one year for €0·96m.
MPK Wrocław has exercised an option to order a further 13 Modertrans partly low-floor Moderus Beta trams for delivery by the end of 2017 at a cost of 50m złoty.
ZNTK Misk Mazowiecki's 309m złoty offer was the sole bid for a contract to modernise 36 PR EN57 EMUs.
Pesa was the sole bidder to supply 18 trams to Bydgoszcz. The 141·1m złoty order is to include 15 five-section and three three-section trams.
Newag submitted the best bid for a contract to supply PR with three four-car EMUs for 61·5m złoty, while Pesa is to supply four two-car EMUs for 58m złoty. Deliveries are planned by December 10 2017.
Russia: Central Suburban Passenger Co has taken delivery of two five-car Type EG2Tv Ivolga EMUs from TVZ for use on the 18 km line from Moscow Kievskaya to Novoperedelkino.
Transmashholding has been selected to supply five eight-car trainsets for St Petersburg metro Line 1. The bodyshells are to be built at Tver Carriage Works, with final assembly at Oktyabrsky Electric Railway Car Repair Plant.
Yekaterinburg-based NPO Avtomatika and Czech company Pragoimex have agreed to co-operate to modernise Tatra T3 trams in the Russian market.
Leasing company Business Alliance has awarded United Wagon Co a contract to supply 730 open wagons from the Tikhvin plant, taking its fleet of modern wagons to more than 4500 vehicles. BA envisages that they would be leased to customers under agreements with an average term of five years.
Sweden: The first of 30 additional Coradia X61 EMUs being supplied to Skånetrafik by Alstom for Pågatågen services was delivered on December 6. The rest will follow by January 2019.
Ukraine: UZ has awarded contracts for KVSZ to supply 350 Type 12-783 open wagons, Dneprovagonmash a further 250 wagons and Popasna Railcar Repair Plant 50 wagons. In November UZ took delivery of the first of 80 open wagons to be built by its subsidiary Darnitskiy Vagonremontniy Zavod.
USA: Siemens is to supply six S70 light rail vehicles for the Charlotte Area Transit System. These will be equipped with batteries for catenary-free operation in the Uptown area.
Massachusetts Bay Transportation Authority has approved the award of a $277m contract for CRRC MA Corp to supply an additional 120 metro cars for Boston's Red Line, with an option for a further 14.
Vietnam: CRRC Dalian has delivered eight Type CKD0B locomotives to Formosa Ha Tinh Steel Corp in Vietnam. They have 4240ZJ diesel engines, are rated at 735 kW and are equipped for remote control operation.
Zimbabwe: CRRC Shandong has delivered 31 open wagons to Zimbabwe's Ministry of Transport & Infrastructure.