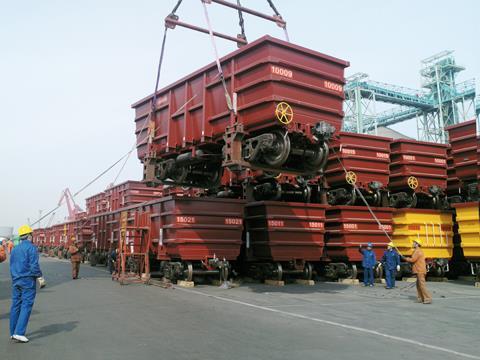 Australia: Three consortia have been shortlisted for a contract to replace the NSW TrainLink regional rail fleet of XPT, Endeavour and Xplorer trains: Regional Futures, led by Downer; a Bombardier consortium; and Momentum Trains led by CAF. Transport for NSW aims to award the contract in 2019 for delivery from the early 2020s.
China: CRRC Times Electric has delivered two electric maintenance and rescue vehicles for Guiyang's future metro Line 1.
CRRC Zhuzhou Electric Locomotive has awarded Zhejiang Liebherr Zhongche Transportation Systems a contract to supply and maintain hydraulic anti-buckling systems for nine LRVs being built for the city of Mile in Yunnan province.
Croatia: On November 20 prospective open access intermodal operator Transagent Špedicija took delivery of its first pair of locomotives, a Siemens ES64U2 Eurosprinter acquired from MRCE and a former British Rail Class 92 last used by DB Cargo Romania. Transagent Špedicija received its operating licence in April and intends to launch intermodal trains from its base at the port of Rijeka to destinations in Hungary and Serbia.
Czech Republic:  Krnovské Opravny a Strojírny is to supply up to 16 Pragoimex EVO2 trams to Plzeň under a KC524m framework agreement.
France: On December 15 Alstom announced a €27m order to supply six additional Citadis X05 trams and 22 ground-based static charging zones for Nice Line T3 as an option on a contract signed in October 2015.
Germany: Metrans has ordered 10 more Bombardier Traxx F140MS locos for delivery in Q1 2018.
Bombardier is to supply 47 trams to Duisburg for €132m.
Hungary: Budapest is to exercise an option to purchase a further 21 five-section and five nine-section trams from CAF for HF17·6bn.
On November 30 Stadler unveiled the first of 10 Flirt3 EMUs that it is supplying to GySEV under a contract awarded in September 2016. They are expected to enter service from mid-2018 to January 2019. At 77∙1 m the four-car EMUs are 2∙8 m longer than the 10 Flirts already in service with GySEV.
India: CRRC Nanjing Puzhen has delivered the first of 19 four-car trainsets for the Noida metro.
Italy: Ferrovia Circumetnea has ordered an additional two-car Vulcano 950 mm gauge DMU from Newag, and expects to place a firm order for three more once financing of €14·9m is secured. The order was placed the day before the expiry of an option on a 2013 order for four.
Poland: MPK Kraków announced on November 30 that it was to sign a framework with a consortium of Solaris and Stadler for up to 50 trams.
ČD was sole bidder for a two-year contract to lease main line diesel locomotives to PKP IC. It is to provide five Class 754 locos for €2m, with options for two more
A tender for the modernisation of nine PKP IC Fablok SM42 shunting locos has been cancelled after sole bidder Newag's offer exceeded the budget by 30%.
PKP IC has ordered 55 coaches from sole bidder FPS for 474m złoty, with options for 26 more worth 224m złoty.
Russia: Smolensk is to receive a second batch of 20 used trams from Moscow, following the 10 vehicles transferred last year. Irkutsk is also to receive 10 used trams from the capital.
The Ministry of Transport has approved technical standards for the piggyback transport of lorries, trailers and cars by rail, including the adoption of a standard floor height of 1 100 mm above the rail head. This follows trials undertaken by Federal Freight Co on the Moscow – Novosibirsk – Yekaterinburg route in 2016. Regular services are planned from autumn 2018.
STM-Service has opened a facility in Chelyabinsk which will use telematics to monitor the performance of Sinara Type 2ES6 locomotives operated by RZD in the region.
Serbia: On November 23 Srbija Voz and a consortium of Šinvoz LTD Zrenjanin and CRRC Zhuhou signed a €3·5m EBRD-financed agreement for the modernisation of five RVR Riga Class 412 EMUs.
Turkey: The government has launched a project to develop a domestically-produced electric locomotive. The E-5000 would be rated at 5 MW with a maximum speed of 160 km/h. TCDD expects to buy an initial 20 locos.
UK: On December 14 leasing company Porterbook awarded Bombardier Transportation's Derby plant a £105m contract to supply six 10-car Aventra 160 km/h 25 kV 50 Hz EMUs for the c2c franchise, and provide eight years of maintenance and support services from their introduction in 2021 until Nov­ember 2029.
Leasing company VTG Rail UK is working with software company 3Squared to develop ProActive Maintenance, a web-based maintenance management system to replace paper-based processes.
GB Railfreight has taken delivery of the first of 41 sand hopper wagons built by Greenbrier's Wagony Swidnica business which it is leasing from Nacco to support a contract to haul silica sand from King's Lynn to Yorkshire.
Ukraine:  The government announced on December 4 that it expected to formalise by the end of the year a strategic partnership with GE Transportation for the implementation of a US$1bn seven-year rolling stock renewal programme. The first stage would include the supply of 30 locos with domestically-produced components in September 2018.
Hyundai Rotem's contract to maintain the 10 nine-car inter-city EMUs it supplied to UZ has been extended from 2022 to 2027 for 65bn won. Hyundai Rotem said it had established a 24 h maintenance system enabling it to respond promptly to any breakdowns, introduced an integrated maintenance management system and developed plans for dealing with low temperatures and heavy snowfall which had led to problems in the past.
USA: In order to replace more of its oldest diesel locos, the New Jersey Transit board voted on December 13 to exercise an option for Bombardier Transit Corp to supply a further 17 ALP-45 electro-diesel locomotives at an estimated cost of $168m including spares.
Brookville Equipment Corp is to supply Seattle's Sound Transit with five Liberty LRVs for $26·5m. Placed as part of the project to build a 3·9 km extension of the Tacoma Link line, the order includes options for Sound Transit to order a further five vehicles, and also for the City of Portland, Oregon, to order five vehicles.