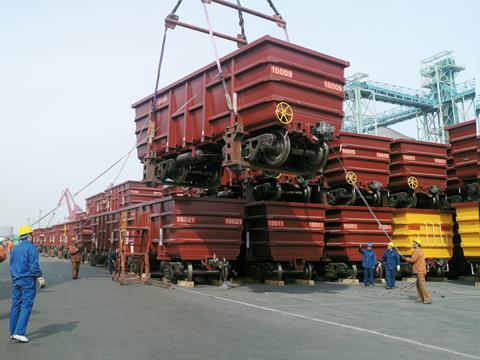 Argentina: Ex-Madrid metro cars have entered service on Buenos Aires metro Line B.
Azerbaijan: Three five-car Alstom metro trainsets have entered service in Baku.
Belgium: De Lijn has placed a €97m firm order for a further 40 Bombardier Flexity 2 low-floor trams to replace older vehicles in Gent and Antwerpen. The contract announced by Bombardier on June 2 is an option on a September 2012 deal and takes De Lijn's total order to 88 of the Flexity 2 design, which it has branded 'Albatros'.
Bosnia: Sarajevo has acquired 20 ex-Köln Duewag trams from Konya.
China: Nanjing SR Puzhen Rail Transport Co is to supply metro cars for Hefei Line 2 for 971m yuan and Shanghai Line 8 Phase 3 for 808m yuan.
Suzhou New District Tramway Co has awarded Nanjing SR Puzhen Rail Transport Co a 326m yuan contract to supply trams for Route 2, for delivery in 2016-17.
Ballard Power Systems and Tangshan Railway Vehicle have signed a framework agreement for the development of a fuel cell module for tram and other ground transport applications. A prototype tram is to be unveiled next year.
Denmark: DSB has invited expressions of interest in a framework contract worth up to DKr60m to provide consultancy services to support the procurement, commissioning and maintenance of 10 to 20 locomotives. DSB expects to order electric locos, but is evaluating whether it should also order diesels in case of delays to the electrification programme or efforts to fully commission the IC4 DMUs.
Europe: BayernLB is providing WBN Waggonbau Niesky with a €10m guarantee facility to support a €120m contract to supply 315 lorry-carrying wagons to Eurotunnel.
Germany: Netinera's Länderbahn has awarded Alstom a contract to supply 12 Coradia Lint 41 DMUs by June 2016 for use on Regentalbahn's
Oberpfalzbahn services. The order announced on June 16 replaces a December 2011 contract for Pesa to supply 12 Link DMUs in 2014; this was cancelled after problems obtaining type approval, and four are now in service with Koleje Wielkopolskie.
EBA has granted the Škoda Transportation Type 109E multi-voltage electric locomotives unlimited approval for operation in Germany at up to 200 km/h. D plans to use its Class 380 locos to haul Praha – Berlin – Hamburg EC services from December.
India: China Railway Rolling Stock Corp is to supply 14 eight-car metro trainsets to Kolkata. CNR Dalian was selected as preferred bidder in February.
Netherlands: NS has invited Alstom, Bombardier, Siemens and Stadler to submit proposals for its Inter-city New Generation EMU contract.
CAF has awarded Mitsubishi Electric a contract to supply the traction equipment including inverters for the 118 New Generation Sprinter EMUs ordered by NS for delivery from 2018.
NS has exercised an option for a further 18 Bombardier Traxx electric locomotives, to be delivered from May 2016 to take its fleet to 37.
Nigeria: Intamin has delivered a monorail set to operate a three-station line linking Summit Hills with Tinapa in Calabar. It has 10 passenger and two equipment cars and is due to enter service this year.
Poland: Laude Smart Intermodal has increased its order for Tatravagonka intermodal wagons from 80 to 93, taking the value to 23m złoty of which 7m złoty is EU co-financing. It has also called tenders for 30 more wagons.
Tramwaje Slaskie's ZUR workshop is to rebuild second-hand Pt/Ptb trams from Frankfurt am Main, converting them for unidirectional use and installing a new low-floor centre section and Woltan traction equipment.
Qatar: Saft is to supply Ion-OnBoard Regen Li-ion batteries for the Sitras Hybrid Energy Storage systems which will be fitted to 10 of 19 Avenio trams Siemens is supplying for the Education City tramway (RG 6.15 p58).
Russia: Grain wagon owner Tehnotrans has signed an agreement for United Wagon Co's Tikhvin plant to supply 500 hoppers under a long-term lease by the end of 2016. A new design with 25 tonne axleload bogies will provide a capacity of 120 m3 or 76 tonnes.
RZD has awarded Siemens a 40-year contract to maintain 294 Desiro RUS EMUs at depots in Moscow and near Sochi. This includes 54 currently being maintained under a 2011 agreement.
UVZ's Volchansky Mechanical Plant has developed a 33-9985 side-dump ore wagon with three-axle bogies and a 105 tonnes payload.
Tvema has supplied RZD with a prototype Sprinter 140 km/h inspection vehicle; up to 50 could be ordered.
Bombardier is building a 3 kV DC/25 kV AC twin-section Traxx electric loco as a demonstrator for the Russian market.
Testing of a Siemens Velaro RUS fitted with experimental permanent magnet motors has demonstrated a 5% reduction in energy consumption.
St Petersburg metro Line 4 has taken delivery of the first of 11 six-car Metrovagonmash trainsets. Tram operator Gorelektrotrans has taken delivery of 14 UKVZ bidirectional partly low-floor trams to operate during a bridge closure which will put turning loops out of use.
Sweden: On June 17 leasing company AB Transitio announced a SKr3·5bn order for 33 four-car Stadler Kiss double-deck EMUs. They will be used from 2018 on regional services around Stockholm operated on behalf of the Mälab joint venture of local authorities.
Turkey: Gaziantep is to lend eight ex-Rouen trams to Kayseri for two years.
UK: Eversholt Rail has awarded Wabtec a £60m contract to refurbish an initial 30 of its four-car Class 321 outer-suburban EMUs to provide 'maintainability, cost effectiveness and the look and feel of a new train'. The EMUs are not committed for use beyond the end of the current Greater Anglia franchise in 2016, but the leasing company is 'investing in the fleet to ensure they are available to serve passengers on day one of any new franchise'.