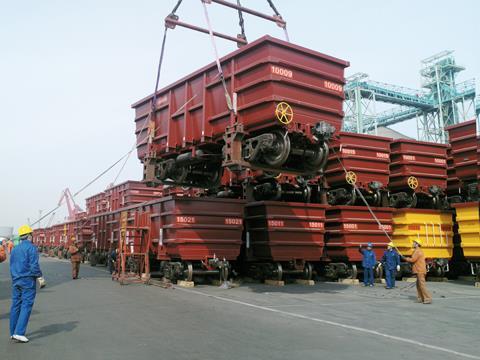 Europe: GySEV has exercised an option for a further four Siemens Vectron locos, taking its total order to nine; the first two were handed over in May.
France: Ile-de-France transport authority STIF is to provide 100% of the funding for a €11bn order for 83 Bombardier Régio2N double-deck EMUs; 69 will be deployed between the end of 2019 and 2021 to replace locomotive-hauled VB2N coaches on Paris Line N, and 14 EMUs may be deployed by 2021 on RER Line D subject to a planned restructuring of the southern section.
Germany: Hannover transport operator Üstra has exercised an option for a further 46 Type TW3000 light rail vehicles, taking its total order to 146. Consortium leader Kiepe Electric will be responsible for the electrical systems and bodyshells, while Alstom will supply the bogies with rubber-sprung low-noise wheels.
Hohenzollerische Landesbahn has placed a €50m order for 10 two-car Alstom Coradia Lint 54 DMUs to be delivered by May 2019.
India: In support of India's Swachcha Bharat Abhiyan national sanitation programme, Chittaranjan Locomotive Works has rolled out the first WAG-9H electric freight loco with a built-in toilet cubicle with biodigester.
Latvia: On June 14 Pasažieru Vilciens resumed tendering for the supply of 32 EMUs. CAF, Stadler, Škoda Transportation, Talgo and a consortium of Siemens and Sinara had previously expressed interest in the procurement, which was delayed by the decision to switch from 3 kV DC to 25 kV 50 Hz.
Lithuania: Lietuvos Geležinkeliai has ordered two type ES1000 battery shunting locomotives from Express Service for use in Kaunas and Vilnius.
Poland: Zachodniopomorskie voivodship is to exercise options for a further 10 Newag EMUs worth 147m złoty, enabling it to withdraw EN57 units.
Pesa was the sole bidder for a contract to supply 15 trams to Gdańsk, offering its Jazz Duo for 138·4m złoty plus options for 15 more worth 132·8m złoty.
Sole bidder Modertrans is to supply three single-section trams to Elbląg.
PKP Intercity has awarded Wagon Opole a 38m zloty contract to refresh 60 Type 111a and 112A coaches.
PKP Intercity is hiring 50 second class passenger coaches from ČD for up to 90 days to cover summer peak travel demand. The 4·7m złoty cost is cheaper than refurbishing its own coaches for services which run for a limited time.
Industrial Division has bought six 14WE EMUs from SKM Warszawa. They are being modernised by ZNTK Mińsk Mazowiecki with the installation of retention toilets, retractable steps and a new passenger information system.
Russia: The BKM-Siberia 50: 50 joint venture of Belkommunmash and the city of Novosibirsk has unveiled its first tram. It has bogies and traction motors recovered from Chelyabinsk trams, refurbished braking equipment, a new partly low-floor BKM bodyshell and traction equipment supplied by ARS Term.
Demikhovsky Engineering Plant has been awarded a 1·6bn rouble, eight-month contract to refurbish 100 Moscow metro Type 81-717/714 cars.
Russian Post and Transmashholding are to co-operate to develop baggage and mail vans for domestic and China – Europe routes. They envisage that 300 vehicles could be delivered in 2017-19.
United Wagon Co is supplying Sberbank Leasing with 100 grain hopper wagons offering a capacity of 765 tonnes and 120 m3, which is 26 m3 more than standard wagons. They are designed for 800000 km or eight years between overhauls, compared with 350000 km or four years for older designs.
Spain: The Renfe board has approved a firm order for a further 15 Talgo Avril high speed trainsets, which will have 1668/1435 mm gauge-changing equipment and be suitable for three electrification systems. The order is worth €243m, plus €252m for 30 years of maintenance by a Renfe/Talgo JV.
Sweden: Västtrafik has awarded Alstom a SKr90m contract to refurbish 18 ASEA/ABB X12 and X14 two-car EMUs by the end of 2020. The work is to be carried out at the Motala workshop which Alstom bought in late 2015.
Green Cargo has developed 25 m long wagons to accommodate the increase in the length of standard turnouts from 16 to 24 m. This will support Vossloh Nordic Switch Systems' aim of increasing rail's share of its track component delivery activities to 20% this year and more in the future.
Switzerland: Hupac has ordered eight Siemens Vectron MS locos to be delivered in mid-2018 use on freight services between the Netherlands, Germany, Austria, Switzerland and Italy.
Ukraine: Elektrontrans submitted the best offer to supply seven T5B64 unidirectional five-section 100% low-floor trams to Kyiv. The offer of 301m hryvnia beat a higher bid from UKVZ.
USA: Phoenix's Valley Metro Rail has awarded Brookville Equipment a $33m contract to supply six trams over three years for the 4·8 km Tempe Streetcar project, construction of which began on June 1. They will be equipped with batteries for off-wire operation. Siemens is to supply 11 S70 LRVs over seven years for the existing Valley Metro light rail line, with options for up to 67 more.
Vertex Railcar is to supply Iroquois Bio-Energy Co with 100 tank wagons for $11m, while Trinity Chemical has ordered 50 tank wagons and signed a letter of intent for up to 300 more to be supplied with in two years.