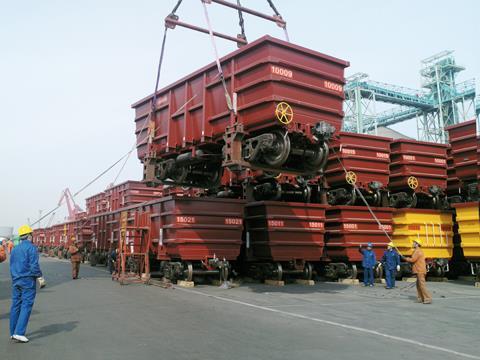 Bangladesh: Hyundai Rotem is to supply 10 diesel-electric locos to BR under a 41bn won contract announced on May 18, with an order for 20 more expected to follow. They are to be delivered from the Changwon plant from 2020, for mixed traffic use on the metre gauge Dhaka – Chittagong route. BR's 2016 call for tenders had attracted bids from CSR Ziyang, CSR Sifang, Vossloh España and Grindrod as well as Hyundai Rotem.
Canada: CN announced on May 24 that it would acquire 1 000 high-cube grain hoppers from National Steel Car over two years, allowing lower-capacity cars to be phased out of its western grain fleet. CP announced on June 7 that it intends to order 5 900 grain wagons over four years at a cost of C$500m, and has placed an initial order for 1 000 with NSC.
Cuba: Sinara Transport Machines' Lyudinovo plant has begun delivering TGM8KM diesel shunters to the José Martí steelworks, which currently uses TGM4 locos supplied more than 30 years ago. STM is also training staff.
Czech Republic: CZ Loko has launched the EffiShunter 600 four-axle shunting locomotive, replacing the Effi­Shunter 500 and 700 in its portfolio. The EffiShunter 600 is fitted with a 563 kW Caterpillar C18 engine, which replaces the 522 kW C18 and 709 kW C27 prime movers and meets the stricter IIIB emission standards.
Europe: Voith Turbo and Siemens are to develop condition monitoring technology for Voith's Scharfenberg couplers, with the aim of reducing inspection and maintenance costs while increasing availability. Voith will lead development, with Siemens integrating the application into its Railigent suite.
Finland: Helsinki operator HKL has ordered a further 10 ForCity Smart Artic trams from Škoda Transportation subsidiary Transtech for €30m.
France: Alpha Trains has ordered nine Stadler Euro4001 2·8 MW six-axle diesel-electric locomotives for lease to SNCF's open access freight subsidiary VFLI from 2020. They will be fitted with ETCS and certified for France and Belgium. VFLI will also purchase three
Euro4001s directly from Stadler, along with the prototype EuroDual electro-diesel which has a nominal rating of 6 MW.
Germany: Freiburg operator VAG has ordered five CAF Urbos 100 trams, with options for seven more.
Indonesia: PT Inka is developing a 160 km/h multiple-unit design.
Italy: Leasing company LocoItalia has ordered four Bombardier Traxx DC3 and four Siemens Vectron DC locos.
Japan: Metropolitan Intercity Railway Co has ordered five six-car Hitachi TX-3000 EMUs for use on Tsukuba Express services from March 2020.
Kazakhstan: United Wagon Co's TikhvinSpetsMash plant is delivering 64 vans to Asian Synergy Logistics.
Luxembourg: Luxtram has placed a €40m order for a further 12 CAF Urbos 3 trams for the next phase of the capital's tramway.
Netherlands: NS and leasing company Akiem have completed a sale and leaseback contract covering 45 Bombardier Traxx locomotives.
Norway:  Funding for the purchase of a further 25 Stadler Flirt multiple-units was confirmed by Minister of Transport & Communications Ketil Solvik-Olsen on May 15. State rolling stock company Norske Tog is expected to place a firm order later this year, and they would be delivered from Q2 2021 for use around Trondheim and on the Østfold and Vestfold lines. It is envisaged that 10 to 12 units would be electro-diesels, replacing older BM92 diesel multiple-units.
Bane NOR has finalised a NKr1·8bn contract for Alstom to supply, install and maintain for 25 years ETCS onboard equipment for use across the network (RG 5.18 p8). The package consists of three contracts with Bane NOR plus framework contracts negotiated on behalf of 14 vehicle owners with 467 vehicles of 55 types. ETCS operation is scheduled to start on the first routes in 2022, and across the entire fleet by September 2026. The dual-system version of Alstom's Atlas technology will support ETCS Level 2 and the legacy ATC-2 train protection system.
Philippines: A US$47·4m contract for PT Inka to supply four DMUs and three push-pull trainsets in 2019-20 was signed by PNR on May 28.
Poland: On May 21 SKM Warszawa signed a deal for Pesa to supply up to 21 Elf2 EMUs. The 310·5m złoty base order covers eight five-car and five four-car trainsets to be delivered within two years, with 15 years of maintenance plus staff training.
On May 29 PKP Intercity signed a 367m złoty contract for preferred bidder Newag to supply and maintain 20 Griffin 160 km/h electric locos within 30 months. An option for 10 locos would take the value to 551m złoty.
Rolling stock provider Industrial Division has ordered a Siemens Vectron MS electric loco for delivery in September.
Sole bidder Newag won a 123m złoty order to supply Pomorskie voivodship with a five Impuls EMUs by June 2019 for use on the Słupsk - Gdańsk - Elbląg route.
Russia: Gazpromtrans signed an agreement for Sinara Transport Machines to supply and maintain 24 LNG-fuelled shunting locos on May 25. The order covers 10 four-axle locos rated at 856 kW and 14 eight-axle locos rated at 1·86 MW. These are scheduled for delivery in 2019-24 for use on Gazprom's Obskaya – Bovanenkovo line.
United Wagon Co has begun delivering 84 Type 13-6903 flat wagons to Rhenus Logistics. Each wagon can carry two containers of up to 36 tonnes.
Ural Locomotives has produced the first seven-car version of the Lastochka EMU family, which will be used in Moscow; 10 and 12-car versions are planned.
Spectransgarant has taken delivery of the last of 300 flat wagons being supplied by Altaivagon. An order for a further 300 flat wagons for tank-container traffic is to be placed later this year, taking the STG fleet to 2 800 wagons and reducing the need to lease vehicles.
United Wagon Co's Tikhvin plant is to supply Eurosib with 500 flat wagons of 74·5 tonne capacity and potassium producer Uralkali with 500 Type 19-9835-01 mineral fertiliser hoppers. The TikhvinChemMash plant is to supply Karabashmed with 50 Type 15-9545 sulphuric acid tanks with a capacity 10% higher than older designs, enabling the fleet to be reduced. TikhvinChemMash is also to supply Shchekinoazot with 176 Type 15-6880 methanol tanks and 119 Type 15-6926 ammonia wagons.
Trading company Fobos-TS is to supply 20 Uraltransmash 71-407 trams to Kazan operator Metroelectrotrans for 340m roubles. It has also won a 78m rouble contract to supply four trams to Novocherkassk.
United Wagon Co's TikhvinSpetsMash plant has supplied 50 Type 13-6895 flat wagons to the Red October timber factory.
Freight One subsidiary Staltrans has signed a 468m rouble deal to buy wagon wheels from Interpipe-M.
Serbia: On May 24 Srbija Kargo signed a €32m EBRD-financed order for eight Siemens Vectron locomtives to be delivered in 2019. They will be approved for use in Serbia, Croatia, Hungary, Austria and Germany.
UK: Porterbrook has awarded Siemens a contract to supply its Trainguard 200 for the first-in-class installation of ETCS Level 2 on a Bombardier Class 387 Electrostar EMU operated by GWR. This is intended to lead to type approval which would enable ETCS to be fitted to other Electrostar fleets in what would be one of the largest ETCS retrofit programmes in the UK.
USA: Amtrak has issued a request for proposals for the supply of either 50 to 75 'next generation' diesel-electric locomotives or the rebuilding of existing GE P42 locomotives including fitting AC traction equipment. There would be options to buy or rebuild further locomotives.