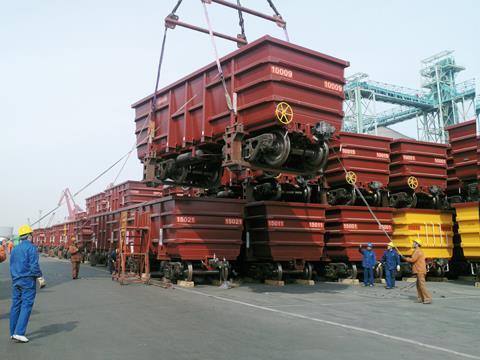 Argentina: Buenos Aires metro authority Sbase has awarded Alstom a €60m contract to supply 10 six-car Metropolis trainsets for Line D.
Australia: Public Transport Victoria has ordered five more six-car Alstom X'Trapolis EMUs for Melbourne.
Belgium: Bombardier has awarded Faiveley contracts worth more than €60m to supply braking systems, couplers, cab HVAC and auxiliary converters for 355 of the 445 Type M7 coaches which SNCB has ordered from a consortium of Bombardier and Alstom.
China: The Shanghai Alstom Transport Co joint venture is to supply 198 cars to operate on Shanghai metro Line 5 when an extension opens next year. Traction equipment is to be supplied by the Shanghai Alstom Transport Electrical Equipment Co JV. Alstom has also been selected to modernise the existing Line 5 fleet of 68 cars that Satco supplied for the opening in 2003.
Europe: On May 12 Siemens announced that Railpool had ordered five more Vectron AC locos for operation in Germany, Austria, Hungary and Romania, with an option for up to 10 more.
Alstom has obtained approval for the operation of Coradia Lint 41 DMUs in the Czech Republic and Poland. DB Regio acquired 17 Lints for use between Lübeck and Szczecin under an operating contract which began in December 2015, but pending type approval the services have been replaced by buses on the Polish section.
Germany: DB Regio has bought three used shunting locos from Vossloh Locomotives for €3·8m.
Go-Ahead has ordered 11 three-car and 15 five-car Stadler Flirt3 EMUs for the Stuttgart Netz 1b (Rems – Fils) services which it is to operate under contract to the Land of Baden-Württemberg from June 2019, and nine four-car and 10 six-car EMUs fitted with LZB train control and provision for ETCS for Lot 1c (Franken – Enz) services.
Sumitomo Mitsui Banking Corp and KfW IPEX-Bank announced on May 11 that they had concluded the financing of 52 Alstom Coradia Lint 41 DMUs which NS Financial Services has ordered at a cost of €170m for use by Abellio Rail Mitteldeutschland on Dieselnetz Sachsen-Anhalt services. The €126m loan has a term of 17 years to align with the two operating contracts.
DP Praha's Hostiva workshop is to modernise 12 Potsdam Tatra KT4 trams at a cost of KC85m.
Karlsruhe tram-train operator AVG signed a €59·5m contract with Bombardier on May 18 for the supply of a further 12 Flexity Swift ET 2010 LRVs from September 2017 to March 2018.
India: An initial nine Talgo cars were delivered to North Eastern Railway's Izzatnagar workshop in May, ahead of tests to assess whether Talgo stock would be suitable for operation at up to 200 km/h on existing IR infrastructure.
Iran: On May 3 RAI signed an MoU with Hyundai Rotem for the supply of 150 DMU cars worth US$260m. In 2004 Hyundai Rotem was selected to supply 150 cars, but the deal was suspended following the imposition of sanctions, at which point 68 cars had been delivered but the supplier not paid.
Italy: Ferrovie della Calabria has awarded three contracts for the supply of spares for its 950 mm gauge DMUs. Bellizzi is to supply MAN spares for €73661 and Fiat spares for €383083, while Tecnoidro is to supply Stadler spares for €65531.
Japan: JR West has begun taking delivery of 122 Class 225 second series EMU cars which are being built by Kinki Sharyo for use on the Hanwa Line. They have stainless steel bodyshells, diagnostic systems, LED lighting and platform position sensors.
South Korea: Korail has selected Hyundai Rotem's 250 km/h HEMU 250 design for a 102bn won contract to supply 30 trainsets for the Gyeongjeon Line which is due to open in 2020.
Latvia: Škoda Transportation has won a €62·6m contract to supply 20 low-floor trams to Rga in 2017.
Swedbank is to provide LDz with long-term credit worth €32m to finance the modernisation of 12 2M62 diesel locos with the support of CZ Loko.
Norway: CAF has awarded TSA a contract to supply traction motors for the 250 km/h Oaris trainsets ordered for Flytoget's Oslo airport services.
Poland: Newag is to modernise 16 Type 111A second class cars for PKP IC for 53m złoty, while Pesa has won a 12·6m złoty contract to convert three Z1 first class cars into restaurant cars.
Modertrans is to supply 10 bidirectional partly low-floor trams to Pozna.
Russia: A 1·2bn rouble agreement has been reached for Uraltransmash to modernise 60 Tatra T3 trams in Yekaterinburg to Pragoimex's VarioLFR design, with new front ends and the insertion of a low-floor middle section.
Omsk has acquired five withdrawn KTM-8KM trams from Moscow.
Spain: FGC has awarded ITK Ingeniería a €1·66m contract to supply 12 potash hopper wagons within 18 months.
Sweden: EuroMaint is to continue to maintain the Arlanda Express fleet for a further eight years from the beginning of 2017, and will install a real-time monitoring system.
Switzerland: On May 12 Schweizerische Südostbahn announced it had selected Stadler for a SFr170m contract to supply new rolling stock for Voralpen-Express services from 2019.
BLS Cargo took delivery of the first two of 15 Siemens Vectron MS locomotives on April 29. Designated Class Re475, they are to be delivered by early 2018 and will be equipped for Germany, Austria, Switzerland, Italy and the Netherlands for use on freight services between Rotterdam and northern Italy.
Turkey: Istanbul Metropolitan Municipality has awarded Hyundai Rotem a US$316m contract to supply 75 four-car trainsets for the future metro M7.
Hyundai Rotem has selected TSA to supply traction motors for low-floor trams Eurotem is to build for Izmir and Antalya.
UK: Angel Trains has awarded Alstom a contract for first-in-class design and installation of Atlas 200 ETCS on a Grand Central Class 180 DMU, and design work for Class 175 DMUs.