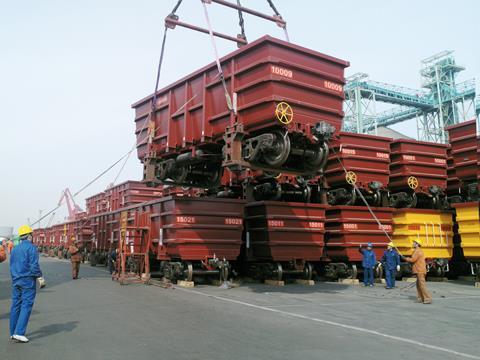 Austria:  Zillertalbahn announced on May 15 that it had selected Stadler to supply five hydrogen-fuelled multiple-units for its 760 mm gauge line (RG 3.18 p12). A prototype is expected to be ready for trials in 2020, with the remaining four trainsets to be delivered in 2022. Alstom did not submit a final offer owing to a shortage of production capacity, and a bid from China was rejected.
Belarus:  Pesa is to supply BC with six six-car 760M inter-city DMUs for 275m złoty. Three are to be delivered in mid-2019 and the rest in Q1 2020.
Bulgaria: Express Service has produced two MDD 3 diesel-hydraulic shunting locos for Sofia metro Line 3.
Canada:  On April 16 VIA Rail issued a request for qualifications for a contract to supply 32 push-pull trainsets for the Québec City – Windsor corridor (RG 4.18 p10). It expects to issue a request for proposals to shortlisted bidders in June, with bids to be submitted by September or October. Award of the contract is planned for December.
CN has awarded National Steel Car a contract to supply 350 centrebeam wagons for lumber traffic.
Croatia:  HŽPP is to take delivery of four more Končar DMUs worth €22m from May 2019 under a framework order for 44 multiple-units signed in January 2014. Deliveries were halted in February 2016 with 21 supplied amid financial difficulties at HŽPP.
Europe:  MRCE announced an order for a further 25 Siemens Vectrons on May 8. This includes 10 multi-system 6·4 MW locos suitable for operation 'from the Netherlands to southeast Europe' which will be delivered at the end of 2018, 10 Vectron MS locomotives for the Rhine-Alpine Corridor to be delivered in the second half of 2019 and five 5·2 MW DC-only locomotives to operate in Italy from March 2019.
On April 24 Alstom signed contract extensions with Akiem, Macquarie European Rail and Europorte covering maintenance of 41 locos to 2023. The work is being co-ordinated by Alstom's Services team based at Belfort but undertaken by subcontractors at depots across France and Germany.
France:  Alstom is to supply 32 more Citadis Dualis tram-trains to Île-de-France Mobilités and SNCF Transilien. Île-de-France Mobilités is financing the €170m order. Deliveries are due to take place in 2020-22, with 22 vehicles for the T12 Express line and the other 10 for the T13 Express line.
Poland:  Sole bidder Durmazlar has been selected to supply up to 24 trams to Olsztyn. The base order covers 12 trams for 108m złoty, rising to 206m złoty if all options are exercised.
On May 7 Koleje Mazowieckie signed a 153m złoty firm order for Stadler to suply six five-car Flirt EMUs by the end of 2019. This is the first contract within a framework for up to 71 EMUs.
Russia:  Novocherkassk Electric Loco
Plant has supplied quarrying company Pavlovsk Nerud with a specially-designed electric loco comprising two traction sections and a motorised dump car.
UWC is to supply 80 Type 13-6895 timber and 18 Type 12-6995 woodchip wagons to paper mill operator Volga; it has also signed a letter of intent to supply up to 200 timber wagons to TransLes.
TMH's DMZ plant is to supply five four-car EP3D EMUs to suburban operator Volga Vyatka in December.
Singapore:  LTA has signed a €150m contract for Alstom to supply six more six-car Metropolis trainsets for the North East Line and 11 three-car trainsets for the Circle Line.
Slovakia:  Evraz NTMK has begun delivery of around 1 000 wagon wheels ordered by ŽOS Trnava.
Spain:  Barcelona metro operator TMB has selected GMV to upgrade CCTV on 149 metro trains.
Sweden:  Green Cargo has ordered a further six Transmontana electric locomotives from Romanian manufacturer Softronic for delivery in autumn 2019. These follow a July 2017 order for two of the six-axle locos, which are scheduled for delivery later this year.
UK:  Leasing company Eversholt Rail has joined the Revolution VLR consortium of Transport Design International, Cummins, Prose, Transcal Engineering, RDM Group and the University of Warwick, which has secured government funding to design and build a lightweight diesel-battery railcar demonstrator by early 2020.
GB Railfreight has awarded Alstom a 12-year contract worth £15m to maintain 12 Class 92 locos used on Caledonian Sleeper services.
RSSB has awarded a consortium of Liebherr-Transportation Systems, Newcastle University's NewRail and Grand Central a grant to support the development of an active radial suspension system which could be retrofitted to a BT-10 bogie in order to reduce wheel and track wear.
Greater Anglia has selected seats from FISA for its Stadler trainsets and seats from Kiel for its Bombardier fleet.
USA:  California's San Joaquin Regional Rail Commission has ordered four Siemens SC-44 Charger diesel locomotives for delivery from December 2019 to support an expansion of the Altamont Corridor Express commuter rail service, with an option for four more.
Continental is supplying air springs for Boston metro trains.