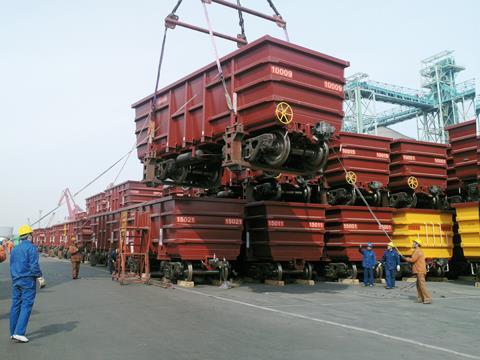 Bangladesh: India's Rites has signed what it says is its first contract to export broad gauge passenger coaches to BR. The order covers a total of 120 stainless steel sleeper and seating cars to be manufactured by RCF Kapurthala.
Botswana: BR has called tenders for the supply of 37 coaches; its previous passenger services ceased in 2009.
China: Hollysys Automation Technologies is to provide ATP equipment worth 580m yuan by June 2015 for use on 40 trainsets suitable for 250 km/h and 80 designed for 350 km/h.
Nanjing SR Puzhen Rail Transport Co has won a 1·73bn yuan contract to supply trainsets for phases 2 and 3 of Shanghai metro Line 13 in 2016-17.
Czech Republic: CD has signed a 48-month KC1·2bn framework contract with Škoda Vagonka for the supply of up to 11 more Class 650 two-car EMUs. A firm order funded by the Moravskoslezský region covers two for Ostrava – Mošnov Airport services.
Freight operator LokoTrain eská Tebová has taken delivery of the first locomotive it has bought outright. The Škoda Class 43 electric loco previously belonged to Bulgaria's BDZ, and has been modernised by CZ Loko and MŽO Perov
France: Ermewa Group has awarded Duro Dakovi a €7·9m contract to supply 70 Falns 64 hopper wagons.
Contracts to supply 12 Euro 4000 freight locos worth more than €40m were announced by Vossloh España on January 29. SNCF subsidiary VFLI has ordered two directly, and six through Beacon Rail Leasing. Eurotunnel's
Europorte business has ordered four.
Paris regional transport authority STIF has exercised a €150m option for a further 10 five-car Alstom/Bombardier MI09 double-deck EMUs for use on RER Line A from 2017.
Germany: Audi has ordered two Alstom H3 battery-diesel hybrid shunting locomotives for use at its Ingolstadt factory. Audi's Operations Manager said its older locos consume 20 litres/h, and the hybrids 9 litres/h.
Innofreight is to provide EP Cargo with 70 InnoWaggon 80 ft twin-unit wagons to transport brown coal in WoodTainer 20 ft containers 240 km from the Mibrag mine to the Buschhaus power plant.
Leipzig has selected Solaris to supply five 1458 mm gauge trams worth €7·7m from 2016 with options for 36.
India: Siemens has won orders worth Rs4·5bn to supply AC diesel–electric traction equipment to Varanasi Diesel Locomotive Works.
Poland: PKP Intercity has sold five EU07 locos to Lozyw, three to Aspekt Mirosaw Zieliski, two to PHU Lokomotiv and one each to Orion Kolej and DLA. Prices ranges from 434000 to 593000 złoty each.
SKM Trójmiasto has selected Newag to supply two 160 km/h EMUs at a cost of 35·6m złoty for use on the route between Gdask, Gdynia and Wejherowo from 2016. The Newag's Impuls EMUs will have a customised 960 mm floor height and retractable steps to accommodate the atypical platform heights.
MPK Łódź has bought two more GT8N trams from Helsinki, which are being repainted and equipped with a local information system and vandal-resistant interior lighting.
Pesa was sole bidder to supply four trams to MZK Torun, offering four five-section cars for 38m złoty with options for two. Solaris withdrew, citing the requirement for delivery by September.
Russia: Kambarka Engineering Works has introduced a 22 tonne capacity side-tipping wagon with a new bogie design. It is designed for 750 mm gauge industrial lines, but could also be supplied in other gauges. Oktyabrsky Electric Railway Car Repair Plant has completed modernisation of an LM-68M tram for St Petersburg. Uraltransmash has delivered 20 single-section trams to Nizhny Tagil.
South Africa: MTU has won an order 'in the range of €100m' to supply CNR Dalian with 232 engines for locos ordered by Transnet Freight Rail. MTU said the 20V 4000 R63L is its most powerful locomotive engine at 3300 kW and the order 'signals our breakthrough into the market for Chinese freight locomotives, which are being exported in ever larger quantities'.
ABB has won a US$50m contract to supply Bombardier with traction transformers for 240 Traxx locos ordered by Transnet.
Luxury train operator Rovos Rail has acquired five former Queensland Rail Class 2100 Clyde/EMD GL26C locos; 18 more have been acquired by Apex Industrial for resale.
Sweden: On February 5 Skåne­trafiken announced a SKr1·5bn order for a further 25 Alstom Coradia Nordic EMUs to be delivered from April 2017.
Switzerland: On January 30 SBB exercised a SFr120m option for Alstom to supply an additional four ETR610 Pendolino seven-car tilting trainsets to increase capacity on the Gotthard and Simplon corridors from 2017.
Turkey: TCDD has selected Siemens to supply a further 10 Velaro high speed trainsets from 2017 at a cost of around €400m including three years of maintenance. Seven were previously ordered for delivery by 2016.