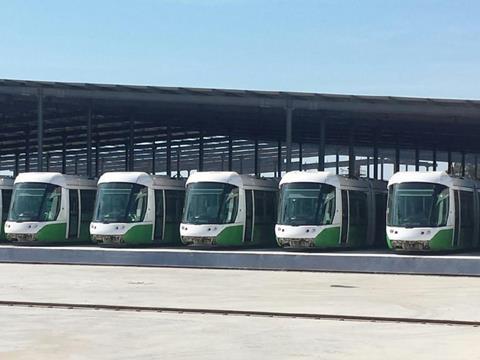 Algeria: Alstom is to supply kits for 26 Citadis trams which the Cital joint venture is to assemble in Annaba for use in Sétif. The €85m order forms part of a framework signed in 2012 by Cital and Entreprise du Métro d'Alger for the supply of Citadis trams to several cities.
Austria: On February 1 Bombardier announced that its Traxx AC3 Last Mile locomotive had been approved for use in Austria, following Germany and Switzerland.
Bangladesh: Indonesian Export Financing Agency has signed a US$20·1m loan agreement with state rolling stock manufacturer INKA to support the supply of vehicles to Bangladesh.
Belarus: On February 9 Pesa signed a contract to supply BC with a further four Type 730M DMUs this year, with an option for another four which would be delivered in 2017.
Bulgaria: MŽO Perov and CZ Loko have modernised three ex-BDZ Škoda 68E2 electric locos purchased by TBD-Tovarni Prevozi EAD, which is owned by the TEC Bobov Dol power station where they will haul coal trains.
Czech Republic: Pars Nova has won a KC102m contract to refurbish 12 Bmto double-deck coaches for Praha suburban lines, which will enable the withdrawal of Class 451/452 EMUs dating back to the 1960s.
The first of 20 Class 741.7 diesel-electric locomotives which CZ Loko is to supply for ArcelorMittal's Ostrava steelworks under a 10-year leasing and servicing deal was handed over on January 28. A complete rebuild of the KD-built Class 740/742 produced in the 1970s and 1980s, the 100 km/h. Class 741.7 has a Caterpillar 3508C engine rated at 1 000 kW, AC-DC transmission and electronic controls.
Europe: GySEV has bought 26 Bmz coaches from ÖBB for €9·9m.
Metrowagonmash has awarded CAF contracts to supply gearboxes for metro trains being built for Moscow and wheelsets for the refurbishment of Budapest metro cars.
Uralvagonzavod has begun producing 1 435 mm gauge axles certified for the European market. An undisclosed customer has ordered 4 000 BA-002 axles, with an initial 350 to be delivered this year.
On January 29 Siemens announced a contract to supply Lokomotion with eight Vectron multi-system electric locomotives from spring 2017, saying the freight operator was the 20th customer for the Vectron and the order included the 300th to be sold. They are to be deployed on cross-border traffic between Germany, Austria and Italy, and will be equipped with ETCS as well as national train protection systems
France: On February 16 Bombardier announced that SNCF had placed a €34m order for an additional four eight-car Regio 2N double-deck EMUs, financed by the Bretagne region and to be delivered in 2019.
Provence-Alpes-Côte d'Azur region has acquired six CAF Class 61 DMUs from SFM of Spain. Following modifications including steps to permit boarding from low platforms, the two-car DMUs are expected to enter service on the metre gauge Nice — Digne route in 2017.
Germany: Alstom is to supply Metrans Rail with two Prima H3 diesel-battery hybrid shunting locos for use at the Port of Hamburg, and will maintain them for 10 years.
Liebherr Transportation Systems is to supply Bombardier with 40 passenger saloon and 20 cab air-conditioning units for 10 Class 430 S-Bahn EMUs to be used in Stuttgart.
International: Evraz NTMK has begun production of solid-rolled 920 mm BA 314 and BA 005 wagon wheels for the European market, after Czech research institute VUZ certified the production process as being compliant with TSI requirements. The steelmaker plans to launch production for the North American market this year.
Japan: Kawasaki Heavy Industries is to supply 18 Series 9000 EMUs with Toshiba electrical equipment to Nishi-Nippon Railroad by March 2017 for use on the 78 km Tenjin Omuta Line.
Kazakhstan: An agreement has been signed for the EKZ factory (p22) to become a significant supplier of onboard transformers to Alstom. Production is planned to start this year and reach 200 transformers/year.
Lithuania: The first of seven Pesa 730ML DMUs which LG has ordered to replace locomotive-hauled trains on the Vilnius – Klaipda route was unveiled in Vilnius on February 15. The 140 km/h three-car units are similar to DMUs that Pesa has supplied to Belarus, but with an upgraded interior suitable for the 3 h 45 min journey.
Philippines: Hyundai Rotem is to supply 36 three-car trainsets, as well as signalling, communications and power supplies, for metro line MRT7 in Manila under a 530bn won contract.
Portugal: EMEF is to maintain 35 Metro do Porto Eurotram light rail vehicles under a €10·6m contract which covers medium-term maintenance and has an option for a further five vehicles.
Russia: PK Transportnye Systemy has presented a prototype tram it is building for Yevpatoria at its new facility at Tver Carriage Works. The 20·5 m long, 2300 mm wide multi-articulated Type 71-922 Varyah tram is designed for metre-gauge networks.
VM-Trans has ordered up to 3000 open and hopper wagons for delivery from United Wagon Co's Tikhvin plant in 2016-17.
Metrowagonmash has awarded Dellner a contract to supply crash energy absorbing couplers for 96 eight-car trainsets it is building for the Moscow metro.
Uralvagonzavod subsidiary Uraltransmash has agreed a leasing deal to suply the city of Vladikavkaz with 10 Type 71-407 single-section trams.
Transmashholding is to supply 30 Type 71-801 trams to Rostov-na-Donu.
Brunswick Rail has entered into two previously-announced sale and lease back agreements with Alfa-Leasing. The first is worth 2·3bn roubles and covers 3398 wagons previously subject to pledge under a syndicated facility which has now been repaid. The second is worth 1·6bn roubles and relates to 2700 wagons. Brunswick has an option to repurchase the wagons.
South Africa: Alstom, Bombardier, CRRC, Mizana, DCD Rolling Stock, Transnet Engineering and Siemens have expressed interest in supplying 12 additional EMUs for Gautrain.
Sweden: Boliden has ordered a further 14 Kiruna Wagon side dumper ore wagons, which will be a slightly modified version of 33 supplied previously, with a lighter bottom to increase capacity.
Switzerland: SBB has awarded a consortium of Windhoff and Dräger Safety a SFr38m contract to supply three LRZ18 firefighting and rescue trainsets by the end of 2018. They will be based at Genève, Melide and Brig to cover the CEVA line, Ceneri base tunnel and the Lötschberg and Simplon tunnels.
UK: Rock Rail Ltd has entered the rolling stock market with the signing of a £200m deal to finance the 25 six-car Siemens Desiro EMUs ordered by Govia Thameslink Railway for Great Northern suburban services (RG 2.16 p19). Equity is being provided by Standard Life Investments and debt by Aviva Investors.
USA: Maryland Transit Administration has awarded Bombardier a $36·8m contract to overhaul 63 MARC III double-deck coaches.