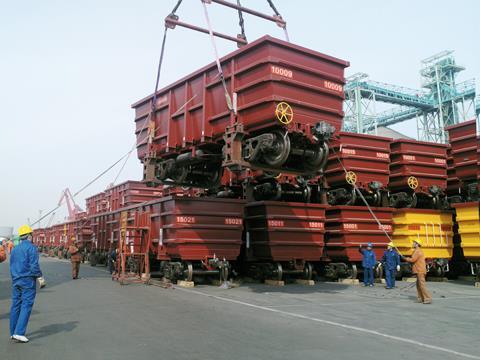 Armenia: Refurbishment of two two-car Type 81-717 Yerevan metro trainsets has been sponsored by mobile telecoms company Ucom, which is to provide 4G coverage on the network.
Belarus: Stadler Minsk CEO Philipp Brunner told local media on January 23 that Stadler had been selected to supply 10 metro trains to Minsk.
Bulgaria: Basel tram operator BVB has sold 28 of its Be4/6 S trams to Sofia for SFr3m.
China: Shanghai Shentong Metro Group has awarded Alstom a €17m contract to supply electrical equipment for 64 metro cars that CRRC Nanjing Puzhen is supplying for Line 2.
Egypt: Alexandria PTA has ordered 15 two-section 22 m long high-floor trams to be delivered from Tatra-Yug's factory in Dnipro by the end of 2019.
Europe: Stadler has ordered ABB traction and power equipment worth US$70m for use on 80 EMUs for operators in Switzerland, Sweden and Hungary.
France: ACC Ingénierie et Maintenance is to refurbish up to 130 MF77 trainsets on Paris metro lines 7 and 8, with new floors, improved lighting and an updated colour scheme.
Strasbourg has ordered 10 more Alstom Citadis trams for €28m.
RATP has selected Alstom for a €75m contract to modernise up to 41 MI84 four-car EMUs used on Paris RER Line B. The base order covers 31 trainsets. The work to be undertaken at Reichshoffen includes new floors, grab bars, LED lighting, CCTV and air-conditioning.
On January 26 Croatia's Ðuro Ðakovi Specijalna Vozila signed a €2·3m agreement to supply Talns wagons to a French customer by December. On February 6 Atir Rail ordered further Zacns45 calcium carbonate wagons by exercising a 15m kuna option on a 23m kuna contract signed on January 3.
India: Knorr-Bremse is to supply the braking systems for the 800 Prima twin-section WAG12 electric locomotives which Alstom is to deliver to IR in 2018-28. It will be responsible for servicing its systems on 250 of the locos for a minimum of 13 years.
Italy: CZ Loko has delivered three more Class 741.7 shunting locomotives to Italy. Two have been leased for two years to Terminali Italia for shunting in Verona and Bari, while one is to be hired by Trenitalia subsidiary Serfer Servizi Ferroviari for use in Livorno. Two locos have been ordered by Francesco Ventura Costruzioni Ferroviarie for delivery in May. The agreements include full maintenance by CZ Loko Italia in Porto Mantovano.
ATM has signed a €106m contract for Hitachi Rail Italy to supply nine trainsets for Milano metro Line 1 and six for Line 2, as the final option on a 2012 framework contract.
Macedonia: On February 6 MŽTransport took delivery of its final Class 711 DMU from CRRC, completing a €25m June 2014 order for two Class 411 EMUs and four DMUs.
Pakistan: On February 6 PR rolled out the first batch of 20 hopper wagons assembled locally using components supplied by CRRC Shandong under a contract signed in early 2016 which covers a total of 1405 vehicles.
Poland: SKPL Cargo has bought four Class 810 railbuses from D which it plans to use on the Bytów – Lipusz and Ktrzyn – Wgorzewo routes and possibly to revive passenger services on the Tarnów – Szczucin line.
ZNTK Misk Mazowiecki is to undertake a 18·3m złoty mid-life refurbishment of 64 Metrowagonmash cars for Warszawa metro.
Modertrans submitted the best offer to supply MPK Pozna with 30 unidirectional and 20 bidirectional trams of 30·5 m to 32·5 m. The 397m złoty contract is the first for Modertrans' 100% low-floor Gamma tram.
Pesa was the sole bidder to supply up to 20 trams to Gorzów Wielkopolski. The 115·1m złoty bid includes a firm order for 14 from the Fokstrot family.
Pesa is to supply ód with 12 five-section trams from its Swing family for 99·6m złoty by October 2018.
Russia: Uraltransmash has delivered 30 partly low-floor Type 71-407 trams to Nizhny Tagil under a seven-year leasing deal with Sberbank Leasing worth 540m roubles.
TikhvinChemMash has delivered 20 Type 15-6900-01 tank wagons to Metafrax, and is to establish a servicing centre at the chemical company's site.
RM Rail has delivered 350 Type 15-1288-02 ammonia tank wagons to company KuibyshevAzot. The use of high-strength steel has contributed to a 17% increase in capacity from older designs.
First Freight Co has awarded Ural­vagonzavod a contract to supply 3000 hopper wagons this year to replace vehicles affected by the government's ban on life-extension works.
Saudi Arabia: Interpipe is delivering 14000 wagon and loco wheels of 838 mm, 920 mm and 1046 mm diameter to SRO, and is to work with the operator on ways to extend the service life of wheels in the aggressive environment.
Sweden: Innofreight is delivering 144 wagons to Hector Rail for use from July on a 10-year timber haulage contract awarded by SCA Skog.
Switzerland: SBB Cargo has ordered 18 Siemens Vectron electric locos through the LokRoll leasing company set up by Reichmuth Infrastruktur Schweiz. SBB is acting as a partner to the investment fund, undertaking procurement and project management, type approval and asset management.
Taiwan: China Steel Corp has awarded Alstom a contract to supply 15 Citadis X05 trams for the second phase of the Kaohsiung tram project.
UK: The contract for Stadler Bussnang to supply 52 four-car articulated EMUs for Merseyrail services was signed by Merseytravel on February 16. The deal is worth 'up to £700m', including maintenance throughout the EMUs' expected 35-year life cycle and a potential option for a further 60 vehicles. A legal challenge submitted by Bombardier was still underway.
MTU is to supply 140 Series 1800 PowerPacks with 6H 1800 R85L engines for the 55 Civity UK DMUs which CAF is building for use on Arriva's Northern franchise. Traktionssysteme Austria is to supply traction motors for the 31 three-car and 12 four-car Class 331 EMUs CAF is to build for Northern.