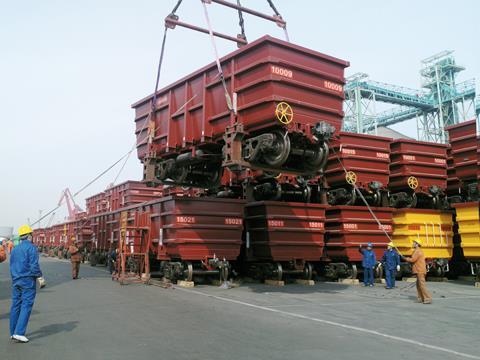 Azerbaijan: On February 16 Metrowagonmash signed a contract to supply two five-car trainsets to the Baku metro.
Czech Republic: ČD Cargo is seeking to award a framework contract for the supply of up to 55 locomotives suitable for international operation, enabling it to replace many of its older locos. This would cover up to 50 multi-system electric locos plus five diesels, with initial firm orders for 10 electric and three diesel locos. It also plans to call tenders for modernisation of its diesel fleet.
Europe: Wascosa has acquired leasing company Kurt Nitzer's fleet of 200 chemical and pressurised gas tank cars.
Vilniaus Lokomotyvų Remonto Depas has signed what is understood to be its first contract to overhaul 1 435 mm gauge vehicles, covering seven TEM2 family diesel locos for CTL Logistics.
France: SNCF has placed a €96m order for a further nine Bombardier Regio 2N double-deck EMUs, acting on behalf of Ile-de-France Mobilités.
Germany: EP Cargo has ordered two Bombardier Traxx AC3 15 kV 16·7 Hz locomotives for delivery from March. They are to be used to haul fly ash and gypsum to Stralsund from lignite power plants in Brandenburg and Sachsen belonging to Lausitz Energie Kraftwerke, a sister company in the EPH Group.
Bremer Straßenbahn has ordered an additional 10 Siemens Avenio trams as an option on a June 2017 contract.
Italy: On January 19 Dinazzano Po took delivery of two CZ Loko Effishunter 1600 diesel locos for use at its intermodal terminals.
Kazakhstan: KazTemirTrans has begun taking delivery of 1 300 open and 270 flat wagons ordered from EKVK through DBK Leasing last year at cost of 15bn tenge.
Morocco: ONCF has placed a €130m order for 30 Alstom Prima M4 5·5 MW 3 kV DC locomotives, the first order to be placed under a planned rolling stock acquisition programme which would include locomotives, multiple-units and wagons.
Philippines: Voith is to replace the traction and auxiliary inverters, as well as the vehicle control systems, of 27 light metro vehicles on Manila Line 1. The contract includes options for work on three more vehicles.
Poland: Sole bidder ZNTK MM is to supply one modernised type EN57 EMU to Warmińsko-Mazurskie voivodship for 12m złoty.
CZ Loko's bid of 3·25m złoty was the lowest for the supply of a shunting locomotive to the Warszawa metro.
Koleje Wielkopolskie has selected Pesa to supply four two-car Link DMUs for 68m złoty.
Orlen KolTrans has leased three of five Griffin locomotives which Newag had originally built for Lotos Kolej under a deal which has been terminated following a dispute about the lack of onboard ETCS equipment, which regulations had not required when they were ordered in December 2015.
Pesa has signed a 138·4m złoty contract to supply 15 Jazz Duo trams to Gdańsk, with options for 15 more. The contract includes maintenance and training, and is 85% co-financed by the EU.
Romania: CTP Iași has taken delivery of four second-hand M6D trams from Mülheim an der Ruhr. They were ordered along with seven M8C vehicles from Essen, one of which has already arrived in Iași.
Russia: TMH's Demikhovsky Engineering Plant has signed a 5bn rouble contract to supply 22 four-car Class EP3D EMUs to RZD. Four will be allocated to Volgograd, and 18 to Rostov.
Avtotekhkom has won a 257·5m rouble contract to supply 10 partly low-floor Belkommunmash trams to Volgograd.
Uraltransmash delivered the first of 21 single-section Type 71-407-01 trams to Kolomna on January 27.
Three BKM-84500K trams supplied by Belkommunmash and assembled at operator Metroelektrotrans' workshops entered service on route 5 in Kazan on January 25. BKM delivered kits for the three-section trams under a 162m rouble contract signed in late 2016. This includes a guarantee for three years or 300 000 km.
Federal Freight Co and UVZ-Logistic have terminated without penalties a leasing deal covering 27 200 open wagons which was signed in March 2016 but proved unfavourable to UVZ-Logistic.
Serbia: Tvema is to supply a track inspection car to Infra ŽS.
Slovakia: ZSSK has awarded ŽOS Trnava a €237·5m contract to modernise 50 second class coaches by 2022. This will include uprating the air-conditioning, and new doors, gangways and seats.
Spain: Renfe has awarded Talgo a €107m contract to convert Series 7 Tren Hotel overnight trainsets into high speed day trains capable of operation at up to 330 km/h. The contract, approved on February 5, covers 13 trainsets totalling 156 coaches. An option for a further six sets totalling 72 coaches would take the value of the deal to €151m.
Sweden: Local authority rolling stock procurement body AB Transitio has exercised an option for Stadler to deliver eight double-deck EMUs for use on Upptåget services from the end of 2019.
UK: Transport for London has awarded Arlington Fleet Services a contract to overhaul 52 spoil and ballast wagons used on the London Underground network.