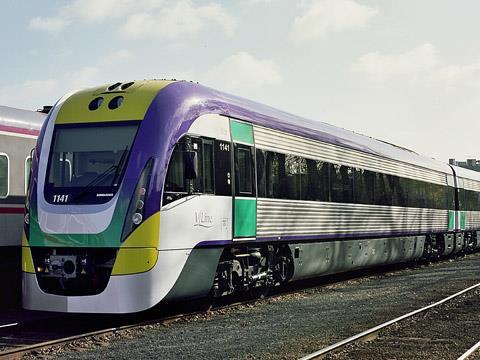 Australia: The government of Victoria has ordered an additional Bombardier VLocity three-car DMU for A$17m, taking the order to 43 cars.
Metro Trains Melbourne has awarded Alstom a contract to install GSM-R digital radios on 82 trainsets.
The EDI Rail Bombardier JV which maintains Perth's commuter fleet has awarded Gemco Rail two four-year bogie and wheelset maintenance contracts totalling A$5m.
Canada: Toronto Transit Commission has ordered 10 six-car Rocket metro trainsets from Bombardier as a C$160m option on orders for a total of 420 cars placed in 2006 and 2010.
China: Hong Kong's MTR has awarded Faiveley a €13m contract to upgrade the doors of 90 trainsets, fitting lower guide rails and inflatable seals to lower noise.
China Railway Corp has ordered 900 C70E open and 900 X70 flat wagons from Chongqing Changzheng Heavy Industry Co for 600m yuan.
Czech Republic: Freight operator AWT has installed GSM-R on a further 56 locos using EU funding.
Denmark: DSB is to buy 67 double-deck coaches it currently leases from Ascendos.
Europe: GHH-Bonatrans has awarded Valdunes a contract to supply 22000 forged wheels by July 2015.
Lohr has produced an upgraded version of its Modalohr wagon for carrying semitrailers, with modifications to enable UIC certification. It has slimmer lateral beams in the loading platform to get the dimensions within the UIC standard envelope, while the sidebeams have been lowered to permit loading by overhead crane. The lower tare weight enables an increased payload.
Germany: LNVG has exercised a €25m option for Alstom to supply six more Coradia Lint 41 DMUs by 2016.
Israel: ISR has taken delivery of the first six of 72 double-deck coaches Bombardier is supplying pre-equipped to operate with electric locos on routes which are to be electrified at 25 kV 50 Hz. They have a top speed of 160 km/h rather than 140 km/h, more advanced braking and energy management systems, and comply with European fire standards for long tunnels. Bombardier is also to modify the existing fleet by 2020.
Japan: At a cost of ¥18bn, JR Hokkaido has ordered four 320 km/h Series H5 10-car trainsets from Hitachi and Kawasaki Heavy Industries to operate on the Hokkaido Shinkansen.
Kazakhstan: EBRD is to provide leasing company Olzha with US$9m to purchase 100 wagons and a loco to meet market demand, in addition to a US$24·8m loan approved last year.
Kyrgyzstan: KTJ confirmed an order for a second batch of Kazakh-built GE TE33A locos on March 31, after trials with two ordered in 2012.
Mozambique: GE Transportation's Erie plant has begun delivering 50 diesel locomotives ordered by Vale.
Poland: PKP PLK has signed an agreement with PKP IC for the installation of ERTMS equipment on two EP09 locomotives, which will be provided by Newag Gliwice.
Pesa has ordered 10 MTU 2·4 MW Series 4000 R84 Stage IIIB diesel engines to power the Gama 111Db locomotives it is building for PKP Intercity.
Portugal: Metropolitano de Lisboa has awarded Bonatrans a €99000 contract to supply wheels.
Russia: Freight One has signed a 10bn rouble sale and lease back deal with Sberbank Leasing covering 5 300 wagons, saying it will improve the structure of the debt portfolio by extending the maturity profile and diversifying funding sources.
This month Ural Locomotives expects to complete a prototype third module for twin-section 2ES10 Granite electric locomotives, increasing their rating to 13·2 MW and maximum load from 6300 tonnes to 9000 tonnes.
RZD has approved the design of 61-4501 and 61-4502 baggage cars developed by Transmashholding's Tver plant. A variant of the 160 km/h stainless steel cars would offer a heated compartment for temperature-sensitive goods.
Saudi Arabia: RENFE is supplying Class 319 diesel locomotives to SRO.
Switzerland: On March 31 SBB awarded ŽOS Trnava a SFr50m contract to supply 485 wagons from May 2015 to October 2016 to replace its infrastructure maintenance fleet. The order covers 70 twin-axle hoppers, 140 bogie hoppers, 50 high-side and 25 low-side tipping wagons, 50 bogie sleeper wagons and 150 twin-axle wagons.
Turkey: TCDD has invited tenders to supply 10 high speed trainsets, with three years of maintenance. It expects to require at least 90 trains to support the expansion of the high speed network, although some may be provided under the 'National Train' programme to develop a locally-designed 250 km/h EMU.