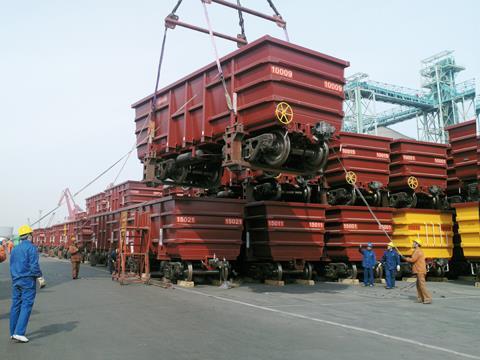 Australia: Alstom has awarded Faiveley contracts worth more than €10m to supply doors and braking systems for the 22 six-car Metropolis trainsets on order for the Sydney metro.
Austria: Stadler has delivered a second 15 km/h 18 tonne diesel locomotive to increase capacity on the metre-gauge SchafbergBahn rack railway.
Belarus: BC has begun testing BKG2 single-section electric locomotives supplied by CRRC. The BKG2 is similar to the twin-section BKG1.
China: CRRC Nanjing Puzhen is to supply 18 five-section 100% low-floor trams to operate the second line in Suzhou, with equipment from the Škoda Kingway Electric joint venture.
Czech Republic: CD is to undertake a KC168m modernisation of its seven Pendolino trainsets in 2017-18. This will include installing power sockets, carpets in standard class, GSM repeaters, LED lighting, a 'children's cinema' and electric shoe cleaners, as well as modernising the catering facilities.
CD has called tenders for framework contracts to supply up to 30 DMUs and 20 dual-voltage EMUs, ahead of the anticipated tendering of contracts for the operation of long-distance services.
Europe: Nacco SAS has awarded Waggonbau Niesky a contract to supply 110 Laaers560.1 automotive wagons suitable for carrying 14 small or 11 large cars, with an option for a further 100.
Alpha Trains has ordered six Siemens Vectron MS locos for lease to TX Logistik for use on traffic between Germany, Austria and Italy from early 2017. The deal announced on April 12 includes maintenance, and there is an option for a further four locos.
France: VFLI has ordered three Stadler Rail Valencia Euro 4000 diesel locos equipped for France and Belgium to be delivered in spring 2017.
Germany: On April 14 Captrain Deutschland's ITL put into service 40 Faccns wagons ordered from Legios for carrying aggregates between Mühlberg/Elbe and Berlin on behalf of Eurovia.
Alpha Trains has acquired from Société Générale subsidiaries Calif and SNC Vindelica a total of 89 DMUs and EMUs leased to Transdev subsidiaries.
The 900th Alstom Cordia Lint DMU sold is included in a €40m contract announced on April 8 for the supply of eight units to DB Regio by March 2019 for use on Mittelfranken services.
The Rhein-Ruhr and Westfalen-Lippe transport authorities have called tenders for a 25-year contract to supply and fuel 12 hydrogen fuel cell railcars which would be used on Essen – Borken/Coesfeld services from December 2020.
Deutsche Anlagen-Leasing has awarded Alstom a contract to supply and maintain for eight years four Prima H3 battery-diesel hybrid shunting locomotives and four refurbished locos, which will be leased to Chemion Logistik for use at chemical sites in Leverkusen, Dormagen and Krefeld-Uerdingen.
Karlsruhe tram-train operator AVG has awarded a consortium of Stadler Rail Valencia and Vossloh Kiepe a firm order for a further 25 Citylink NET 2012 low-floor LRVs, the second option on a contract signed in October 2011.
Abellio has placed a €170m order for 52 Alstom Coradia Lint 41 DMUs for entry into service with the start of the Dieselnetz Sachsen-Anhalt contract in December 2018. The 140 km/h two-car units will each carry 230 passengers.
Italy: ATM is to purchase a further 15 six-car Leonardo trainsets from Hitachi Rail Italy for €109m for delivery to Milano metro Line M2 in 2017-18.
On March 25 Alstom announced a firm order to supply Trenitalia with a further six Coradia Meridian six-car EMUs for use in Trentino from the end of 2016.
The first of seven four-car trainsets ordered for the Genova metro in 2012 from a consortium of AnsaldoBreda and Ansaldo STS has been unveiled.
Poland: Lubuskie voivodship has awarded FPS a 2·45m złoty contract to modernise a ZNTK Pozna SA105 DMU, upgrading the seats and toilet and fitting CCTV, a passenger information system and LED lighting.
Tramwaje Slaskie has awarded SAG a 1·7m złoty contract to undertake a prototype rebuilding of a former Frankfurt-am-Main Ptb tram with new ends and a low-floor centre section; there are options for another nine.
Infrastructure contractor ZUE has taken delivery of an ST44 locomotive modernised by Pesa, with the 14D40 engine replaced by a TMH Kolomna 12CzN26/26 and cab air-conditioning fitted.
Koleje Mazowieckie has awarded Pesa a 73·9m złoty contract to maintain its 16 EN76 Elf EMUs until 2019, including door modifications and wi-fi installation.
Newag is to supply 12 Impuls EMUs for Koleje Maopolskie by February 2017 under a 300m złoty contract awarded by the voivodship on March 30.
Portugal: ViaPorto has awarded EMEF a two-year contract to maintain the Metro do Porto LRV fleet.
Russia: TMH Novocherkassk has modernised a NPM2 industrial electric loco for Magnitogorsk Iron & Steel. The NPM2M has new electronic control and diagnostic systems, and modifications to the body to provide improved maintenance access.
On March 21 the Mayor of Moscow approved the transfer of 10 Type 71-608KM trams to Tver, to avoid the need to fund mid-life modernisation. Augmenting eight Type 71-911 trams bought by Tver, they will enable the reintroduction of services on mothballed parts of that city's network.
Uraltransmash has been selected to supply 60 trams to Yekaterinburg.
Slovakia: Košice's DPMK has exercised an €18·8m option for 13 more Pragoimex Vario LF2+ trams.
Sweden: As part of a SKr3·5bn programme to modernise its 227 X2000 vehicles, SJ has awarded Swedtrac a contract worth more than SKr1bn for interior refurbishment. Prose will provide project management and approvals support. ABB was previously awarded a US$200m contract to upgrade the electrical systems.
Switzerland: Appenzeller Bahnen announced a SFr36m order for four Stadler metre-gauge 1·5 kV DC EMUs on April 7, with an option for a fifth. They are to enter service in mid-2018.
Ukraine: Pesa has been selected to supply 10 three-section low-floor Fokstrot trams to Kyiv for €11·5m.
UK: On March 31 FirstGroup announ­ced a full-service contract for Hitachi Rail and Angel Trains to supply 19 five-car AT300 electro-diesel multiple units for use on TransPennine Express services from December 2019.
To handle an unexpected increase in demand, c2c is to lease six of the 20 four-car Class 387 Electrostar EMUs which Porterbrook Leasing ordered from Bombardier last November. c2c has begun procurement of 68 EMU cars to enter service in 2019, and expects to select a preferred bidder this summer.