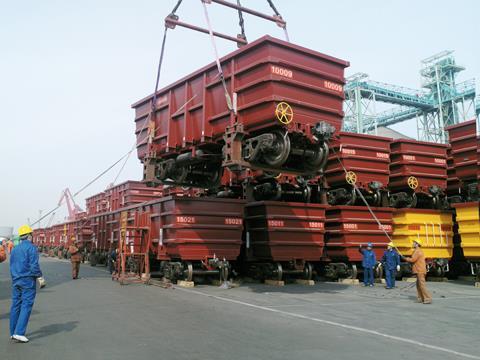 China: Nanjing Puzhen Rail Transport Co has won a 543m yuan contract to supply trainsets for Shanghai Line 2.
CRRC Qingdao Sifang has rolled out the first of 32 four-car EMUs for the the 53·5 km Wenzhou Line S1 which opens in 2018. It is based on a Type A metro design, with more comfort for longer journeys, a top speed of 140 km/h and a capacity of 1 328 passengers.
Czech Republic: CD has awarded its DPOV subsidiary a contract to refurbish the seven seven-car Class 680 Pendolinos, fitting visual passenger information, a children's cinema, new seats, wall coverings, floors, luggage racks, toilets, lighting and power sockets. DPOV also has a KC400m contract to modernise 21 Bmz and four Amz 200 km/h coaches from a batch of 47 acquired from ÖBB.
RegioJet has announced on April 18 that it had ordered eight Bombardier Traxx MS electric locos with an option for 20, and has awarded Astra Vagoane Cltori a €16m contract for 16 coaches.
Unipetrol has ordered three Siemens Vectron multi-system electric locos equipped for the Czech Republic, Germany, Austria, Poland and Slovakia as part of its fleet renewal programme.
ÖBB-Technische Services has been awarded a KC546m 10-year contract for periodic maintenance of D's Railjet trainsets at its Wien-Simmering works, the first time D has awarded contracts for its stock to be maintained outside the Czech Republic or Slovakia.
Europe: Weedfree is investing £2m in a second Gaal-Gaal weed killing train as a result of the award of long-term vegetation control contracts in Belgium, Denmark, Sweden and Norway.
GySEV has ordered three Siemens Vectron triple-system electric locos and two dual-system locos with last-mile engines, with an option for a further four. They will be suitable for use in Austria, Croatia, the Czech Republic, Germany, Romania, Serbia and Slovakia.
France: On March 20 uro akovi Specijalna Vozila signed a €5·3m contract to supply more Zacns calcium carbonate emulsion wagons to ATIR Rail in September and October.
SNCF Mobilités has awarded Alstom a €250m contract to supply 10 electro-diesel and nine electric Coradia Liner multiple-units for use on TET services from September 2018, as well as 11 Coradia Polyvalent electro-diesel units for regional services.
Germany: DB has placed a firm order for a further 25 Bombardier push-pull double-deck inter-city trainsets, comprising 25 Traxx AC3 electric locomotives and 124 Twindexx Vario double-deck coaches. To be delivered from 2019, they will be equipped with ETCS Level 2 Baseline 3 and approved for use in Germany and Switzerland.
Siemens has ordered Liebherr Transportation Systems hydraulically-coupled roll joints for eight Potsdam Combino trams which are being extended from five to seven sections.
Iran: The Tehran Wagon Manufacturing Co JV venture of CRRC, Norinco and Tehran Metro is to supply 70 metro cars to the capital for €93m.
CRRC Dalian has produced the first two of four Type CDN10A diesel locos ordered by Alborzniroo for use on open access services. They are customised to withstand heat and sandstorms.
Italy: Ferrovie Appulo Lucane has awarded Stadler an €8·5m contract to supply an additional three-car DMU for its 950 mm gauge network, along with intermediate cars to lengthen two existing units from two to three cars.
Japan: Tokyu Corp has ordered three 10-car 1·5 kV DC Sustina EMUs from J-TREC for use on Denentoshi Line services in Tokyo from spring 2018. The 1067 mm gauge units will be designated Series 2020, to mark the city's hosting of the 2020 Olympic Games.
Malaysia: Prasarana has placed a 1·7bn ringgit order for Bombardier and Hartasuma to supply a further 27 four-car metro trains for Kuala Lumpur's Kelana Jaya Line.
New Zealand: CRRC and Kiwi-Rail signed a letter of intent to expand their co-operation on March 27. Future projects could involve the passenger rolling stock sector, and Northland Regional Council also discussed possible Chinese participation in the development of new road and rail links.
Poland: Orlen Group has awarded Newag a 13m złoty contract to rebuild two SM48 (TEM2) diesel locos to the 15D design, and a SM42 as a 6Dg.
Wielkopolskie voivodship has awarded Pesa a contract to supply 10 five-car Elf 2 EMUs for 238m złoty.
MPK ód has bought a MGT6D/NF6D tram from Bogestra for €100000. If it can be returned to service viably, the operator could buy 35 more.
Portugal: The first of 10 Alfa Pendular tilting trainsets being refurbished by EMEF under a €18m contract has been returned to CP. The mid-life refit includes general mechanical and electrical overhaul work and new seats, lighting and cork-based flooring.
Russia: Vostokcement has decided to establish its own wagon fleet in response to rising lease fees and a shortage of wagons resulting from Russia's ban on life-extension projects. It has bought 84 second-hand vehicles, and ordered 20 open wagons from Promtraktorvagon.
TransContainer has awarded Transmashholding a 1·68bn rouble contract to supply 800 Type 13-9744-02 flat wagons. To reduce empty trips, they will be designed to carry 20 ft and 40 ft containers, timber, sheet metal and pipes.
Moscow Metro has awarded Metro­wagonmash a 25bn rouble contract to maintain 50 eight-car Oka trainsets.
Slovakia: Express Group has bought from ŽOS Zvolen two refurbished Škoda Type 61E electric locos previously operated by ZSSK Cargo, which will be used for expansion into the 3 kV DC area in northern Slovakia and Poland. Express Group also plans to acquire a third Siemens ES64F4 loco in the coming months.
Following overhaul by Metrans DYKO, four Düwag Class 628/928 two-car DMUs acquired from DB Regio have entered service with RegioJet on the the Bratislava – Komárno line, where the Ministry of Transport had found more than half of service had lower capacity than agreed in the operating contract and did not meet agreed quality standards.
ZSSK has ordered 21 ŽOS Vrútky Class 861 DMUs from 2018 for use on the Zvolen – Vrútky and Zvolen – Fiakovo lines. They will have air-conditioning, wi-fi and 230 V power sockets, and are to be supplied in two lengths with seven having 160 seats and 14 units having 110 seats. The €77m order is being co-funded by the EU.
ZSSK has placed a €9·45m self-financed order for five ŽOS Vrútky 160 km/h second class coaches for use on long-distance services from July 2018. There is an option for another 30.
Switzerland: SBB has awarded Stadler a SFr125m contract to supply 14 four-car Flirt EMUs by 2020 for use on the RER Vaud network, and a separate contract to supply five six-car Flirts to handle increase in demand on TILO services when the Ceneri Base Tunnel opens in 2020.
Ukraine: KVSZ is to supply 38 sleeping cars to UZ by the end of the year for 875m hryvna.