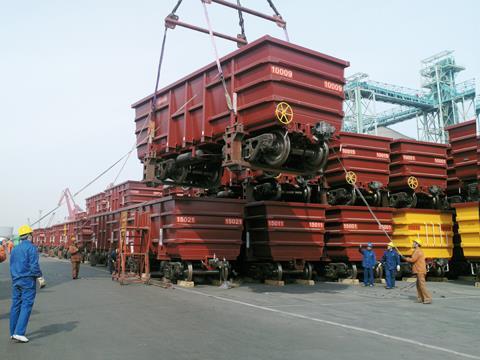 Argentina:  The TMH-Argentina subsidiary of Russia's Transmashholding has been awarded a 24-month, US$29·7m contract to maintain 24 SDD7 diesel locos and 160 coaches supplied by CSR in 2014 for the San Martín commuter route in Buenos Aires.
Canada:  VIA Rail has awarded two contracts for the modernisation of 1950s stainless steel coaches used on long distance services. Cad Railway Industries is modernise 25 vehicles for C$46m, while Bombardier Transportation has a C$54m contract to equip 17 coaches with wheelchair lifts, accessible spaces with anchoring devices, an accessible toilet and information screens.
China:  CRRC Nanjing Puzhen Rail Transport Co has been awarded two contracts totalling 3bn yuan to supply metro cars to Hangzhou and Shenzhen.
Estonia:  MTF Logistics has leased 62 flat wagons from EVR Cargo subsidiary WagonPro. These are to be used on container services between the Port of Muuga and Koidula on the Russian border. EVR Cargo already co-operates with MTF Logistics on two intermodal routes.
Europe:  European Rail Rent has awarded Đuro Đaković Specijalna Vozila a 34·5m kuna contract to supply Shimmns steel coil wagons.
Germany:  Niedersachsen transport authority LNVG has directly awarded Bombardier a contract to supply and maintain a further two trainsets each comprising a Traxx P160AC3 electric loco and six double-deck coaches for Hanse-Netz services from 2020.
DB Regio Bayern has placed a €93m order for eight Alstom Coradia Lint 41 DMUs with 125 seats and 12 of the longer Coradia Lint 54 units with 150 seats. These are scheduled to enter service on the Dieselnetz Ulm network in two batches, with 15 arriving in autumn 2020 and the rest in autumn 2022.
Hohenzollerische Landesbahn has placed a €23m order for five two-car Alstom Coradia Lint 54 DMUs for use on the Bodenseegürtelbahn network in Baden-Württemberg. These will be identical to units which HzL ordered last year for the Ulmer Stern network, and are expected to be delivered together with the main fleet in June 2019.
Hansebahn Bremen has leased a Vossloh G6 and two G1206 locomotives from Northrail for a further three years.
Hannover city transport operator Üstra has ordered a further seven TW3000 light rail vehicles from a consortium of Kiepe Electric and Alstom. Land transport agency LNVG is meeting 50% of the €19·4m cost, Üstra is paying €462 000 and the balance is being met through compensation from the suppliers following bodyshell problems with the original build.
Italy:  Under a framework agreement signed in August 2016, Trenitalia has awarded Alstom four contracts totalling €330m to supply 54 Pop (Coradia Stream) regional EMUs for use in the Abruzzo (four), Liguria (15), Marche (four) and Veneto (31) regions.
Poland:  Pol-Miedź Trans is to lease four Pesa 111Ed Gama Marathon 3 kV DC electric locomotives with last mile engines from the Rail Capital Partners joint venture of Pesa and PFR. The agreement has flexible terms to align with operating contracts won by PMT, which currently has a fleet of 60 locomotives, of which nine are modern designs, and 1 500 wagons.
PKP Cargo has awarded Newag a 477m złoty contract to rebuild 60 Class SM48 locomotives as Type 15D/A locos, designated Class ST48. The work is to be undertaken between October 2018 and May 2021, and follows a previous contract covering 30 locomotives. Only the frames and bogies of the Soviet-built TEM2 family locomotives are to be retained.
Wagon Opole submitted the 80m złoty best bid for a contract to undertake P4 and P3 repairs on 184 PKP Intercity coaches. This is the first major deal for Wagon Opole, which was created from the assets of TS Opole.
Koleje Wielkopolskie has ordered four two-car Pesa Link DMUs for 68m złoty.
Russia:  Kronospan has ordered a further 500 Type 13-6852-02 timber wagons from TikhvinSpetsMash.
TMH's Novocherkassk Electric Locomotive Plant has supplied Transoil Transport & Logistics with a further eight 2ES4K Donchak 3 kV DC twin-section 6·4 MW electric locomotives for operation on the Kirishi – Luzh­skaya-Neftyanaya route, where they will be able to haul trains at the maximum permitted speed on gradients.
RM Rail has obtained certification for three wagon designs. The Type 15-1225 phenol tank wagon has a steel barrel with internal zinc coating, and the Type 15-1225-01 a stainless steel tank with a design life of 27 years suitable for loads including phenol, acetone or resin. The Type 15-1232-04 wagon has a steam heating jacket for transporting liquid nitrogen fertilisers.
Slovenia:  The SŽ board approved the award of a €170m contract for 25 multiple-units at its meeting on April 3, subject to final approval from the state's asset holding company. This follows a tendering process in which Stadler Rail was the only bidder. SŽ plans to purchase 10 three-car double-deck 3 kV DC EMUs, 10 four-car single-deck three-system 15 kV 16·7 Hz/3 kV DC/25 kV 50 Hz EMUs and five DMUs.
Turkey:  TCDD Taşımacılık has formally signed a contract for preferred bidder Siemens to supply a further 10 Velaro high-speed trainsets, taking its fleet to 17. The contract announced on April 13 is worth around €340m, including three years of maintenance, repair and cleaning.
UK:  Transport for London has awarded Bombardier a contract to supply a further five nine-car Class 345 Aventra EMUs for use on the Elizabeth Line, taking its total order 70 trainsets.
A batch of aviation fuel tank wagons which British Airways is to lease from VTG Rail UK has been delivered from The Greenbrier Companies' Wagony Świdnica factory in Poland.