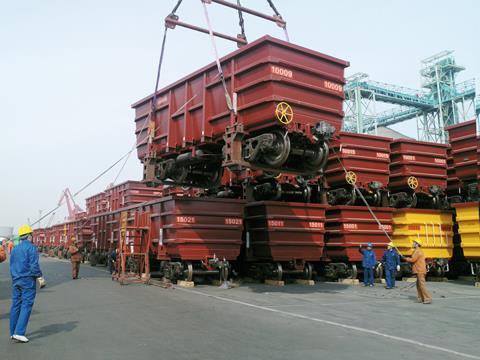 Australia: Aurizon has ordered 264 coal hopper wagons from CRRC Yangtze. Half of the 1 067 mm gauge wagons are to be delivered this year and the rest next year.
Belgium: De Lijn has placed a €44m order for a further 23 CAF trams for use in Antwerpen from the second half of 2022.
Czech Republic: ČD Cargo has launched a project to equip its fleet with ETCS by the end of 2022, supported by a grant from the EU's Connecting Europe Facility. It covers 318 locomotives, including nine prototypes, with the work to be undertaken through a series of tendered contracts.
Europe: Metrans has awarded Siemens Mobility a contract to supply 10 Vectron MS locos from the end of 2019 until spring 2020. They are to be certified to operate in Austria, the Czech Republic, Germany, Hungary, Poland and Slovakia, with the option for later use in Bulgaria, Croatia, the Netherlands, Romania, Serbia and Slovenia.
France: Alstom is to supply a further 13 Coradia Polyvalent trainsets to the Occitanie region under a €80m contract announced on March 27. Eight will be EMUs and the rest electro-diesels. They will feature more doors than previous batches supplied to the region, to improve passenger flow at stations.
Germany: Bochum-Gelsenkirchen operator Bogestra has signed a contract with Stadler for the supply of six three-section Tango light rail vehicles for use on Route U35 in Bochum. The contract also covers modernisation of Bogestra's existing fleet of 25 B80D LRVs.
Five Stadler Flirt EMUs owned by Alpha Trains are to be refurbished for continued use by Bayerische Oberlandbahn on the Freilassing – Berchtesgaden line under the next operating contract which runs for 15 years from December 2021. Alpha Trains will also supply two new three-car Flirts for use on the Traunstein – Ruhpolding line under a 14-year contract starting in 2022.
Transdev's Bayerische Regiobahn has awarded Alstom a €150m contract to supply 41 two-car Coradia Lint DMUs by September 2022 for use on Augsburger Netz Lot 2 services. The order announced on March 20 includes what will be the 1 000th Coradia Lint produced.
Nürnberg transport operator VAG has ordered a further seven G1 metro trainsets from Siemens.
ODEG has placed a €300m order for Siemens Mobility to supply 21 six-car and two four-car Desiro HC partly double-deck EMUs to be used on Elbe-Spree Lots 1 and 4 services from December 2022. The order is being financed by ODEG owners Netinera and BeNEX, with Netinera providing the largest share.
Bombardier has handed over a Traxx AC3 locomotive to operator Hessische Güterbahn at its Kassel factory.
Italy: Trenitalia has awarded CAF Italia a €120m six-year contract for the preventative and corrective maintenance of 59 ETR500 Frecciarossa high speed trainsets. There is an option to extend the contract for a further six years. The work will mainly be carried out at Trenitalia's workshops in Napoli, Milano, Roma and Venezia, with more than 300 staff joining CAF Italia.
Teleste is supplying passenger information, CCTV and public address systems for Alstom Coradia Stream trainsets ordered by Trenitalia.
Poland: PKP Cargo company Advanced World Transport announced on March 27 that it had signed a contract for three Siemens Vectron MS locos, equipped for use in the Czech Republic, Slovakia, Poland, Austria, Germany, Hungary, Slovenia and Croatia.
On March 26 PKP Cargo signed a 368m zloty contract co-financed by the EU for Tatravagónka to supply 936 container wagons in 2019-22.
Within a January 2018 framework, on March 28 Koleje Mazowieckie signed a 405m złoty firm order for Stadler to supply and maintain 12 five-car Flirt EMUs to enter service between Sochaczew, Warszawa and Celestynów from Q2 2020 to the end of 2021.
Russia: Central Suburban Passenger Co has awarded Transmashholding's Demikhovsky works a contract to supply 21 11-car Class EP2D 3 kV DC EMUs, to be financed by Sberbank Leasing.
Altaivagon has unveiled a Type 18-980 six-axle articulated van with an opening roof and capacity of 93 tonnes or 230 m3, and 16-2155 refrigerated wagon with a capacity of 50 tonnes of perishable goods. SibirTransServs has ordered 200 of the refrigerated vans.
UVZ's Volchansky Mechanical Plant has received certification for its Type 13-5191-01 four-axle wagon for carrying timber or heavy containers. It has a 25 tonne axleload and a capacity of 74 tonnes or 130 m3
Ural Locomotives and RZD have agreed to develop plans for a double-deck EMU for inter-regional services.
UWC has developed the Type 32-6982-01 side tipping wagon which offers a capacity of 42 m3 or 72 tonnes of fine bulk cargoes, and the Type 32-6982 to carry 42 m3 or 71 tonnes of coarser ore. Orders for 20 and 25 wagons have been placed by BrIK and Fast Delivery.
Saudi Arabia: Metro Riyadh has taken delivery of two Terberg-Zagro road-rail rescue vehicles. They can carry a crew of four and are adapted to operate in desert conditions.
Slovakia: Slovenská Plavba a Prístavy has taken delivery of the first of five Siemens Vectron multi-voltage electric locos it has ordered. SPaP is the official keeper, but it is not a licenced operator and so the locos will be used by other members of its parent group Budamar Logistics.
Sri Lanka: Rolls-Royce Power Systems is to supply Dongfang Electric International Corp with four MTU 12V 4000 R41 engines for use on CRRC DMUs operated by Sri Lanka Railways.
Thailand: CRRC has shipped a diesel locomotive that will be used to transport construction materials for railway enhancements. It is equipped with real-time remote monitoring.
Ukraine: Pesa has been selected as preferred bidder to supply 10 more Fokstrot trams to Kyiv.
UK: GB Railfreight has awarded Progress Rail a contract to replace the Ruston-Paxman RK3 engines on 16 Class 56 diesel locomotives with EMD 12-710 Series engines meeting EU Stage IIIA emissions standards and updated electronic controls. The work is to be undertaken at Progress Rail's site at Longport, with the prototype expected to be completed in May 2020 and redesignated as Class 69.
USA: The Greenbrier Companies received orders for 3 800 wagons worth nearly $450m during its Q2 to February 28. These included tank, car-carrying and covered hopper wagons.