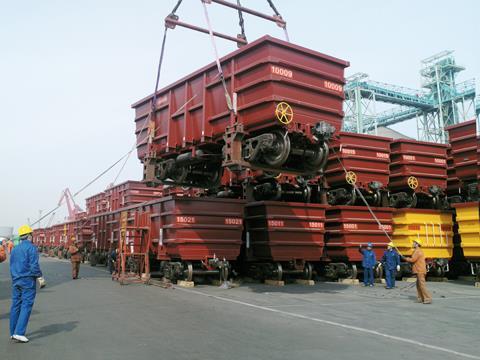 Argentina: CNR is to supply 27 three-car DMUs for use on the Belgrano Sur commuter network in Buenos Aires from 2015. The government is to invite bids from Chinese manufacturers to finance and supply a further 32 three-car DMUs for the Sarmiento and Mitre networks.
Australia: On October 11 Transport for NSW exercised an A$19m option for CAF to supply a further six trams to Sydney, taking its order to 12 new trams and four leased from Vélez-Málaga. These will allow the existing vehicles to be withdrawn.
Canada: Greater Toronto transport authority Metrolinx has signed a US$63m contract for MotivePower to supply 10 diesel-electric locomotives meeting Tier 4 emission standards for use on commuter services from 2016.
China: CNR Dalian is to supply two 4·4 MW diesel locomotives with AC drives to Shenhua Group for the 590 km Shouhuang coal railway.
France: On September 21 Alstom handed over the first of 10 Coradia Regiolis electro-diesel multiple-units for Lorraine region. These units feature a passenger counting system and bicycle spaces.
Germany: National Express Rail GmbH has negotiated four-year framework agreements with Alstom, Bombardier, CAF, Siemens, Škoda Vagonka and Stadler for the supply of up to 250 EMUs or loco-hauled trainsets, subject to it winning future operating contracts. Deliveries would be required within two years of firm orders being placed. Similar arrangements with Alstom, CAF and Stadler cover up to 200 DMUs.
International: Škoda Transportation has entered into a three-year agreement with ArcelorMittal for the supply of 500 axles for 26T and 28T trams for Miskolc and Konya.
Mozambique: EIB is providing CFM with a loan towards the cost of procuring 10 locomotives and maintaining them for eight years.
Poland: Municipal operator MZK Toru has selected Pesa to supply 12 metre-gauge trams by October 2015. The 92·5m złoty order covers six three-section and six five-section low-floor Swing trams, as well as spares, maintenance equipment and depot modifications to provide access to roof-mounted equipment.
Pesa is developing its first high speed trainset, using traction equipment from Ingeteam. The 250 km/h EMU could be completed ahead of the Inno­Trans exhibition next September.
EKK Wagon has won a 134m złoty contract to supply 330 Sggrss container wagons to PKP Cargo, which saw 30% growth in intermodal traffic in 2012, and another order to supply 60 similar wagons to Adria Kombi.
Pesa has been selected to supply six three-car EMUs to Koleje Dolno­slskie for 66·2m złoty, plus five four-car EMUs for 59·2m złoty. Deliveries are scheduled to run from May 2014 to September 2015.
Russia: On September 25 Federal Passenger Co ordered 88 Type 61-4447 open coaches with retention toilets, power sockets and information displays from Transmashholding's Tver plant for use on Moscow, North Caucasus and North Western routes. TMH is to deliver a total of 403 coaches to RZD this year.
Following type approval, TMH's Tver plant has begun production of 61-4458 seating, 61-4461 two-bed compartment and 61-4463 staff coaches, designed for fixed-formation rakes on 'premier' passenger services. Restaurant and saloon cars are to follow.
RZD's Moscow Railway has taken delivery of the first two TEM TMH shunting locomotives developed by TMH's Bryansk plant and Czech firm CZ Loko. Derived from the TEM18DM, the type has a Caterpillar engine rated at 970 to 1455 kW, and a single off-centre cab designed to provide all-round visibility.
South Africa: Backed by the US Ex-Im Bank, Transnet and Nedbank have signed a second tranche loan to finance 53 of the 143 GE locos which were assembled by Transnet Engineering at Koedoespoort.
Sweden: Hamburg-based Paribus Capital's Paribus Rail Portfolio III fund has ordered two Siemens Vectron AC 200 km/h electric locomotives. They will be leased to a private passenger operator in Sweden for three years from December, with an option for a further three years.
UK: Wabtec has completed a £7·2m modernisation of 22 Class 320 EMUs owned by Eversholt Rail and leased to ScotRail, upgrading them to meet PRM TSI accessibility standards and installing toilets for the first time. Work has begun on overhauling 21 three-car Class 318s at a cost of £11m.
Ukraine: Škoda plans to produce a prototype 1520 mm gauge 3 kV DC/25 kV AC Co-Co electric locomotive designed for 160 km/h passenger services next year, with a view to large-scale production for UZ in partnership with Zaporizhzhya Electric Locomotive Repair Works.
Luhanskteplovoz is build 300 AC and DC electric locomotives for UZ's fleet renewal programme, Infrastructure Minister Volodymyr Kozak announced on September 26.
Last month cement and construction materials supplier JSC Ivano-Frankivsk accepted delivery of a single TE33A locomotive which had been ordered from Kazakhstan's LKZ factory on May 30.
USA: Miami-Dade Aviation Department has awarded Mitsubishi Heavy Industries a contract to supply four additional cars to increase capacity on the 2 km peoplemover at Miami International Airport.