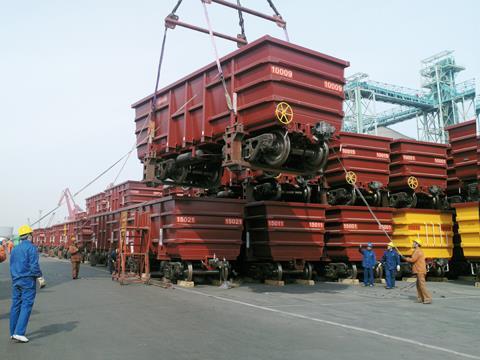 Australia: Expressions of interest in a A$2·8bn contract to supply and maintain 520 EMU cars for NSW TrainLink Intercity services were submitted by Alstom, Bombardier, CAF, Downer EDI Rail/CNR Changchun, Hyundai Rotem, Stadler and UGL Rail Services/Mitsubishi Electric/CSR.
Brazil: Paper manufacturer Klabin has placed the first order for GE Transportation's Evolution ES43BBi eight-axle diesel loco with AC motors developed for metre gauge railways (RG 9.14 p38). Seven are to be delivered in 2016 for use on the América Latina Logística network between a new cellulose plant and the port of Paranaguá.
China: China Railway Corp has ordered high speed trainsets worth 24·9bn yuan from CNR Changchun and CNR Tangshan, and wagons worth 844m yuan from CNR's Qiqihar, Dalian Qiche, Xi'an, Shenyang and Jinan businesses. It has awarded CSR Qingdao Sifang contracts to supply multiple-units worth 23·9bn yuan.
The first two trams for Zhuhai's 8·7 km Line 1, which will use the TramWave ground-level power supply system, have been delivered from AnsaldoBreda's Pistoia factory in Italy. The remaining nine will be assembled by CNR Dalian under a licensing agreement.
Knorr-Bremse LCRI is to supply CSR Sifang with braking equipment for 100 eight-car CRH2 high speed trainsets.
Daqin Railway has ordered CSR Zhuzhou Electric locos worth 1·75bn yuan.
Europe: The Metrans subsidiary of Hamburger Hafen & Logistik is taking delivery of 20 Traxx F140 MS electric locos to haul freight from Hamburg and Bremerhaven to the Czech Republic, Slovakia, Hungary, Austria and Switzerland. The manufacturer said they would be 'the first Bombardier locomotives that will be used in the Czech Republic, Slovakia and Hungary.'
Fogtec is supplying fire detection and suppression systems to Stadler for use on trains for the Jungfrau railway in Switzerland, and to Hitachi for IEP trainsets for the UK.
Finland: On September 24 Helsinki train procurement body Junakalusto exercised a €200m option for 34 Stadler Flirt EMUs to be delivered in 2016-17.
France: RATP has exercised a €75m option for 12 MF01 steel-wheeled metro trainsets to be supplied by a consortium of Alstom, Bombardier and Areva TA for Paris lines 2, 5 and 9.
Alstom has signed a framework to supply 50 Citadis trams to Strasbourg, with an initial 12 worth €41m to enter service by late 2016. They will meet BOStrab standards for operation on Line D which is being extended to Kehl in Germany.
Germany: DB has awarded Alstom a €23m contract to equip 40 ICE1 trainsets with ETCS Level 2 for use on the high speed line between Berlin and München from December 2017, with running to Basel under ETCS Level 1 Limited Supervision. The contract includes six years of maintenance and an option to equip a further 19 trainsets.
The first Siemens Avenio tram entered service in München on September 17 (RG 12.13 p13).
India: On October 8 BEML announced an Rs5·7bn contract to supply 70 metro cars to Delhi Metro Rail Corp, in addition to 92 ordered in 2013.
Japan: The first of four Kawasaki Heavy Industries Series H5 trainsets for the Hokkaido Shinkansen was delivered on October 13. A welcoming ceremony was held at Haldane Harbour before the vehicles were transferred by road to JR Hokkaido's Nanae depot.
Mexico: EMD is to supply 19 SD70ACe locos to Ferromex and 15 to Ferrosur by June 2015, under contracts including 11-year maintenance agreements. The Ferrosur locos will have a special design to improve operation in tunnels.
Morocco: Logistics company Polytra has delivered 20 coaches from Romania to Morocco.
Nigeria: The government has approved a N1·1bn order for two 2·8 MW CNR Dalian diesel locos for the Abuja – Kaduna standard gauge line.
Poland: Koleje Mazowieckie has selected Newag to supply 12 Impuls five-car EMUs in 2015. EU POIi funding will cover 59% of the 257·3m złoty cost. KM is also holding discussions with Stadler and Pesa about the possibility of lengthening its four-car Flirt and Elf EMUs to five cars.
ZKM Gdask has awarded Modertrans a 18m zloty contract to modernise 16 ex-Kassel N8C trams.
Russia: The TramRus joint venture of Alstom and Transmashholding is to supply a 100% low-floor tram to St Petersburg by December 1, following testing at TramRus's Oktyabrsky Electric Railway Car Repair Plant.
Sweden: LKAB has ordered a further 21 ore wagons from Kiruna Wagon for use underground.
Switzerland: On September 22 Zentralbahn signed a SFr53m contract for Stadler to supply five more Fink ABeh 160 three-car metre-gauge rack EMUs in late 2016 to replace older loco-hauled stock and EMUs.
Tanzania: CIM of France is building 22 coaches for Tanzanian Railways.
Thailand: On October 17 a consortium of BBC and CNR Changchun signed a contract to supply 115 stainless steel coaches to SRT.
UK: Southern has selected Porterbrook to finance a previously-announced £172m order for 116 Bombardier Class 387/1 EMU cars to operate initially on Thameslink routes from January 2015.
USA: On September 19 Siemens announced that San Francisco Muni had formally awarded it a $648m contract to supply 175 light rail vehicles with an option for 85, the 'largest LRV contract ever awarded in the USA to Siemens' (RG 8.14 p14). Deliveries from its Sacramento plant will begin by the end of 2016.