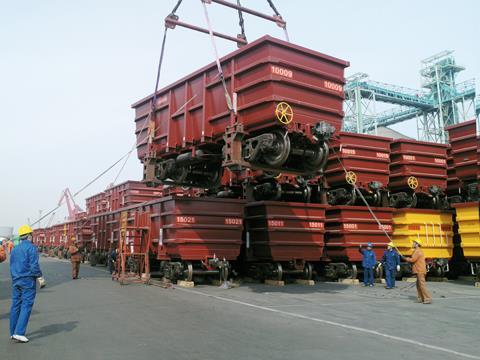 Brazil: Nexans is supplying power, data and control cables for 32 trams which Alstom is building for Rio de Janeiro.
Bulgaria: Sofia Metropoliten has awarded a contract to a Siemens-Newag consortium for the supply of 20 three-car trains for Line 3. Delivery is due within 36 months. The deal includes an option for 10 more trains which would bring the total value to 418·3m lev.
China: Urumqi Urban Rail Group has has ordered 27 six-car trains from CRRC Zhuzhou Electric Locomotive Co to work the city's first metro line.
Denmark: Alstom has ordered 26 EU Stage IIIB-compliant MTU PowerPacks for 13 Coradia Lint 41 DMUs to be supplied to Nordjyske Jernbaner by the end of 2017.
Europe: Siemens is to supply MRCE with 10 Vectron loco­motives equipped for 15 kV 16·7 Hz operation in Germany and Austria, and 11 multi-system locomotives also able to operate in Italy.
France: On October 1 SNCF exercised a €56·5m option for eight more Bombardier Regio 2N double-deck EMUs to be delivered in 2017-19, fin­anced by the Midi-Pyrénées region.
India: Lucknow Metro Rail Corp has awarded Alstom a €150m contract to supply 20 four-car Metropolis air-conditioned trainsets from its Sri City factory, as well as Urbalis CBTC.
Israel: On October 21 Bombardier announced it had signed the contract to supply ISR with 62 Traxx AC locomotives from the end of 2017 (RG 9.15 p7). Worth €230m, the contract includes an option for another 32 of the 160 km/h locos, which will be 'nearly identical' to those in service with DB.
Italy: The board of open access high speed train operator NTV has approved the award of a contract for Alstom Transport to supply by December 2017 and maintain eight 250 km/h Pendolino trainsets, to be branded EVO.
Morocco: Casa Transports has awarded Alstom a €100m contract to supply 50 Citadis trams, power supplies and signalling for Line 2 of the Casablanca tramway.
Philippines: The Department of Transportation & Communications has awarded a 160m peso contract to a joint venture of Kempal Construction & Supply Corp and TPE Share Sales to supply a rail grinding machine for use on Manila's MRT3.
Poland: At the Trako trade fair in Gdask on September 23, PKP Cargo announced an order for 15 Siemens Vectron multi-system electric locomotives for delivery by mid-2017. The contract includes the provision of spare parts and maintenance for eight years, plus an option for a further five locomotives.
Pesa submitted the best offer to supply Maopolskie voivodship with eight four-car units and four five-car EMUs worth 292·5m złoty in 2016-17, with an option for four more.
Russia: United Wagon Co has obtained certification for the Type 12-9869 open wagon designed by its Vnictt development centre. This has a payload of 77 tonnes which UWC says is 8 tonnes more than typical older wagons. The Tikhvin plant is to begin series production in Q1 2016 with a manufacturing capacity of 540 wagons/month.
Moscow–Tver Suburban Passenger Co has begun using Siemens Lastochka EMUs, raising the top speed of its services from 120 to 160 km/h and increasing capacity on the route shared with 250 km/h Sapsan inter-city trains.
TMH's Bryansk Engineering Plant has obtained certification for its Type 19-3058 grain and bulky food product hopper, which has a capacity of 118 m3.
Saudi Arabia: The Greenbrier Companies announced on October 7 a contract to supply around 1200 tank wagons of three types to Saudi Railway Co. To be built by Wagony Swidnica in Poland, they are to be delivered in 2016-18; they will carry molten sulphur and phosphoric acid for Ma'aden.
Senegal: Tenders closed last month to supply eight multiple-units to Senegal, with an option for 14, and to build 14 stations for a Regional Express Train linking Dakar and the new airport.
Singapore: Land Transport Authority has awarded a consortium of Kawasaki Heavy Industries and CSR Qingdao Sifang a S$136·8m contract to supply a further 12 six-car Type C151B metro trainsets to increase capacity on the North-South and East-West lines.
Switzerland: Swiss Post is taking delivery of 55 Habbiillnss postal vans built by WBN Waggonbau Niesky to replace its remaining two-axle vehicles.
Turkey: On October 5 Kocaeli municipality awarded Durmazlar a €19·7m contract to supply 12 trams for the future Akçaray line in Izmit within 17 months. Samsun Metropolitan Muni­cipality had awarded Durmazlar a €12·3m contract to supply eight trams for the opening of a 14 km extension from Gar to Tekkeköy.
USA: Oklahoma City council has approved a $22m contract for Inekon to supply five trams for the Oklahoma Streetcar, with an option for eight more.
Denver Regional Transportation District has awarded Siemens a $110m contract to supply 29 SD160 light rail vehicles. Siemens is also to supply five more SD70 LRVs to Metro Transit in Minneapolis for delivery in 2018.
Maryland's Board of Public Works has approved a $58·1m order for eight Siemens Charger diesel locomotives for use on MARC commuter services. To be delivered from late 2017, they will replace electric locos which Amtrak has said it will cease maintaining.