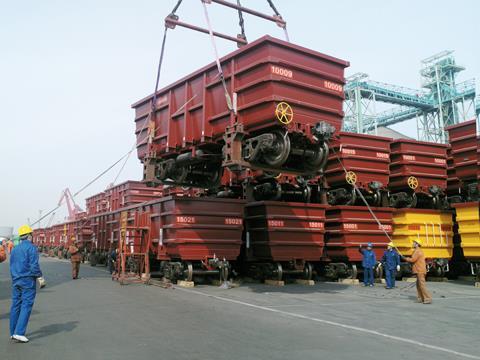 Austria:  ÖBB has resumed tendering for a fleet of coaches for daytime and overnight inter-city services following the withdrawal of an objection by Siemens, which had complained about specification changes. Bombardier is understood to have proposed sourcing bodyshell components from CRRC.
Siemens has ordered 128 U-Lift wheelchair lifts for 64 Cityjet EMUs it is supplying for Wien S-Bahn services.
Bulgaria:  Škoda Transportation is to supply 13 ForCity Classic 1 009 mm gauge trams to Sofia for KC610m, including spare parts and staff training.
China:  CRRC Nanjing Puzhen Rail Transport Co is to supply trains for the first phase of Wuxi metro Line 3 under an 890m yuan contract, a fleet for the initial phase of Xuzhou Line 2 for 760m yuan, and additional stock for Hangzhou Line 1 for 720m yuan.
Croatia:  Ahead of a July 2018 deadline for all vehicles to be equipped with driver vigilance devices, Altpro has been awarded contracts to supply equipment for fleets operated by HŽ Infra (€3·2m) and HŽ PP (€1·6m).
Czech Republic:  The Alliance TW Team of Krnovské Opravny a Strojírny , Pragoimex and VKV Praha is to supply DP Olomouc with eight single-section low-floor EVO1 trams for KC212·6m.
France:  Faiveley Transport has been awarded contracts totalling more than US$100m to supply subsystems including brakes, heating, ventilation and air-conditioning, door systems, pantographs and tachometers for 71 X'Trapolis Cityduplex double-deck EMUs which SNCF has ordered from a consortium of Alstom and Bombardier Transportation for Paris lines D and E.
Germany:  Stuttgarter Strassenbahnen is to exercise an option for 20 more S-DT8.12 light rail vehicles from Stadler Pankow, valued at around €80m.
Ireland:  Alstom has been awarded a €27·6m contract to lengthen 26 Citadis 402 trams in Dublin.
South Korea:  Korail has awarded Hyundai Rotem a 112bn won contract to supply 128 EMU cars by the end of 2019. Most will be deployed on commuter lines in Seoul. Four 10-car trainsets are to be used on the Gyeongin Line, and seven 10-car sets will go to the Gwacheon-Ansan Line. Three six-car sets are required for a 20·3 km extension of the Gyeongwon Line.
Netherlands:  The multisystem variant of Siemens' Vectron electric locomotive has received certification for operation in the Netherlands, the 18th country for which the type is approved.
Poland:  Łódz's ŁKA has awarded Stadler a 52·4m złoty contract to add a third car to 10 of its 20 Flirt EMUs.
Modertrans submitted the lowest bid to supply 10 partly low-floor trams to Tramwaje Śląskie with options for five more.
ZUE has awarded Bulgaria's Kolowag a contract to supply 40 Smmps flat wagons, which will be used to deliver sleepers to worksites from early 2018.
Lubuskie voivodship has ordered a pair of two-car Pesa Link DMUs certified for Poland and Germany for delivery by the end of 2019. Pesa delivered four Link DMUs in 2013, but was unable to obtain German certification.
Russia:  MK Reftrans has bought four power cars plus flat wagons and refrigerated containers to launch a service carrying frozen fish from Vladivostok to Moscow in 11 days.
State Transport Leasing Co has awarded United Wagon Co a contract to supply 5 122 high-capacity open wagons of two types with and without bottom unloading doors for lease by Vostok1520 for 180 months.
TikhvinSpetsMash is supplying Volo-godskie Lesopromyshlenniki with a batch of Type 13-6852-02 timber wagons with a capacity of 122 m3 and a payload 15% higher than older designs.
KeEVRZ has modernised two 47k/k coaches used for staff training with lecture rooms and living accommodation.
Spain:  FGC has awarded Stadler Bussnang a €5∙5m contract to supply two intermediate cars for the Beh 4/8 EMUs operating on its metre gauge Abt rack route from Ribes de Freser to Núria. A second contract worth €3∙38m covers the supply of an electro- diesel rack loco and hauled passenger coaches.
UK:  Hitachi Rail Europe has awarded DB Schenker UK a long-term contract to manage the central warehousing and spare parts distribution for the Intercity Express Programme.