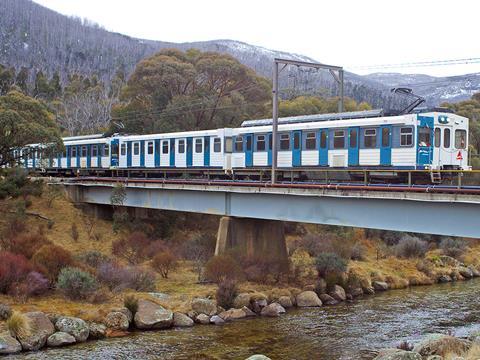 Australia: Stadler has been awarded an A$2m contract to modernise control systems on the Perisher Skitube rack railway trains.
China: China Railway Corp has ordered a further 15 eight-car CRH380D high speed trainsets from Bombardier Sifang (Qingdao) Transportation for 2·4bn yuan.
Bombardier CPC Propulsion System Co has won a 363m yuan contract to supply Mitrac traction systems for Beijing Line 16 metro cars.
Liebherr is supplying electronically-controlled hydraulic anti-buckling systems for 26 low-floor trams Zhuzhou Electric Locomotive is to deliver to Huainan.
Czech Republic: The first two Astra Vagoane Cltori series-built Bmpz 20-90 second class coaches for RegioJet have entered service, and all 10 should be available by December. RegioJet has also procured 70 second-hand coaches from Western Europe which will be rebuilt to similar standards.
Unipetrol Doprava has leased a Bombardier Traxx F140MS electric loco from Railpool for use on trains between refineries at Litvínov and Kralupy nad Vltavou and transit freight between Dín and Beclav.
Europe: On August 27 Captrain Deutschland company ITL took delivery of the first two of three Siemens Vectron locomotives ordered with DAPL CZSKHU country packages.
Germany: The first of 12 Vossloh CityLink electro-diesel tram-trains for Chemnitz was presented to Verkehrsverbund Mittelsachsen on August 21.
Alpha Trains has ordered eight five-car Stadler Flirt3 three-voltage EMUs for use by Keolis on Teutoburger Wald services between Germany and the Netherlands from December 2017.
München has selected Siemens as preferred bidder to supply 22 more Avenio low-floor trams from mid-2017. The €70m order has three tranches of options for up to 124 additional cars worth up to €300m.
Ireland: Alstom has completed the 300 000 km overhaul of 26 Citadis 402 trams supplied in 2009 for Dublin's Luas Green Line.
Italy: Trenord is taking delivery of a further five Stadler GTW 4/12 DMUs, the first in Italy to be powered by Stage IIIB-compliant engines.
Luxembourg: TSA is to supply CAF with 252 traction motors for the 21 Urbos trams for Luxtram.
Namibia: On September 11 TransNamib signed a US$22·7m agreement to buy six GE Transportation C23EMP locomotives for use on Tsumeb – Arandis sulphuric acid trains to be operated under a 10-year contract awarded by Dundee Precious Metals Tsumeb.
Netherlands: The Bombardier/Siemens consortium which supplied NS Reizigers' fleet of 131 Sprinter Lighttrain EMUs has been awarded a contract to retrofit toilets and slide-out steps by mid-2021.
Philippines: The first prototype cars for Manila Line MRT 3 have arrived in Quezon City from CNR Dalian. The manufacturer is to deliver 48 trainsets in the first quarter of 2016.
Poland: Pesa has signed a 12m złoty contract to supply a three-car EMU to witokrzyskie voivodship, and contract to to supply four 223M Link DMUs to Koleje Dolnolskie.
Newag is to supply Opolskie voivodship with five three-car Impuls EMUs for 88·4m złoty in 2016-18 with an option for two more. Lubuskie has ordered one Impuls for 21·4m złoty.
PKP IC has awarded Stadler a 15-year contract to maintain the 20 Flirt3 EMUs it is delivering. Stadler has initially leased a PKP IC maintenance hall at Warszawa Olszynka Grochowska depot.
Dolnolskie voivodship has bought one EN57 EMU from PR for 1·23m złoty, and awarded ZNTK MM a 9m złoty modernisation contract.
Russia: Moscow Metro has taken delivery of the Sinergiya-2 diagnostic train from Tvema.
RM Rail is supplying Translin with 50 Type 15-1210-03 tank wagons.
United Wagon Co is to supply Wabtec Corp with castings for the US wagon market under a 10-year design licensing agreement signed on September 2.
Thailand: The first of 21 three-car Sustina metro trainsets being built by J-TREC for Bangkok's Purple Line was shipped from Yokohama on September 7. Opening is planned for August 2016.
Ukraine: KVSZ has won a contract to undertake scheduled 300000 km maintenance on 19 coaches it supplied to UZ's Southwestern Railway.
Kharkiv metro's first new trainset since 2004 has entered service on Line 2. In addition to changes in interior and exterior styling, the five-car KVSZ trainset has asynchronous traction motors and regenerative braking.
UK: On September 3 open access operator Hull Trains announced a £68m plan to order five Hitachi electro-diesel multiple-units to enter service in 2020, subject to agreeing a new 10-year track access agreement. Meanwhile, its existing DMUs have been fitted with TBM Rail USB ports as well as conventional power sockets.
Merseytravel plans to procure new EMUs to replace the 59 three-car units used on Merseyrail services. It aims to select a preferred bidder in around 12 months, with entry into service from the early 2020s. Merseytravel intends to buy the EMUs directly, with the programme estimated to cost £400m including depot and infrastructure works.
Knorr-Bremse RailServices has refurbished the first of 40 Class 158 DMUs for ScotRail under a £14m programme funded by franchisee Abellio and jointly managed by Porterbrook.
Teknoware is to supply LED interior lighting for the Bombardier Crossrail EMUs.
USA: The state of Wisconsin has reached a settlement regarding its cancelation of a 2009 order for Talgo to supply and maintain two trainsets. Talgo will receive $9·7m and retain ownership of the trains. If it can find a new customer, Talgo will share 30% of the net purchase price or 10% of annual net lease proceeds with the state.