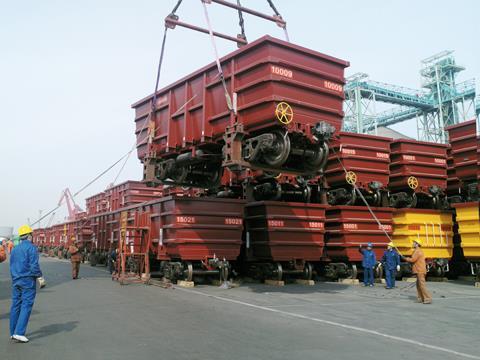 Brazil:  CRRC Sifang is to supply eight eight-car EMUs for use on the future Line 13 of the São Paulo suburban network operated by CPTM. The 1 600 mm gauge trainsets based on CRRC's Type A metro design are to be delivered from 2019.
China:  Chengdu Metro Corp has awarded Alstom a €57m contract to supply traction equipment for 62 eight-car trainsets to operate Line 5, which is due to open by the end of 2019. Optonix equipment will be supplied by Shanghai Alstom Transport Electrical Equipment Co and Chengdu Alstom Transport Electrical Equipment, with support from Xi'an Alstom Yongji Electric Equipment Co.
Czech Republic:  ČD has ordered nine Škoda Vagónka Class 650 RegioPanter 3 kV DC/25 kV AC two-car EMUs for delivery by December 2018, as an option within a KC1·2bn framework contract for 11 signed in February 2015.
Europe:  MRCE has ordered a further 30 Siemens Vectron electric locomotives, including 10 multisystem locos rated at 6·4 MW for Germany, Austria, Italy, Switzerland and the Netherlands, and 20 DC locomotives rated at 5·2 MW for Italy. Deliveries are scheduled to begin in January 2018, and there is an option for a further 20.
Railpool has ordered 20 Bombardier Traxx MS electric locomotives for delivery between May 2018 and December 2019. Suitable for use in 12 countries, they are expected to be deployed in Germany, Austria, Switzerland, Italy, the Netherlands and Belgium.
Following a successful pilot project covering 50 vehicles, Transwaggon and ScandFibre have installed Savvy Telematic Systems equipment on 6 000 freight wagons.
VTG and Dutch company Intermodal Telematics have launched a programme to develop and install continuously operating load-unload sensors across the leasing company's entire fleet of liquid, bulk and container wagons.
Alpha Trains has taken delivery of the last two of 10 Siemens Vectron multi­system locomotives ordered for FS subsidiary TX Logistik. In addition to financing and project management, the leasing company is also responsible for servicing and maintenance.
Finland:  VR has awarded Škoda Transportation subsidiary Transtech a €50m order to supply a further 20 Type Ed double-deck coaches in 2019 as an option on a contract signed in 2015.
Germany:  Alpha Trains has begun taking delivery of eight five-car Flirt multi-system EMUs which will be used by Keolis on Netz Teutoberger Wald route RB61 between Bielefeld and Hengelo from the December 10 timetable change.
Leasing company GATX Rail Germany has awarded WBN Waggonbau Niesky a contract to supply 50 Moltrag modular wagons for use by BASF from April 2018, with an option for a further 100.
Hungary:  MÁV-Start has ordered a further 11 KISS double-deck EMUs at a cost of €16·7m, exercising an option within its framework contract for 40 sets agreed with Stadler earlier this year (RG 5.17 p7).
Indonesia:  The first of 10 trainsets being built by PT Inka and Bombardier for the 36·4 km Soekarno-Hatta airport rail link in Jakarta was delivered to operator PT KAI in August.
Latvia:  Nordic Investment Bank and Latvian Railways have agreed a €22·8m 12-year loan to finance an ongoing project for LDz Ritošā Sastāva Serviss to rebuild 14 twin-section 2M62Us locomotives into Type 2M62UM.
Mongolia:  LokoTech subsidiary Ulan-Ude LVRZ has overhauled 60 diesel locomotives for Ulanbataar Railway at a cost of 19m roubles, and has secured a 20m roubles order to repair 450 wheelsets used on freight and passenger vehicles.
Morocco:  ONCF has awarded SKF a contract to supply 15 000 spherical roller bearings over three years for use on passenger and freight rolling stock. The bearings are designed to be highly tolerant of misalignment and shaft deflection, as well as high temperatures and a harsh climate.
Norway:  State-owned rolling stock company Norske Tog has invited tenders for the mid-life refurbishment of 36 Class 72 EMUs used on regional passenger services around Oslo and Stavanger.
On September 9 NSB Gjøvikbanen officially put into service the first of 10 Stadler Flirt EMUs which will replace older Class 69 EMUs on the Oslo – Gjøvik route.
Poland:  Newag submitted the best bid to overhaul 31 Class EP09 locomotives for PKP IC at a cost of 52·8m złoty. PKP IC has also awarded two contracts totalling 372m złoty to Pesa and ZNTK for the conversion of 80 Type 1141A second class coaches into 40 composite vehicles and 40 special-purpose coaches with catering, family and wheelchair facilities, with options for up to 20 more vehicles of each type.
Pesa submitted the sole bid to supply two two-car DMUs for Wielkopolskie voivodship, offering two Link trainsets from a batch originally intended for Oberpfalzbahn services in Germany.
MPK Kraków has awarded Autosan a 2·5m złoty contract to supply 6·5 m low-floor centre sections for six GT8S trams, with options for 14.
Modertrans is to modernise 40 KT4Dt bogies for Tramwaje Szczecińskie for 6·9m złoty, with options for 32 more.
ZNTK Mińsk Mazowiecki is to refurbish three EN57 EMUs for SKM w Trójmieście in a 5·3m złoty project covering new seats, floors, an accessible toilet and a passenger information system.
Russia:  PK Transportnye Systemy is to supply three 100% low-floor three-section trams to St Petersburg operator Gorelektrotrans by December under a 255m rouble contract.
State Transport Leasing Co has awarded B-VRZ a 2·8bn rouble contract to supply 1 000 Type 19-9950 covered hoppers with a capacity of 105 m3 or 70·5 tonnes for low density products.
Transmash is to supply 3 000 Type 13-9751-01 flat wagons to leasing company Russian Container Co in 2018-20, and has won a 500m rouble contract to supply 200 Type 13-9744-06 container wagons to TransContainer this year.
Uralvagonzavod submitted the best offer of 5bn roubles for a contract to supply Federal Freight Co with 2 400 heavy axleload open wagons by the end of 2017.
TMH Tver, VTB Leasing and Russian Post have signed an agreement for 45 postal vans to be supplied by the end of November for use on domestic and international routes. They will be 1 m longer than existing designs, increasing capacity by 2 tonnes to 24 tonnes, and will be delivered in two configurations with or without crew compartments.
Saudi Arabia:  Having won a contract to provide industrial shunting services, Savage Services is taking delivery of two NREC 3GS21 Tier 3 genset locomotives, with an option for a third.
Sweden:  Arriva has awarded Alstom a €135m eight-year contract to maintain 99 Coradia Nordic EMUs owned by the Skånetrafiken regional transport authority for use under the Pågatåg operating contract. Alstom is to deploy its TrainTracer predictive maintenance system as part of its HealthHub platform.
Thailand:  Bangkok Expressway & Metro and CH Karnchang have selected a consortium of Siemens and ST Electronics to supply 35 three-car trainsets from Siemens' Wien factory as well as railway systems for the Blue Line extension of the Bangkok metro.
UK:  London Underground has awarded Bombardier a contract to replace the DC traction motors on the 85 eight-car 1992 Stock trainsets used on the Central Line with Mitrac AC traction and control equipment. Including ongoing maintenance support to 2024, the contract is valued at £112m.
USA:  Amtrak has selected Rockwell Collins to supply its ArincRailwayNet onboard equipment for 310 locos, supporting interoperable PTC operation on the tracks of 19 host railroads.
Chicago South Shore & South Bend Railroad has leased 100 covered steel coil wagons from CIT Rail to carry traffic for ArcelorMittal.