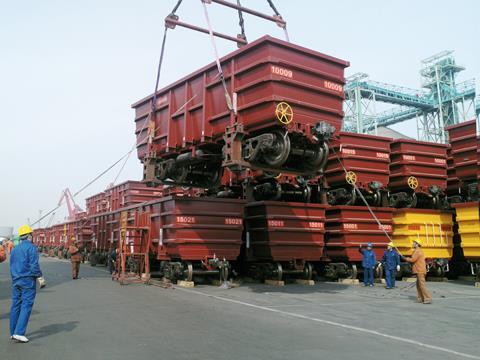 Australia: The government of Western Australia has prequalified Alstom, the Momentum West consortium of CAF and UGL and a consortium of EDI Rail and Bombardier Transportation for a contract to supply up to 41 six-car EMUs for the Transperth network serving Perth. It expects to select a supplier in early 2019, with an initial order of 17 EMUs to be delivered from 2021 and a follow-on order of 24 sets in 2023-28.
The first of the Downer EDI Waratah Series 2 double-deck suburban EMUs entered passenger service with Sydney Trains on September 6. All 24 of the eight-car units are scheduled to be progressively introduced by early 2019.
The Victoria state government announced on September 18 that it had ordered 10 more E-Class trams from Bombardier for A$83m.
Canada: CN has ordered a further 60 GE Transportation Evolution Series diesel locomotives with a multi-year support agreement, building on an order for 200 placed in December 2017. The EPA Tier 4 compliant locomotives will be produced at Fort Worth in Texas.
China: CRRC Nanjing Puzhen has award Saft a contract to supply onboard emergency back up MSX nickel batteries for metro trains being built for the Changzhou Rail Transit Line 1. These will be able to power the train for 2 km without an external electricity supply.
Shanghai Shentong Metro Group has awarded Shanghai Alstom Transport Electrical Equipment Co and its Xi'an Alstom Yongji Electric Equipment Co a €58m contract to supply electrical and traction equipment for the 324 metro cars that will operate on Shanghai Line 15.
Czech Republic: Krnovské Opravny a Strojírny was sole bidder for a framework contract to supply tram kits and assembly tools to Brno tram operator DPMB. KOS, a member of the Alliance TW Team along with Pragoimex and VKV Praha, bid KC1·1bn to supply bodyshells and bogies for up to 41 EVO2 low-floor trams which DPMB would assemble at its own workshops. DP Ostrava has signed a KC1·9bn contract for Škoda Transportation to supply 40 ForCity Smart low-floor trams in 2020-21.
Denmark: DSB has invited tenders for between 40 and 56 coaches worth up to DKr1·2bn. These would be deployed in push-pull operation with Siemens Vectron electric locos. DSB envisages awarding a contract by the end of 2019, for service from 2022. DSB would be responsible for maintenance.
Egypt: ENR and Progress Rail have signed a MoU to explore opportunities for the supply of locomotives, as well as terms to modernise, overhaul and maintain a portion of ENR's existing fleet under a long-term service agreement.
ENR and the Transmashholding-Hungary consortium signed a five-year contract on September 25 covering the supply of 1 300 coaches of five types worth more than €1bn. Tver Carriage Works will produce half of the total number of vehicles and be in charge of technology transfer, while Dunakeszi Járműjavító will work with TMH to produce the remaining half (p58).
France: Alstom has signed a framework contract to supply Citadis trams to Lyon transport authority Sytral, with a €40m firm order for 11 to operate on Route T4 from the end of 2019.
Leasing company Ermewa has awarded Đuro Đaković Specijalna Vozila a 127m kuna contract to supply Shimmns TTU steel coil wagons.
Germany: Abellio Rail NRW has awarded Stadler Pankow a contract to modernise eight two-car and nine three-car EMUs for Ruhr-Sieg-Netz.
DB Cargo has awarded Siemens Mobility a contract to equip 30 000 wagons with CTmobile sensors which can continuously determine the vehicle location and provide information about load conditions including temperature and humidity. Roll-out will take three years, and Siemens Mobility will operate the system for six years. There is an option to equip up to 50 000 more wagons.
During InnoTrans Stadler signed a contract to supply Go-Ahead with 22 four-car Flirt 3 EMUs for use on E-Netz Allgäu services on the München – Memmingen – Lindau route from December 2021. The 160 km/h EMUs will have 16 first and 200 second class seats and a total capacity of 395 passengers.
Jamaica: CRRC Qishuyan has delivered a batch of DF8B diesel locomotives ordered by aluminium company Alpart.
South Korea: Hyundai Rotem has been awarded a 55·6bn won to supply 48 trainsets for Busan Transportation Corp's metro Line 1.
Poland: PKP Cargo has called tenders for the supply of 936 container wagons of various types in 2019-22.
Laude has ordered 80 container wagons from Tatravagónka for €4·8m.
Russia: RZD has put one six-car and two four-car EP3D EMUs supplied by Transmashholding's Demikhovsky Engineering Plant into service on suburban routes around Vladivostok.
Yekaterinburg Metro has appointed TMH subsidiary Oevrz to overhaul four 81-717.5 and 81-714.5 metro cars to extend their life by 15 years.
Oil producer Slavneft-Yanos has awarded UWC a contract to supply 32 Type 15-6913 high-capacity tank wagons to carry molten sulphur and sulphuric acid by January 2019. They will have a capacity of 44 m3 or 72 tonnes, 9 tonnes more than existing designs.
Switzerland: Rhätische Bahn has awarded Stadler Bussnang a SFr215m contract to supply seven two-axle overhead/battery electric shunting locos to enter service in 2020, enabling 11 older locos to be withdrawn. Identical to locos ordered by Matterhorn Gotthard Bahn in 2016, they will be rated at 500 kW with a maximum speed of 80 km/h when operating from 11 kV 16·7 Hz overhead electrification, and 200 kW with a maximum speed of 40 km/h when powered by lithium-ion batteries.
Taiwan: The first vehicle for the second phase of the Kaohsiung tramway arrived the port of Keelung from Alstom's La Rochelle site on September 2.
Turkey: Siemens Mobility has awarded Petards Group a £1·1m contract to supply eyeTrain CCTV systems.
Ukraine: On September 19 Alstom and UZ signed a memorandum of understanding for co-operation in the supply and maintenance of electric locomotives. UZ estimates that it will require 495 new electric freight and passenger locos over 10 years, as well as maintenance and associated services for up to 25 years. UZ has previously signed a similar agreement with GE Transportation covering diesel locomotives.
UK: Northern has returned to service its first Class 158 DMU to be fully refurbished by Arriva Train Care, with suppliers including Panasonic (CCTV, screen, USB sockets and passenger counting), Icomera (wi-fi), Dilax (digital seat reservations), Huber & Suhner (cabling and roof antenna), Belvoir (fabrications) and Ricardo (design).