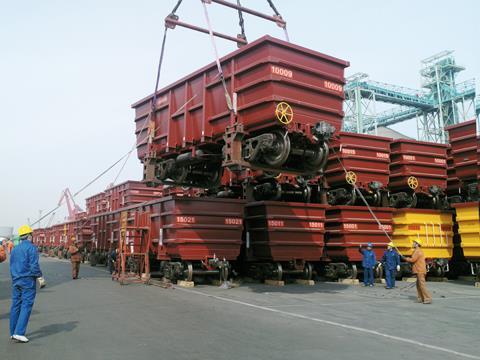 Australia: The Perth train maintenance contract held by the EDI Rail Bombardier JV has been modified to include 22 additional three-car B Series EMUs to be delivered from 2016. The variation is worth A$40m over 5½ years, with an option for 7½ more years.
Austria: ÖBB has awarded Siemens a €145m order to supply a further nine seven-car rakes of Railjet push-pull coaches by December 2016. These will have an 'Ecojet' energy-saving package of LED lighting and an air-conditioning system using CO2 sensors to adjust the output to the number of passengers; Siemens expects this could save €5m/year across the Railjet fleet.
Bosnia: CZ Loko has supplied a 797.8 shunting loco to replace a failed steam locomotive and a DL-50 diesel at JP Elektroprivreda's Breza mine.
China: CNR Jinan is to supply China Railway Corp with SQ6 double-deck automotive wagons worth 390m yuan.
Taiyuan Qintie Materials Co has ordered GMC96B rail grinding trains worth 120m yuan from CNR Beijing February 7.
CNR Changchun has received a 808m yuan contract to supply monorail cars for Chongqing Line 3.
CNR Tangshan has been awarded a 1·14bn yuan contact to deliver metro cars for Tianjin Line 5.
Europe: Akiem has ordered 10 Bombardier Traxx DC locomotives for use on freight services in Italy and Poland from the end of 2015.
France: SNCF has exercised a €162m option for an additional 22 eight-car Bombardier Francilien EMUs to be delivered by the end of 2016 for use on Paris suburban routes H and K, taking the total to 194.
Germany: On July 31 Alpha Trains and Veolia Verkehr completed a €200m sale and lease back deal covering 35 Stadler Flirt EMUs deployed under the E-Netz Rosenheim contract. Debt financing was provided by Credit Agricole CIB and DVB Bank.
Hungary: Budapest transport authority BKK has ordered 10 more Urbos trams from CAF, following on from an order earlier this year for 37 with options for 87.
Poland: Pesa was the sole bidder for a contract to supply six trams to MPK Wrocaw with an option for 19, offering Twist trams for 50m złoty.
Pomorskie voivodship has selected Newag to rebuild four EN57 EMUs for 30·4m zoty, retaining only the bodyshells and bogies. Wielkopolskie has awarded Newag a 8·5m złoty contract to modernise a single EN57.
Bydgoszcz has ordered 12 Pesa Swing five-section metre-gauge trams for 109m złoty. They will be used on the 9·5 km Fordon line opening next year.
Tramwaje Szczeciskie has awarded Modertrans a 4·3m złoty contract to supply a Moderus Beta tram in kit form, identical to cars for MPK Pozna.
MPK Kraków has bought a further seven ex-Wien E6 trams and three C6 trailers from Utrecht for rebuilding, and Protram is to modernise an ex-Augsburg M8C car for Tramwaje Elblskie.
Romania: CFR Cltori has begun talks with potential suppliers ahead of a planned call for tenders to supply 60 electro-diesel multiple-units for 160 km/h inter-regional services, with options for 60 more.
Having obtained certification for a prototype, Reloc Craiova is repowering 16 LDH45 and LDH70 locos with 436 kW Cummins engines for GFR.
Russia: Transmashholding's Bryansk plant has completed testing of a TEM35 shunting loco with a Caterpillar engine and supercapacitors. Trials at a hump yard showed fuel savings of 20% to 30% compared to conventional locos, with lower emissions and the ability to haul 7000 rather than 6000 tonnes.
Kirovsky Zavod is modernising a TEM2 loco for power company TGK-1, and two TEM2U locos for BazelCement.
Transmashholding and Central Suburban Passenger Co have agreed to develop an outer-suburban EMU for the Moscow region and a 160 km/h double-deck EMU for inter-city routes.
South Africa: Transnet has sec­ured a R6bn guarantee from the USA's Ex-Im Bank to support the financing of 293 locos being supplied by GE.
Turkey: Hyundai Rotem has won a TL83·7bn contract to supply 38 low-floor trams to Izmir.
UK: Hitachi Rail Europe has announced its 'first formal order' for ETCS onboard equipment, a contract from Network Rail to equip two West Coast Railways Class 37 locomotives.
VTG Rail UK is to lease 48 Feldbinder Spezialfahrzeugwerke cement wagons to Hope Construction Materials, and 19 to Hanson Cement.
Zambia: Zambia Railways Ltd has ordered 30 business, economy and standard class coaches from South Africa which are to be used to reintroduce a Livingstone – Chingola service.