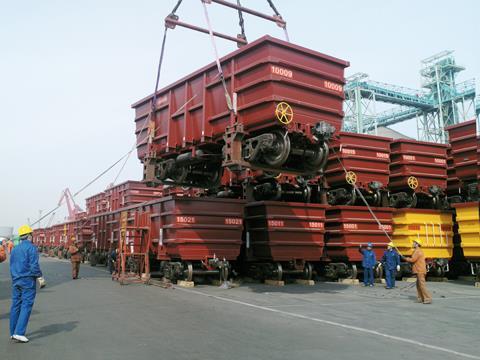 Australia: UGL and Unipart Rail have won an A$131m contract to modernise Sydney Trains' 446 Tangara EMU cars by July 2018. Mitsubishi Electric will upgrade the traction systems. Interfleet supported the tendering process.
Bulgaria: A Siemens-Newag consortium submitted the lowest bid to supply 20 three-car trainsets for the future Sofia metro Line 3.
China: CNR Changchun is to supply trainsets for Shenzhen metro Line 9, while Nanjing SR Puzhen Rail Transport Co is to supply trainsets for Hefei metro Line 1 and Suzhou Line 4.
Hollysys Automation Technologies has won a US$19·4m contract to provide ATP equipment for high speed trains.
Midas is to supply Nanjing SR Puzhen with aluminium components for metro trains for the Nanjing Metro Ninghe Intercity Line (25m yuan), and Changchun Railway Vehicles with parts for metro trains for Singapore's Downtown Line (11m yuan) and for 250 km/h trainsets (31m yuan).
Czech Republic: CD Cargo has revived plans to procure locos for cross-border operation, calling tenders for five to operate under 15 and 25 kV AC and 3 kV DC with ETCS Level 2, with an option for three more.
Metrans has confirmed an option for 10 Bombardier Traxxx F140 MS electric locos, augmenting 20 delivered in 2014-15.
Pars Nova has awarded Liebherr-Transportation Systems a contract to refurbish 63 HVAC systems fitted to Siemens coaches operated by D.
The national technology agency has awarded CZ Loko a KC10m grant to support the development of a three-axle bogie for 1520 mm gauge freight locos.
Europe: Beacon Rail Leasing has bought 17 EMD Class 66 and 10 Siemens Eurorunner ER20 diesel locomotives from Mitsui Rail Capital Europe.
France: Alstom is to supply a further five electric and three electro-diesel Régiolis four-car multiple-units to the Midi-Pyrénées region for €46m.
Atir Rail has awarded uro akovi Specijalna Vozila an 80m kuna contract to supply Zacns calcium carbonate tank wagons in 2016.
Germany: Bogestra has selected Stadler to supply 42 Variobahn low-floor trams from the second half of 2016, with an option for eight.
GATZ has ordered 300 Faccns hoppers from Legios Loco for KC550m.
India: Following trials with two prototype EMUs, ICF has rolled out its first production Phase II vehicles for Mumbai suburban services. They feature a more aerodynamic cab, forced ventilation, foam cushioned seats in first class and moulded plastic in second, improved lighting and wider windows.
Italy: Dinazzano Po has placed the first Italian order for a Vossloh España Eurolight diesel freight locomotive.
Pesa has been selected to supply five four-car EMUs to Sicily.
Japan: Toshiba is to supply fully enclosed permanent magnet synchronous motors and VVVF inverters for eight Seibu Railway 10-car Series 4000 EMUs.
Poland: Sole bidder Pesa is to supply four two-car DMUs to Koleje Dolnolskie for 46·2m złoty, and Dolnolskie voivodship has bought an EN57 EMU from PR for 1·2m złoty.
Kujawsko-Pomorskie voivodship has ordered an additional four-car Pesa Elf EMU, taking its total to six.
Russia: Eurosib SPb-Transport Systems has signed an agreement to lease up to 1 000 Type 13-6852 United Wagon Co high capacity log wagons. They can carry up to 74 tonnes of timber, with telescopic main posts to increase capacity without pyramid loading.
TMH's Oktyabrsky Electric Railway Car Repair Plant has signed a 10·5bn rouble contract to supply 20 eight-car metro trainsets to St Petersburg.
Singapore: Toshiba is to supply permanent magnet synchronous motors to replace the existing motors in 19 C651 metro trainsets.
Slovakia: ZSSK has cancelled a September 2014 tender for six 200 km/h electric locos after all bids exceeded its €72m budget.
Thailand: SRT has ordered 308 bogie container wagons from CSR Erqi via Siam Bogie and China National Machinery Import & Export Corp.
UK: Direct Rail Services has ordered seven more Vossloh España Class 68 UKLight mixed-traffic diesel locomotives through Beacon Rail Leasing, taking its total order to 32.
USA: Dallas Area Rapid Transit has exercised an option to purchase two additional Liberty Modern Streetcars from Brookville Equipment Co.