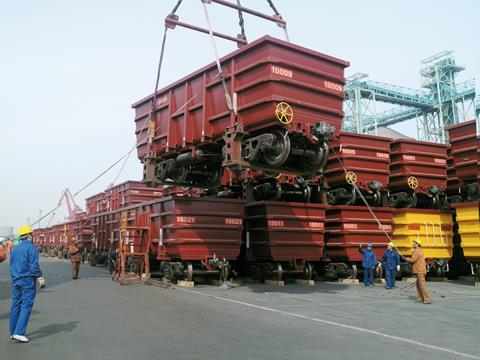 Canada: Metrolinx has exercised options worth C$428m for Bombardier to supply GO Transit with 125 more BiLevel double-deck coaches in 2018-20.
China: Hong Kong MTR Corp has awarded CRRC Nanjing Puzhen a HK$745m contract to supply 40 LRVs.
Denmark: DSB is to procure 26 electric locomotives to work with double-deck coaches on regional services in Sjælland from early 2020.
Europe: Waggonbau Niesky has won orders worth €50m covering the supply of 250 Laaers 560.1 double-deck car-carrying wagons to Rail Car GmbH in 2016-17, and 42 Tanos 65 m³ capacity aggregate hoppers to Nacco in 2017 with an option for 100 more.
France: Akiem has awarded Vossloh Locomotives a €140m contract to supply 44 DE18 diesel-electric locomotives from 2018. The 1·8 MW locos with a maximum speed of 120 km/h are to be manufactured at the €40m factory nearing completion in Kiel.
Duro Dakovic has won a 20m kuna order to supply wagons to France.
Germany: LNVG has appointed Bombardier as registered keeper and entity in charge of maintenance for 220 Twindexx Vario double-deck cars, 29 Traxx electric locomotives and eight Traxx diesels until 2035, equivalent to their complete life-cycle.
Hungary: The government has given the go-ahead for GySEV to order 10 Stadler Flirt3 EMUs using EU funding.
Iran: Rail Pardaz has ordered 15 passenger and 15 freight diesel locomotives from CRRC Ziyang.
Italy: Ferrovienord has exercised an €33m option for five Stadler trainsets.
Mexico: Sistema de Transporte Colectivo has awarded CAF México a €164m contract to supply 10 nine-car rubber-tyred metro trainsets for Mexico City Line 1 from the first half of 2018.
Peru: Alstom has won a €200m contract to supply 20 six-car Metropolis trainsets for Lima metro Line 1, and 19 cars to lengthen existing trainsets.
New Zealand: KiwiRail signed an order for a further 15 CRRC Dalian DL Class diesel locomotives on August 2, along with a new maintenance agreement which makes CRRC accountable for performance. CRRC is to send a technical support team to work with KiwiRail engineers, and agree to modifications to improve reliability and longevity. The 'Gen 2.3' specification includes improved brakes.
North America: Central Maine & Quebec Railway has taken delivery of the first of eight EMD GP38-3 locos modernised by Cad Railway Industries
Poland: Newag has ordered ABB traction packages for the five Griffin loco­motives being built for Lotos Kolej.
MPK Kraków has completed the conversion of ex-Wien Line U6 light rail vehicles into 40 three-section EU8N street-running trams with low-floor centre sections supplied by Autosan.
Pesa is to supply Koleje lskie with 23 Elf 2 EMUs for 206m złoty in 2017-18, and there are options for six more.
Zachodniopomorskie voivodship has selected Newag to supply 12 three-car and five four-car Impuls EMUs for 251m złoty, with options for 10 more.
Portugal: Fertagus has awarded EMEF a €1·2m contract to maintain the compressors, brake blocks and distributors, bogies and batteries on its 18 UQE3500 EMUs for two years.
Russia: PK Transportnye Systemy is to supply 16 City Star trams to Rostov-na-Donu for 524·8m roubles. Deliveries from TMH's Tver works are due to be completed by December.
RM Rail has obtained certification enabling series production of its Type 15-1288-02 ammonia wagon providing a capacity of 56 tonnes or 87 m3, an increase of 17% on previous designs.
Spain: RENFE has received bids for a contract to supply and maintain 15 high speed trainsets from Alstom, Bombardier, CAF, Siemens and Talgo. Seven companies had previously prequalified and four submitted bids, but a legal challenge by Bombardier resulted in a requirement for domestic production being removed and new bids requested.
Sweden: Stadler is to supply 22 three-car EMUs for use on the 891 mm gauge Roslagsbanan. The SKr2bn contract includes options for 45 more.
Turkey: Villach - Edirne operator Optima Express has awarded Bulgaria's Dryanovo rolling stock plant a 10-year contract to repair up to 2700 vehicles, including couchette and restaurant cars and car-carrying wagons.
Ukraine: Odesa tram operator Odesgorelektrotrans is developing a 28 m tram with a low-floor centre section which will combine existing Tatra bogies and new bodies.
UZ has signed a letter of intent with Newag to explore options for locomotive modernisation. Agreements have also been signed with Bombardier and GE.
UK: GWR and Eversholt Rail confirmed an order for an extra seven nine-car Hitachi electro-diesel inter-city trainsets on August 3. To be built at the Pistoia plant, these are in addition to 57 which Hitachi is providing to GWR under the government's Intercity Express Programme, and a separately-financed order for a further 29.
Agreement has been reached for Viva­rail's three-car Class 230 D-Train DMU prototype (RG 5.15 p50) to enter passenger service on the Coventry - Nuneaton line later this year.
USA: On August 15 the Peninsula Corridor Joint Powers Board formally signed a $551m deal for Stadler to supply 16 six-car double-deck EMUs from 2020 with an option for a further 96 cars worth $385m (RG 8.16 p11). Stadler said the 157·1 m long units will have a maximum speed of 177 km/h, and can be extended to seven or eight cars if required. The EMUs would meet FRA Alternative Compliance requirements for mixed traffic use, and be fully compliant with Buy America requirements.