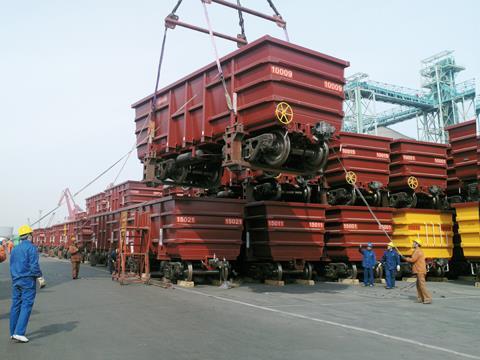 Australia: Transport for Victoria has awarded Alstom a €60m contract to supply a further five six-car X'Trapolis EMUs for Melbourne's 1 600 mm gauge suburban network.
Cuba: Transforwarding has completed a project to deliver 16 Sinara Transport Machines TGM8KM locos in two shipments from St Petersburg to Hai Phong port. They will be used by Antillana de Acero to haul sugar, gas and containers as part of the government's infrastructure development plans.
Czech Republic: The CD Cargo board approved two locos orders on August 8. Bombardier is to supply 10 Traxx MS3 electric locos designated as Class 388 in 2019-20, with options for up to 40 more. Siemens will supply a further four Vectron multi-voltage 6·4 MW electric locos in 2018-19 at cost of KC400m, augmenting the eight supplied in 2016-17.
CD subsidiary DPOV is to produce 27 Armpee bistro cars by refitting existing dining cars in 2018-21. The design developed by Studio Descent is inspired by D's refurbished Pendolino fleet, with Borcad adjustable seats and tables with power sockets, wi-fi, new lighting and an AMIT audiovisual information system.
Dominican Republic: Alstom has delivered the first two of six three-car Metropolis trainsets for the Santo Domingo metro Line 2B extension.
France: Bordeaux has ordered five more Alstom Citadis trams for €14m.
Bombardier is to supply further 18 seven-car and 18 eight-car Francilien high-capacity suburban EMUs to SNCF, which has placed the €261m firm order announced on July 30 on behalf of Île-de-France Mobilités.
Safra is to refurbish seven to 10 St Etienne trams.
Germany: Thüringerwaldbahn & Straßenbahn Gotha has received six second-hand Be4/8 trams from Baselland Transport.
Bombardier is to supply 22 centre sections to lengthen Frankfurt operator VGF's U5-50 LRVs to 75 m or 100 m.
Greece: Alstom is to supply 25 trams, spare parts and maintenance equipment to Attiko Metro for €54m.
Hungary: On August 13 the government gave MÁV-Start approval to exercise an HF39bn option for Stadler to supply a further eight Kiss double-deck EMUs under an April 2017 framework agreement.
India: Golden Rock workshop has manufactured a batch of 40 Type BLL high-capacity container wagons for Container Corporation of India which are fitted with RFID tags for tracking.
Italy: On July 31 Italo-NTV signed a €330m firm order for Alstom to supply a further five Pendolino Evo non-tilting rainsets and maintain them for 30 years. The operator has now ordered 22 Pendolinos, as well as the 25 AGV trainsets ordered for its launch in 2012.
CZ Loko has delivered five EffiShunter 1000 shunting locomotives to Mercitalia Shunting & Terminal, which will deploy them at freight terminals in Milano, Ravenna and Livorno. The 100 km/h TSI-compliant four-axle single-cab locomotives have 895 kW Caterpillar C32 engines, AC-AC transmissions and a fire safety system.
Mercitalia Rail announced on August 2 that it had put into service the first 33 of 240 steel coil wagons which it ordered from Greenbrier last year. The wagons are equipped with real-time monitoring sensors powered by an onboard energy harvesting and storage system.
Poland: United Wagon Co has won a tender to supply Laude Smart Intermodal with 200 Type 13-6851-01 flat wagons for transporting heavyweight containers on the 1 520 mm gauge corridor between Russia and Poland. Deliveries are scheduled to be completed by the end of Q2 2019.
Russia: Prime Minister Dmitry Medvedev has signed decree No 1633-R allocating 2·1bn roubles of government funding to subsidise the manufacturing of passenger rolling stock. This is expected to enable the production of up to 1 000 new coaches by 2022.
Moscow's Central Suburban Passenger Co has awarded TMH's Demikhovsky plant a contract to supply 10 11-car EP2D suburban EMUs this year.
TMH subsidiary OEVRZ is to refurbish 60 Moscow metro cars.
United Wagon Co's TikhvinChemMash plant has supplied leasing company GATX Rail Vostok with 20 tank wagons suitable for transporting caustic soda and other chemicals. The Type 15-6900 wagons have heavy axleload bogies and a tank volume of 54·5 m³, giving a capacity 5 tonnes higher than older designs.
Ukraine: Zaporizhia has taken delivery of six ex-Berlin Tatra KT4DtM trams, which will be regauged at the operator's workshops. Six more trams are to be delivered. The first six of 30 ex-Berlin Tatra KT4D trams that Lviv has bought from BVG arrived in late July.
UK: ScotRail's 70 Hitachi Class 385 EMUs began entering passenger service on July 24, initially being deployed on the route from Glasgow to Edinburgh via Falkirk High.
Southeastern, Eversholt Rail and Bombardier have completed a £30m programme to refurbish the Class 375 Electrostar EMU fleet.
From 2022 Stadler is to supply incoming Wales & Borders franchisee KeolisAmey with 36 three-car Citylink 25 kV 50 Hz/battery tram-trains for use on South Wales Metro services, 11 Flirt DMUs for use on services to Maesteg, Ebbw Vale and Cheltenham and seven three-car and 17 four-car tri-mode units capable of running on diesel, 25 kV 50 Hz and battery power for use on services across Cardiff.
On August 13 GB Railfreight announced a sale and leaseback deal with Beacon Rail covering 10 Class 60 diesel locos. GBRf said the locos would enable it to haul heavier loads.
USA: Leasing company GATX Corp has agreed to buy 7 650 wagons of various types from American Railcar Industries over five years from April 2019, with an option for up to 4 400 more.
Orange County Transportation Authority has formally awarded Siemens a contract to supply eight S70 vehicles for the Orange County Streetcar project, with options for 10 more.