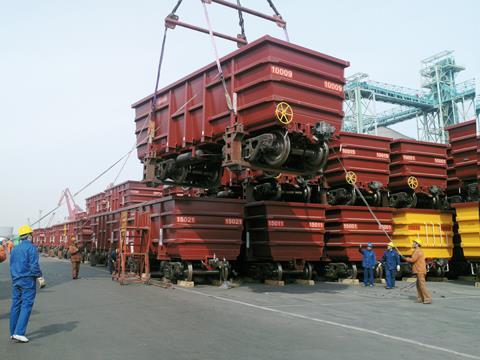 Australia: UGL announced on August 8 that it had won a contract to build four diesel locomotives for Pacific National.On August 19 Alstom Transport Australia was named preferred bidder to supply 41 six-car C-series EMUs for the Transperth network, as well as six DMU cars to replace the five used on the twice-daily Australind service between Perth and Bunbury.
Austria: Montafonerbahn has directly awarded ÖBB Personenverkehr a €6·37m full-service leasing contract to supply three Bombardier Talent multiple-units for use on services S1 and S4 .
Bangladesh: PT Inka has delivered a batch of 26 inter-city coaches for BR's metre-gauge main lines. They are being supplied under a US$101m contract backed by Indonesia Eximbank which includes 200 metre-gauge coaches and 50 coaches for 1 676 mm gauge routes.
Canada: Ontario Northland has taken delivery of two APU locomotive control units remanufactured by NRE from Amtrak F40PH locos. The vehicles contain self-contained mobile electric generating plants capable of supplying hotel power for up to 12 coaches.
Czech Republic:  AŽD Praha and ČD-Telematika are to equip 102 ČD Class 162 and 362 electric locos with ETCS by 2022 at a cost of KC1·4bn, with 39% of the cost to be covered by the EU's Connecting Europe Facility. As part of the project, ČD will convert the last 17 Class 163/363 120 km/h locos into the 140 km/h Class 162/362.
At the end of July ČD Cargo put into service the first of a batch of Eanos open wagons which are being supplied by Greenbrier Europe's Świdnica plant.
France: On August 12 Đuro Đaković Specijalna Vozila signed an €18·5m agreement to supply Shimmns wagons to a French customer.
Alstom is to supply the Auvergne-Rhône-Alpes region with a further 10 four-car Coradia Polyvalent multi-system EMUs between December 2020 and May 2021 for €70m.
Germany: KfW IPEX-Bank is financing 18 Alstom Cordia Lint 54 DMUs ordered by Baden-Württemberg's rolling stock procurement body SFBW for use on Zollernalbbahn services from December 2020. The €79m loan is guaranteed by the Land and will be repaid within 25 years.
Italy: CAF is to supply a further seven metro trains to Napoli metro authority ANM for €60m.
Contship Italia's subsidiary Oceanogate has become the fifth Italian operator to order a CZ Loko Class 741.7 EffiShunter 1000, which it will deploy at the RHM container terminal.
Poland: Koleje Wielkopolskie has selected Newag as preferred bidder to supply four three-car 36WEhd DMUs for 95m złoty, with options for two more units worth 47·5m złoty.
Singapore: LTA is purchasing 12 more trainsets from Alstom for use on the Circle Line Stage 6 extension. These are due to be delivered from 2024.
Slovakia: RegioJet has acquired 10 second-hand Dbz750 double-deck coaches from DB Regio, which it plans to use to provide a rapid increase in capacity on Bratislava – Dunajská Streda – Komárno services operated under contract to the Ministry of Transport.
Spain: Stadler has delivered an HGem 2/2 electro-diesel Abt rack loco to the metre-gauge Vall de Núria line.
ADIF has selected a consortium of Stadler and Erion as preferred bidder to supply 22 locos and maintain them for eight years. These would be used on maintenance, inspection and snow clearance trains on the high speed network, and to rescue stranded trains.
Switzerland: Landesbank Baden-Württemberg subsidiary SüdLeasing has awarded Siemens Mobility a contract to supply 20 Vectron multisystem electric locomotives by mid-2020 for use by SBB Cargo International. The long-term leasing plan with a flexible term includes maintenance, and there is an option for 20 more locos.
Turkey: CRRC Ziyang has begun exporting locomotive crankshafts to Turkey, in what it said was a significant contract as Turkey has traditionally looked to European technology.
Ukraine: ArcelorMittal has awarded CZ Loko a contract to supply four EffiShunter 1600 Bo-Bo diesel-electric heavy shunters to its Kryvyi Rih steelworks. The order is being financed by OTP Leasing, with delivery scheduled for the second half of 2020.
UK: Touax Rail has signed its first contract to supply new wagons to a UK customer, covering 55 Greenbrier Europe JNA open and 40 HOA hopper wagons for Mendip Rail aggregates traffic.
Snowdon Mountain Railway has ordered two 800 mm gauge Abt rack battery-diesel hybrid locomotives from Clayton Equipment Co. The diesel generator will be switched off on the downhill runs, with regenerative service braking used to recharge the battery to provide power for the next ascent.
USA: Portland's TriMet has selected Siemens Mobility to supply 26 S700 LRVs from its Sacramento plant, with options for up to 60 more.
San Diego MTS has awarded Siemens Mobility a contract to supply 25 S700 LRVs by the end of 2021.
Two 1·79 MW Knoxville Locomotive Works low-emission locos have entered service on G&W's California Northern Railroad. They have 12-cylinder MTU engines and selective catalytic reduction technology to meet Tier 4 emissions requirements. Purchase was supported by a $3·7m grant from the Bay Area Air Quality Management District.