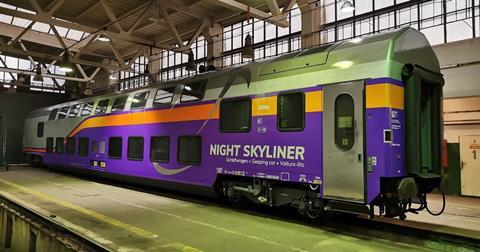 SLOVAKIA: Yosaria Trains has taken delivery of 35 out-of-use double-deck sleeping cars which were formerly used on Deutsche Bahn CityNightLine services.
The private operator plans to use them on the 540 km Bratislava – Žilina — Košice – Humenné route from the December 10 2023 timetable change.
YT was founded in 2014 and in July 2022 it obtained authorisation from national transport authority DÚ to operate a daily overnight train each way on the route.
YT says that its aim is to offer a high-comfort overnight experience, with a maximum of two beds in each compartment.
DeLuxe class passengers will have a separate toilet and shower in each compartment.
The 200 km/h WLABm171 and WLBm172 vehicles were built by Schindler Waggon, SGP and Talbot in 1995. An initial four were acquired by YT in 2017-21, and one was refurbished by ŽOS Vrútky and EVPÚ Nová Dubnica for authorisation and as a prototype for the refurbishment of the rest of the fleet.
In 2022 YT acquired three Class 183, 240 and 754 locos from ZSSK to operate the service, plus a Class 700 two-axle diesel shunter.