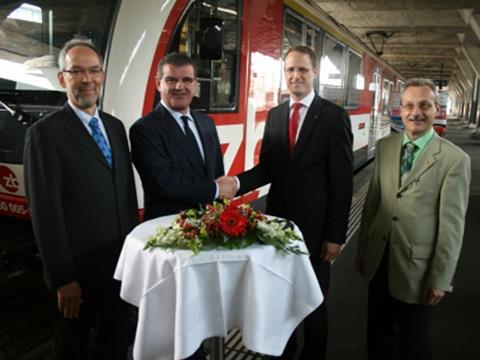 SWITZERLAND: Zentralbahn signed a SFr53m contract on September 22 for Stadler Rail to supply five more Fink metre-gauge electric multiple-units.
Under the deal signed by ZB Managing Director Renato Fasciati and Stadler Rail Group CEO Peter Spuhler, the three-car rack EMUs are to be delivered in late 2016. They will replace older locomotive-hauled stock and EMUs used on Luzern S-Bahn services S44 and S55 to Stans and Sachseln.
The Class ABeh 160 EMUs will be identical to the six Fink units previously supplied to ZB. These have low-floor entrances, wide doors for rapid boarding, air-conditioning and panoramic windows.
Zentralbahn also operates four Stadler seven-car Adler EMUs on its main line services between Luzern and Interlaken, as well as on some services to Engelberg.