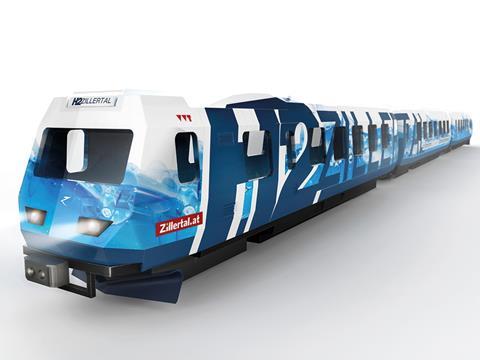 AUSTRIA: Plans to convert the 760 mm gauge Zillertalbahn which links Jenbach with Mayrhofen from diesel to hydrogen fuel were announced by operator ZVB in February. The cost is estimated at €80m, with revenue hydrogen operations envisaged for 2022.
Around 30% of the hydroelectric power generated in Tirol comes from the Zillertal area. A €156m plan to electrify the railway had been announced in 2015, but the installation of catenary was opposed by some municipalities.
The prototype hydrogen trainset is likely to be a heavily modified 4090 EMU produced for the Mariazellerbahn by SGP and ELIN in 1994 and sold to the Salzburg region in 2015. The intermediate cars are now in use as hauled stock on the Pinzgauer Lokalbahn and the remaining cars are stored in Zell am See.
'By taking the initiative for this visionary and internationally unique project, the Zillertal will be a shining example for the compatibility of environmentally friendly and modern mobility and sustainable tourism', said Tirol Land Governor Günther Platter.