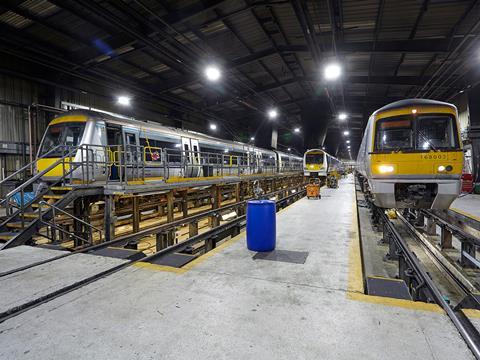 UK: Chiltern Railways estimates it will save around £10 000/year in lighting maintenance costs, see a significant reduction in its energy bills and also improve staff working conditions following the installation of Zeta Specialist Lighting's LED technology at three servicing sites in Wembley, Aylesbury and Stourbridge.
Zeta worked with Ormiston Electrical Services to install the lighting. The energy-intensive 400 W highbay lights at Wembley and Aylesbury were replaced with Zeta Hooked LED Highbays which reduced energy consumption by 67% and 48% respectively. Zeta's Halo LED Bulkheads were installed in the showers and toilets at Wembley depot, while office buildings were fitted with Zeta PRO Ultra Slim Ceiling panels, reducing energy consumption by 64%, and a number of fluorescent tubes were replaced with LED alternatives.
External lighting changes included the installation of 40 W SmartScape Nano street lights and Zeta LED Flood Lights, with 30 used to illuminate tracks at a site in Stourbridge where a 62% reduction in energy consumption was achieved.
The emergency lighting at Wembley, which had previously proved to be problematic, was upgraded using Zeta's Industrial LED Wall Packs.