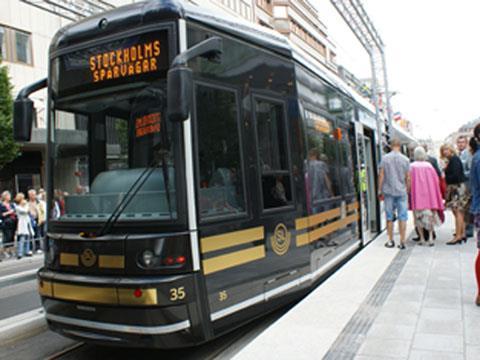 SWEDEN: Trams returned to central Stockholm with ceremonies to launch Spårväg City on August 21, and free rides were provided before the start of revenue service two days later. The Spårväg City project has seen the 3·2 km Djurgårdsstaden heritage tram line modernised, rebranded as Line 7 and extended a short distance west to Sergels Torg from the previous terminus at Norrmalmstorg.
The day before the launch Bombardier Transportation announced a €21m contract to supply six new 70% low-floor Flexity Classic trams for the line. Stockholm transport authority SL will lease the cars from Norwegian financial services group DnB NOR, with delivery scheduled for March to July 2011.
Meanwhile, Bombardier and DnB NOR have arranged for SL to lease three Flexity Classic trams from Frankfurt and three from Norrköping until the new cars are delivered. These are being used to provide a 15 min frequency service, doubled in the peaks.
SL has awarded heritage tram operator Stockholms Spårvägar a contract to operate the route until the end of 2013, with an option for a further two years. Line 7 is to be extended from west to Hornsberg and northeast Ropsten by 2014, and SL intends to award a long-term operating contract for the extended service during 2011.
The Norrmalmstorg - Waldemarsudde heritage service run by SS since the line was reinstated in 1991 continues to operate at weekends, now designated Line 7N.