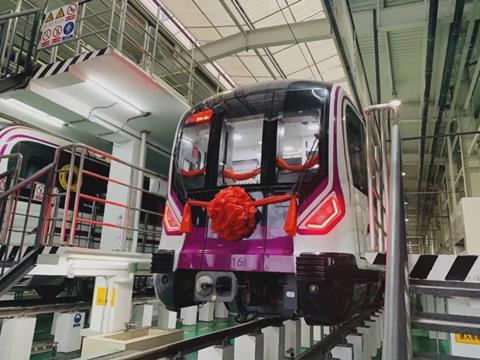 CHINA: The Chengdu urban rail network was increased by more than 100 km with the simultaneous opening on December 27 of five new metro and tram lines. This takes the network past the 300 km milestone to a total length of 341 km and 238 stations.
The largest of the new lines to open was the 49 km metro Line 5, which has been under construction since August 2015. This links Huagui Lu in the northern Xindu District with Huilong in Tianfu New District to the southwest, serving 41 stations, with interchanges to lines 2, 3, 4 and 7 in the city centre. Most of the route is underground, although 6·7 km at the northern end is elevated. A six-station southern extension is also envisaged.
CRRC Changchun has supplied a fleet of 62 eight-car Type A trainsets to operate Line 5, which has one main depot and two sets of stabling sidings manufactured by CRRC Changchun. These high-capacity sets are 178·4 m long and rated to carry up to 3 456 passengers. The trains are fitted with Alstom traction equipment and onboard batteries to enable low-speed running in the event of a traction power failure.
The same day saw the extension of 'express metro' Line 10 by 25·8 km, running southwest from Shuangliu International Airport Terminal 2 to Xinping. This takes the total length of the line to 38 km, of which 16·7 km is elevated and the rest underground. The second phase of Line 10 had been under construction since the end of 2016, and a 5·5 km northern extension has now been approved by National Development & Reform Commission. Line 10 is operated by a fleet of six-car Type A trainsets supplied by CRRC Qingdao Sifang, which are designed to run at up to 100 km/h.
December 27 also saw the opening for revenue service of three extensions to the Y-shaped T2 tram network in the northwest of the city, adding a further 25·6 route-km. The initial short line has been extended south from Electronic Sci-Tech University to Chengdu Xi Railway Station and north from Hegong Lu to Pixian Xi Railway Station. An 11·9 km branch diverges from the southern extension at Xinye Lu and runs north to Renhe.
The network is served by a fleet of 40 bidirectional Citadis X02 trams manufactured by CRRC Changchun, based on the Alstom design. The five-section cars are 32·6 m long and equipped with onboard energy storage to allow catenary-free operation across major road junctions. Each vehicle can carry up to 380 passengers including 64 seated.