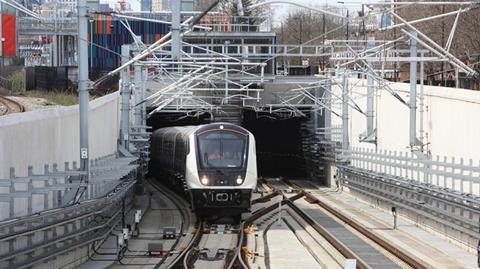 UK: Elizabeth Line project promoter Crossrail Ltd has announced further delays and cost increases to the project.
Earlier this year Crossrail Ltd announced that it had identified a six-month delivery window between October 2020 and March 2021. Its updated forecast is that the tunnels under central London will now not open in 2020, but 'as soon as practically possible in 2021'. A more specific update is expected to be given in early 2020.
Dynamic testing of the Bombardier Transportation Class 345 electric multiple-units in the core tunnels has been underway since October 2017 and is currently taking place four days a week using four EMUs. Trial running is expected to begin in 2020.
The project cost is now forecast to be higher than previously, owing to higher levels of risk contingency. It would exceed the financing package from the Department for Transport, the Greater London Authority and Transport for London announced in December 2018 by up to £650m, and discussions are taking place between TfL and DfT about how to fund the shortfall.
Works ongoing
The central section is expected to be 'substantially complete' by the end of March 2020, except for Bond Street and Whitechapel stations. Tottenham Court Road, Farringdon and Custom House stations are due to be completed by the end of 2019, with fit-out of the central tunnels finished the following month. Signalling software development and the handover process still remain outstanding.
Victoria Dock Portal and Pudding Mill Lane Portal were transferred to Rail for London Infrastructure in September. The infrastructure manager is now responsible for maintaining these assets, with maintenance work carried out by a team based at Plumstead depot. The next site to be handed over will be Mile End shaft, leaving 27 'major' handovers.
MTR Crossrail is due to start operating stopping services on the Great Western Main Line between Paddington and Reading from December 15 under the TfL Rail brand. Enhancement works at stations on this section are expected to be completed by the end of 2020, along with enhancements at Ilford and Romford on the Great Eastern Main Line on the other side of London.