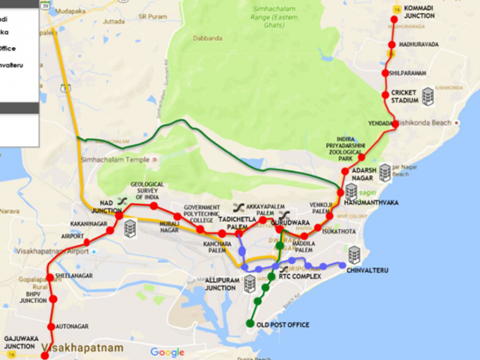 INDIA: Groundbreaking ceremonies for the planned 42·5 km Visakhapatnam Metro Rail network in Andhra Pradesh are expected to take place in February, following a decision to accelerate the project.
Speaking at a meeting with the Visakhapatnam Metropolitan Regional Development Authority on December 26, the Principal Secretary from the Ministry of Urban Development Karikal Valaven confirmed that the national government would contribute 10% of the anticipated Rs88bn cost. The state government is expected to provide 51%, potentially through a loan from Korea Exim Bank. The remainder would be raised through a PPP concession which will include property development at sites surrounding several key stations.
Being taken forward by the Amaravati Metro Rail Corp, the network would have three lines serving 38 stations. Line 1 would run for 30·8 km from Kommadi in the northeast to NAD Junction in the west, with a subsequent extension heading southwest to Gajuwaka. The 5·3 km Line 2 would run south from an interchange with Line 1 at Gurudwara in the city centre to Old Post Office. The 6·5 km Line 3 would start from another interchange with Line 1 at Thatichetlapalem and run south to the main station before turning east to Chinna Waltair, intersecting Line 2 at RTC.
According to VMR Managing Director N P Ramakrishna Reddy, more than 90% of the land required is already owned by the state government, and there should be no problem in acquiring the remainder. This includes the sites for the two rolling stock depots; one at Hanumanthawaka on the northern part of Line 1 and a second near the airport on land owned by the Visakhapatnam Port Trust.
Five consortia expressed interest in the PPP concession when AMRC issued a Request for Qualification in February 2018. All five were subsequently shortlisted for the next round of bidding and are expected to submit their proposals by January 21. They are Adani Enterprises, ESSEL Infraprojects, IL&FS Rail, Shapoorji Pallonji & Co and TRIL Urban Transport. Reddy says all five have experience in developing major infrastructure projects through PPPs, including airports, major roads and other metro lines.