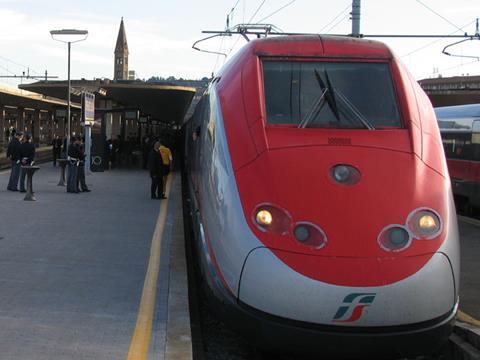 ITALY: Trenitalia has signed a retail and distribution agreement with transaction processing specialist Amadeus Rail to market its inter-city services internationally using the Amadeus Global Distribution System.
Initially covering the Frecce Alta Velocità suite of long-distance services using RFI's high speed network, the agreement will give Trenitalia access to 91 000 points of sale worldwide through the Amadeus network. This will allow it to tap into the substantial number of international tourists who visit Italy each year.
Amadeus is the leading transaction processor for the airline industry, and it has built on this expertise to offer distribution services to rail operators. In 2008, it worked with cross-Channel high speed operator Eurostar to have its principal stations included in the airline GDS with their own IATA code.
According to Amadeus, the agreement with Trenitalia offers a more immediate comparison for sales agents seeking city-to-city journeys by rail or air without the need to give the train operator an IATA code. Travel agents using the Amadeus Selling Platform will have a standardised method to access Trenitalia products via a dedicated rail/air search engine, the Madrid-based company says. Amadeus expects to begin distributing products for Frecciarossa, Frecciargenta and Frecciabianca services by the third quarter of 2012, with other long-distance services to follow subsequently.
'Ultimately our overarching objective is to deliver effective, rapid access for travel professionals in key international markets enabling the sale of Trenitalia products and promoting the entire rail network', commented Trenitalia Managing Director Vincenzo Soprano.