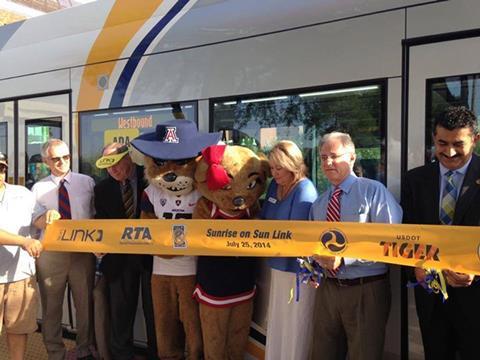 USA: The Tucson Sun Link tram line opened on July 25, with three days of free travel. The 6·2 km route links the University of Arizona and the area west of the I-10 highway, with 18 stops.
The $196·5m capital cost of the line and related public works was supported by a Tiger grant of $63m from the Federal Transit Administration, $11m from public utilities, $3·2m from local construction group The Gadsden Company, and $26·6m from the City of Tucson.
United Streetcar has supplied eight articulated low-floor vehicles built at its factory in Clackamas, Oregon. Each car has a capacity of 180 passengers.
RATP Dev is responsible for operation and maintenance under a three-year contract announced in December 2012 with options for five years of extensions.
Services run every 10 min from 07.00 to 18.00, after which the frequency drops to 20 min until 22.00 and 30 min from 22.00 until 02.00 on Fridays and Saturdays. Weekend services start at 08.00 and end at 20.00 on Sundays.