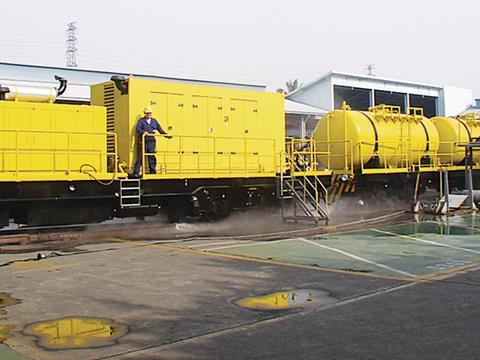 TAIWAN: Dirt is being cleaned from tunnels on the Taipei metro network in order to reduce fire risk, using a specialised tunnel cleaning train manufactured by China Steel Corp and fitted with a pumpset supplied by Hughes Pumps.
Taipei is the second metro to use the technology, after it was introduced in Kaohsiung in 2009. Similar pumpsets are used in the UK to remove leaf debris from the rail head on surface lines.
A 400 kW engine drives 200 and 900 bar pumps with nine cleaning channels that can act together or separately to clean different parts of the tunnel. The system is controlled from the driver's cab using a programmable controller.
The £40 000 pumpset has been custom built to metro specifications and is capable of operating at ambient temperatures of up to 60°C. The engine is fitted with a catalytic converter to cut emissions. It is the first cleaning set which UK-based Hughes Pumps has built for use underground, and the company hopes that this will become a growth market.