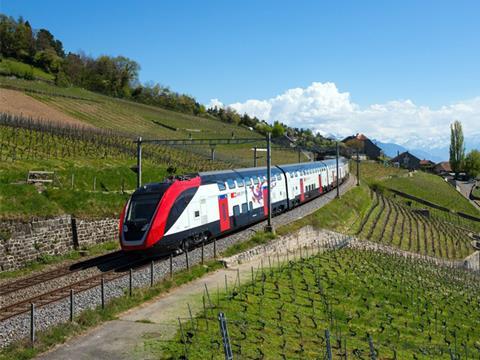 SWITZERLAND: Swiss Federal Railways confirmed on November 30 that it will launch the first Twindexx double-deck electric multiple-units in commercial service during 2018. The decision follows an interim ruling by the Federal Office for Transport authorising the trains to carry passengers after supplier Bombardier Transportation provided all the necessary safety documentation.
Approval for the trains to run in passenger service expires on November 30 2018 as 'not all planned functionalities are operational'. Once these issues have been resolved, the Federal Office for Transport will authorise unrestricted use. It said that a software update in mid-November and the elimination of minor faults had paved the way for its decision to allow the trains to enter service, provided that the trains meet the same technical standard as the three sets it had tested.
SBB said that the Twindexx trains would initially be diagrammed on less busy routes such as Zürich – Bern Interregio and Zürich – Chur RegioExpress services before eventually being allocated to the heavily-used St Gallen – Zürich – Bern – Genève corridor. The trains are now undergoing final tests and are being used for staff training.
SBB is taking delivery of 62 Twindexx trainsets in three configurations. A SFr1·86bn order for 436 vehicles was placed with Bombardier in 2010 for delivery in 2012-19, but a two-year delay to the project was announced in 2012, partly because of problems with the body design. Bombardier agreed to supply three additional EMUs and spare parts free of charge as compensation for the delays.