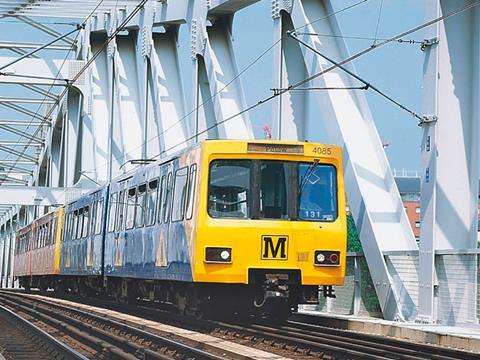 UK: Transport authority Nexus announced on March 14 that it had recommended that the North East Combined Authority not take up an option for a two-year extension of DB Regio's contract to operate Tyne & Wear Metro services.
Subject to combined authority approval, train operations and station management on the electrified network serving Newcastle and Sunderland would be taken in-house for two years when the current seven-year contract ends on April 1 2017. This would provide time for a long-term investment strategy to be finalised and a new operating contract to be let.
Nexus said both it and DB Regio Tyne & Wear Ltd were 'dissatisfied with the structure and the financial and operational performance of the current contract', and 'passenger outcomes are not where either party would want them to be.'
Talks are ongoing with the government to secure funding for the procurement of a new fleet which would be delivered in the first half of the 2020s. A business case and draft specification is expected to be completed in mid-2016. Options for the future which are to be considered by Nexus include bundling the supply of the new rolling stock with train operations under a build and operate concession.
'Managing Metro directly for a limited period will allow Nexus to prepare the Metro business for the significant change that will come with further investment of more than £400m in a new train fleet in the coming years', said Nexus Managing Director Tobyn Hughes.
National Union of Rail, Maritime & Transport Workers General ‎Secretary Mick Cash welcomed the announcement that the contract would not be extended, and said RMT would 'now press for the initial two-year transition to be turned into a permanent arrangement for this essential public service.'