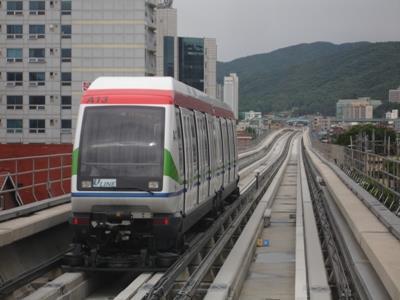 SOUTH KOREA: An 11·1 km elevated light metro serving the city of Uijeongbu was officially opened for traffic on July 1, providing an east-west route connecting with north-south services on Seoul metro Line 1.
With almost 500 000 inhabitants, Uijeongbu lies 20 km north of the South Korean capital. When support for an extension of Line 1 was not forthcoming, the city council launched a Special Purpose Company in 2005 to develop its own light metro. The city holds a 45% stake in Uijeongbu Light Rail Ltd, with another 50% owned by the G S Construction Consortium responsible for the structural works. URLL selected Siemens France to provide the electrical and mechanical systems, automatic train control, depot equipment and rolling stock.
VAL rubber-tyred technology was chosen because the elevated line would involve the demolition of fewer properties, would be 50% cheaper than a conventional railway, and could be built above river courses and flood channels for much of the route.
Linking the eastern part of the city with the commercial and civic centres, the so-called U Line serves 15 stations, including one at City Hall; one close to the Gyeonggi Government Buildings; one in the main retail area, and one providing interchange with Line 1 at Hoeiryong.
The line is worked by a fleet of 15 two-car VAL 208 NG trainsets built by Siemens in Wien with Alstom traction motors. The 26 m long air-conditioned trainsets take power at 750 V DC and operate under full automatic control. Only 12 sets will initially be required to provide a 205 sec headway service at peak hours, but a further five sets will be needed by 2016 when the peak headway is to be reduced to 145 sec. Each train has a nominal capacity of 236 passengers, of which 38 are seated.
The line has been designed for full accessibility, with lifts at all stations and escalators at the busiest locations. Services operate between 05.00 and 00.30 each day.