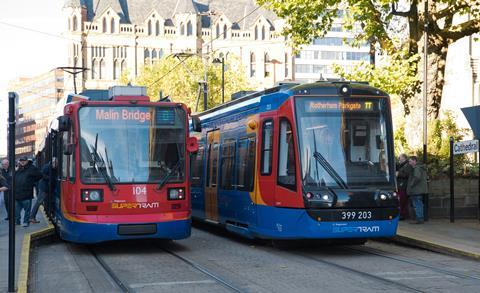 UK: The Department for Transport has confirmed that a 'multi-million pound' package of emergency funding will be provided for light rail networks as part of measures aimed at keeping essential transport services running during the coronavirus pandemic.
The announcement covers the light rail networks in Sheffield, Greater Manchester, the West Midlands, Nottingham and Tyne & Wear. It does not include London or Edinburgh, where the trams are a devolved responsibility, and it also does not include the Blackpool Transport, which suspended its tram operations at the end of March because they does not provide essential transport for key workers.
'We have made funding available today to keep England's trams operating, allowing essential local routes to remain open and once again ensuring that critical workers can travel during this crisis', said Secretary of State for Transport Grant Shapps on April 24.
DfT said it was working 'to identify what support is needed' explaining that the amount of funding was still being calculated but it would 'enable key routes to remain open for people travelling to hospitals, supermarkets or those who cannot work from home, such as NHS staff'.
The news was welcomed by industry group UKTram, which said ministers and officials had recognised that a sector-wide approach would not be straightforward, as differing contractual obligations mean each system will require an individual package of support.
'Since the start of the outbreak we've kept DfT informed of its impact on our members and the challenges they face in maintaining a vital service for many key workers and others who rely on them for essential travel', said UKTram Managing Director James Hammett. 'Government recognition of the critical role they play in several key cities is to be welcomed alongside the pledge of financial assistance.'
On April 21 Greater Manchester Mayor Andy Burnham had warned that the Metrolink system could be mothballed. Responding to the support package, Burnham said he was 'pleased this has been recognised by the government', but called for more detail so he could ensure that vital services could continue to run, noting that the suggestion that Metrolink would receive £3m would barely enable the system to keep 'ticking over'.
Burnham added that he was also 'looking closely at what services will look like once lockdown is lifted; the road to recovery is going to be a very long one, and we are already stressing to government the financial help that will be needed throughout 2020 and beyond'.
Tyne & Wear Metro said it 'needs to know with some urgency what the details of the financial package are', as running the system was costing over £1m/week and planning for the end of the lockdown period could only begin 'if we know that we have enough money to pay staff wages and carry out maintenance'.
Sheffield City Region Mayor Dan Jarvis noted that securing funding for Supertram 'will help ease the financial strain during the crisis, allow essential journeys to continue and keep NHS staff and key workers moving'.