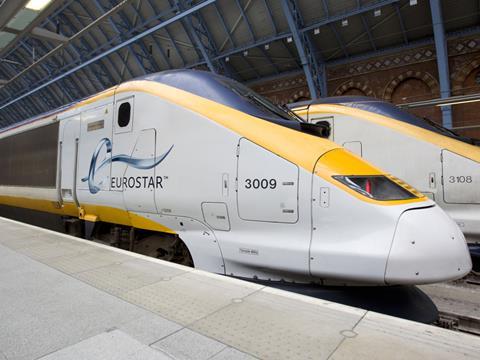 UK: The possibility of the UK government selling London & Continental Railways' property assets and its stake in Eurostar International Ltd is raised in the National Infrastructure Plan 2013 published by the Treasury on December 4.
Currently wholly-owned by the Department for Transport, LCR is included in the assets which the government has identified as offering the potential for sale in 2014-20, subject to 'value for money assessments and key policy objectives'.
LCR has a 40% shareholding in Eurostar, with France's state-owned train operator SNCF holding a 55% stake and its Belgian counterpart SNCB the remaining 5%. A Eurostar spokesman told Railway Gazette International that the sale would be a matter for the government as shareholder, and day-to-day operations would continue as normal.
LCR was established as a private consortium which in 1996 was selected by the government to build and operate the Channel Tunnel Rail Link, now known as High Speed 1, and to manage the UK's stake in Eurostar. A government rescue package was needed in 1998, and LCR was purchased by the state for a nominal sum in June 2009. In November 2010 LCR let a 30-year concession to manage HS1 to a consortium of Borealis Infrastructure and the Ontario Teachers' Pension Plan for £2·1bn.
On September 30 2013 LCR took over 15 staff and a number of properties with future development potential from BRB (Residuary) Ltd, the body which had been formed to manage the remaining property, rights and liabilities of the abolished British Railways Board. LCR is now responsible for properties including Waterloo International station and the former Eurostar depot in west London, office accommodation in Croydon, Derby, Manchester and Birmingham and potential development sites including land in Oxford and Leeds. Other BRB(R) assets were transferred to the Highways Agency, Network Rail and the Department for Transport.
The government has also said it will provide a further £50m for a full redevelopment of Gatwick Airport station, 'subject to satisfactory commercial negotiations with the airport', and has confirmed that a £1bn state guarantee has now been agreed for the extension of London Underground's Northern Line to Battersea.