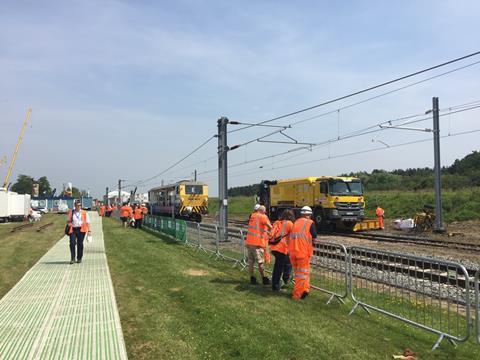 UK: A parliamentary reception on February 20 marked the formal launch of the UK Rail Research & Innovation Network, bringing together railway industry bodies and eight universities. Through a £92m funding package, these partners are to work together to establish four 'world class' centres of excellence focused on rolling stock, infrastructure, digital systems and testing.
The four centres are to be supported by industrial partners to deliver 'world-leading research from inception to market application for both the UK and global markets', says UKRRIN. Investment in advanced development, simulation and testing facilities is intended to allow new product and services to reach commercialisation more quickly, while supporting the UK's position as a 'technology leader in rail'.
Of the four centres, three are academic institutions. The Centre of Excellence in Digital Systems is led by the University of Birmingham; the centre for Infrastructure is led by the University of Southampton, working in partnership with Nottingham, Loughborough, Sheffield and Heriot-Watt universities; and the rolling stock centre is co-ordinated by the University of Huddersfield with support from Loughborough and Newcastle universities.
In addition, a Centre of Excellence in Testing is being led by Network Rail through its Rail Innovation & Development Centres in partnership with Transport for London and Quinton Rail Technology Centre at Long Marston.
UKRRIN has four key objectives:

to support and build UK rail sector capability to develop, deliver and deploy new technology;
to deliver a step change in the level of investment in rail innovation through UK-based R&D centres;
to increase the productivity and performance of the UK rail sector through innovation;
to develop strategic relationships with the supply chain, the rail industry and the wider transport sector.
UKRRIN has been established following a £28m bid to the Higher Education Funding Council for England, which will underpin the establishment of the centres of excellence. This funding is backed by a commitment from 17 industrial partners, including Siemens, Bombardier and Alstom, to invest more than £60m in research, development and innovation activities at these centres over the next 10 years.
'UKRRIN gives universities and rail industry partners the opportunity to shape the global future of railways', said Prof Clive Roberts, Director of the Birmingham Centre for Rail Research & Education at the University of Birmingham. 'This is the beginning of an innovative partnership, and we look forward to reinforcing the UK as the world-leading centre of rail innovation.'